Yesterday was a big, wonderful, happy day over here. Beginning with my husband ACING his big fat electrical exam. After four and a half years of studying and apprenticing, I am married to a Journeyman!
So we celebrated through spontaneous smiles, embraces and exhales that afternoon as we readied for my art opening. It was decidedly spring, warm with birds singing and worms dancing, chickens strutting and tulips sun saluting.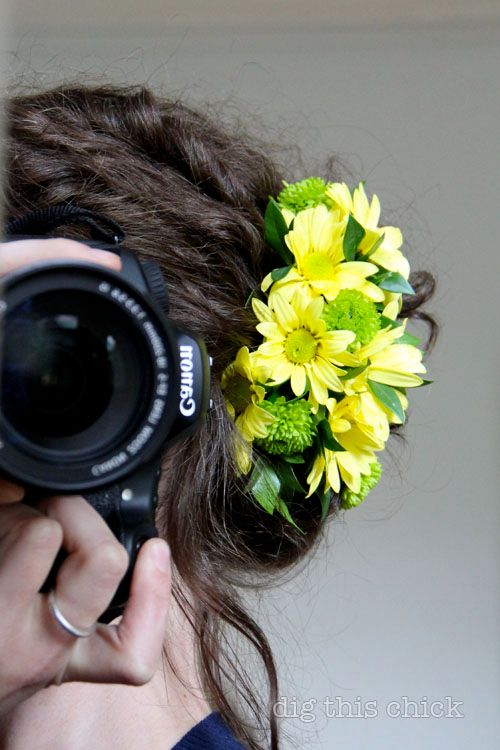 my parents surprised me with a beautiful fresh flower hair comb
I have been preparing for my show for a year, sorting and rolling dryer lint, cutting and stitching paper, sculpting thread butterflies with toothpicks, repairing broken eggs…it feels wild and wholly magnificent to have it all done and up together in a gallery.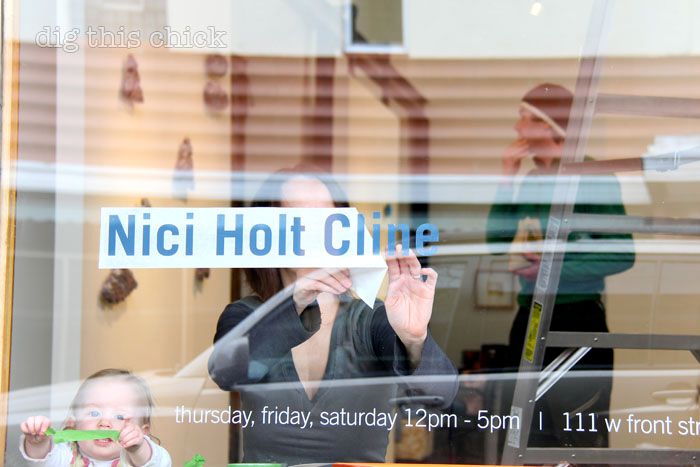 Gallery owner and amazing woman, Jennifer Leutzinger, putting my name in the window (assistance by Ruby Jane)
The opening was kind of magical for me and I was teary several times. I loved meeting some of you, loved the steady stream of my friends giving hugs and encouragement, loved feeling good about what was on the walls, good about my life, my friends, my community.

I loved my daughters there. I think about what I want my kids to remember and know about me, when they are old and explaining my personality and life to others. I hope they remember me as a sincere person, devoted to my family, friends, art, nature, movement, growth. I hope they remember that I did things that were scary and hard, I continued to learn and evolve, that sometimes I succeeded and other times I failed. That I tried, that I loved, that I lived.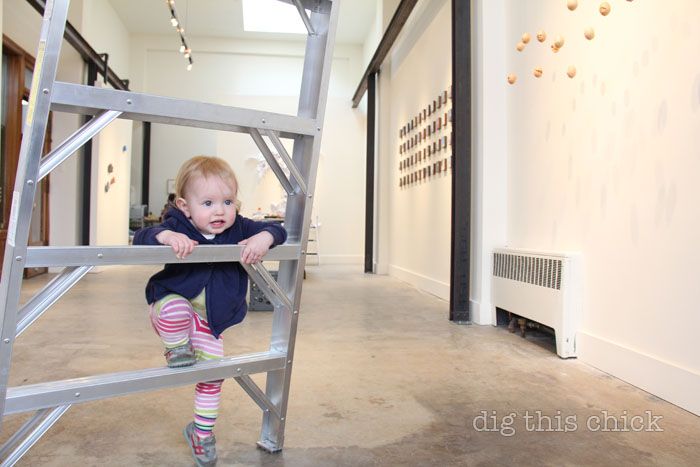 my kids were with me during some of the installation last week

Last night Margot watched me. She will remember me as I am now. She will remember that people came to see my art, the stuff she witnessed me make and mess up on, problem-solve, find success in and struggle through. It made me feel proud in that same vulnerable way I felt proud right after birth.
Among all the normal, wonderfulness of the evening there are a few funny stories. Like, my husband yelled at a dude who intentionally flicked an egg on the way out the door. "Hey man, that's not cool. That's my wife's art. Have some respect," he said with Margot on his hip. Bro bra got all puffy chested and defensive and yelled, right in Andy's face, "I did not. What are you going to do about, man?!" And my Journeyman said with a smile, "I am not going to do anything about it, man." Bro bra swaggered on and Margot thinks her papa is amazing for "telling that angry man that touching art is not good at all."

Also, a semi-drunk, very funny man who professed himself to be a "semi-famous author" got down on one knee, held my hand and declared his love for my art, my "sense of order." He quoted Jack London and told me I would be a millionaire.
Then we went to dinner, 12 friends piled into a giant, oyster shell booth for burgers and wine. And the evening rounded out nicely with dancing to Cash for Junkers, my friend Grace rockin' the fiddle and me ignoring my sore feet to dance the jitterbug and learn the waltz.
It was a good day.
Now, would you like to virtually visit The Brink?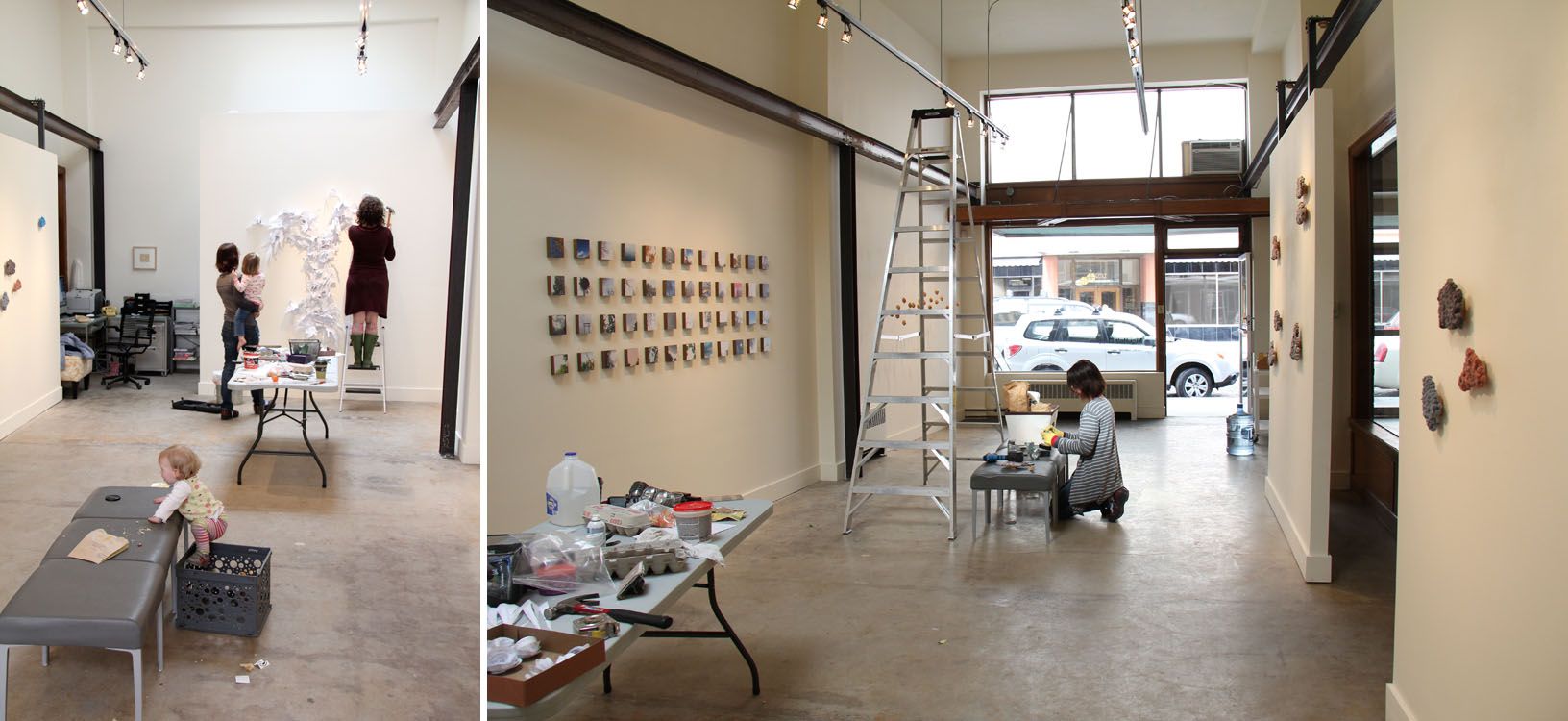 Installation week
I find it hard to photograph my work so that all the details that are near and dear to my concept shine through. It relies on shadow and interaction, getting up close, secret reveals. But, here is a stab at it…photos accompanied by snippets from my artist statement.
I Can Fix It. (one week of eggs, beeswax, thread)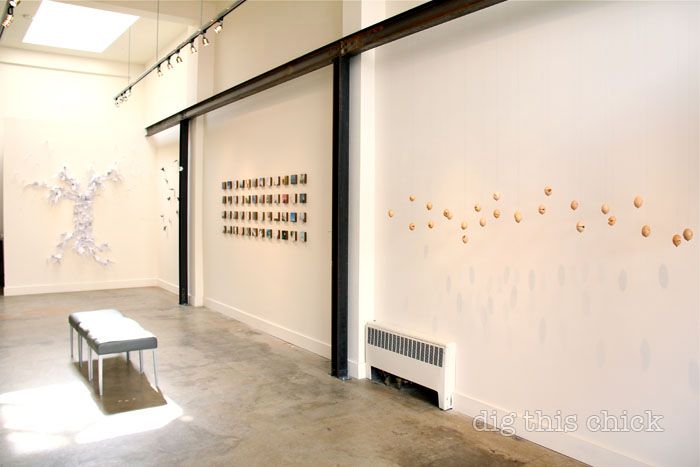 We have a small flock of hens who provide eggs for our family. We eat a lot of eggs. We pile the egg shells in a countertop pail and, eventually, the uniformly stacked egg towers land in the compost pile. I always feel a little sad about it, like at some point I personified the shells. They grew in our hens and carried important nourishment for my family. The hard, smooth, symmetrical vessels are so perfectly protective of their contents.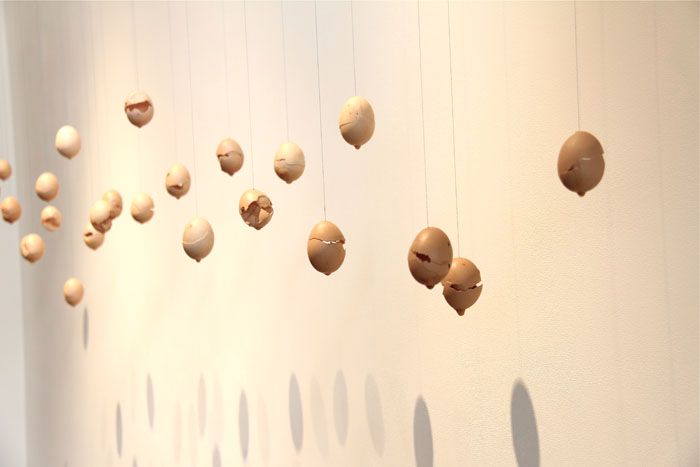 Right now, Margot's sadness evaporates with a hug, Ruby's frustration melts with an airplane ride. Right now, in my daughters' eyes, I Can Fix It. In reality, kids, like egg shells, are fragile and susceptible. Every crack and experience forever a part of their story.
equinox, solstice, equinox, solstice. again.
(48 photos on wood, 12 of each season)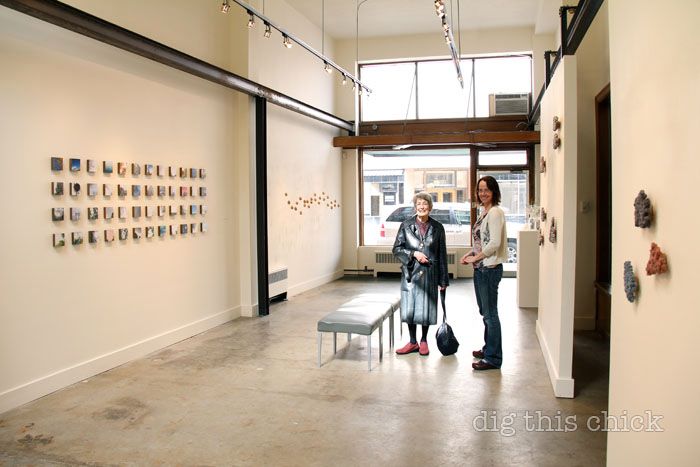 Since the birth of my first daughter three years ago, I find the cliché statements about time and children to be true. Time seems to move at a new clip, the seasons whir by like pages of a board book.







My camera is my trustworthy pal, it grounds me solidly and electrifies my surroundings. I frame and focus on ordinary moments. Through my lens I am present, I discover my fleeting, evolving, inspiring world.
new growth. old growth. (four years of 275, 301 words, thread)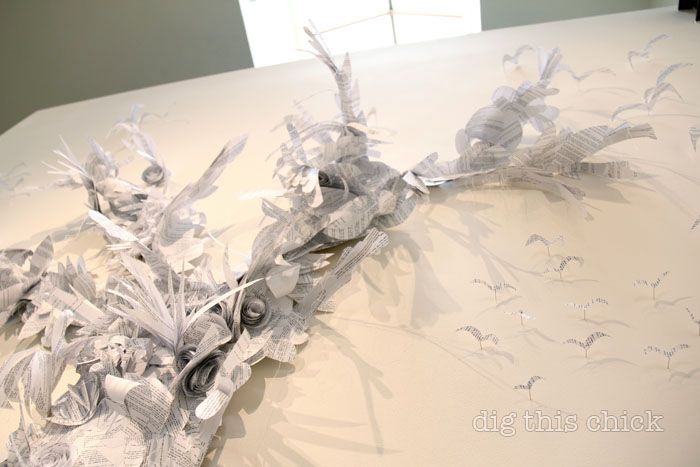 From March 18, 2007-March 18, 2011, I wrote 275, 301 words online. Though my blog and my weekly column, my little online corner has witnessed my most life-changing experiences and has grown amazing friendships. The whole thing has blown me away.
I compiled and printed everything I have published and started cutting the words apart, making organic shapes out of the linear type. It felt strange to not honor the chronological rhythm of my work but fun to reformat, recreate my work. I stitched the pieces back together, branches of type, roots of language, flowers of memory, birds of thought.
everything becomes dust

(six months of dryer lint)
Dust is defined as something of no worth or particles of matter regarded as the result of disintegration. A freckle of dust is of no consequence, I couldn't even hold it. Yet, many specks, particles, freckles all together make formidable clouds. Someday I will be part of a cloud.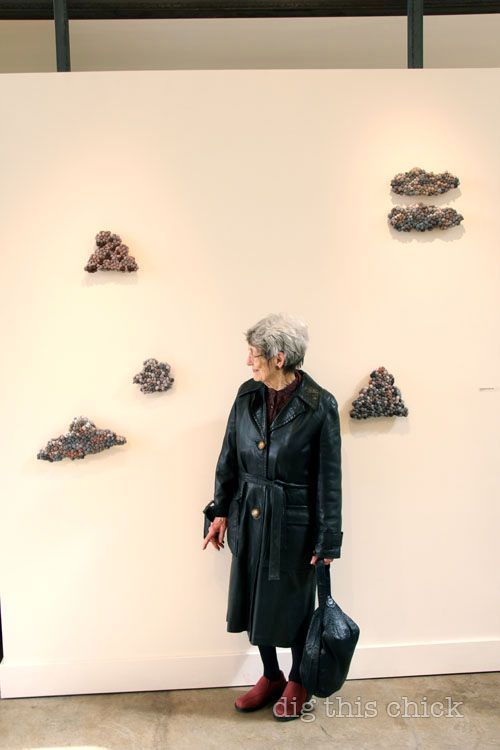 My friend, Patricia, standing next to the cloud she purchased.
hatch

(three months of thread waste)



Metamorphosis is a biological process by which an animal physically develops after birth or hatching, involving a conspicuous and relatively abrupt change in the animal's body structure through cell growth and differentiation. Some insects, amphibians, molluscs, crustaceans, Cnidarians, echinoderms and tunicates undergo metamorphosis, which is usually accompanied by a change of habitat or behavior.
I design and make clothing. I save all the little tails of thread that are usually thrown away when sewing. All of those tiny, insignificant clippings become piles of dense material. A wieldy, organic mass that, when repositioned, joined and nourished, takes on new life.
FAQ
How long did it take you to make the tree/roll the dryer lint/piece the eggs together?

I don't know! I did much of these things in small windows of time over the course of many months. All the pieces of paper for the tree were stitched together before I installed and most of it was pieced together in the gallery, pinned to the wall, more sewing etc.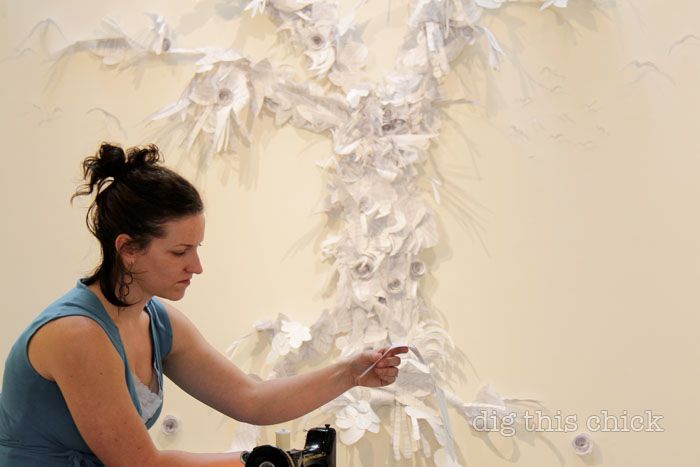 sewing my cut-up words together in the gallery
How do you come up with your ideas? What is your creative process?

The medium often informs my creative choices. I rarely have an idea for a finished piece and then seek the right thing to make it; I almost always have the thing collected/organized and then I decide what I will make. For example, I collect dryer lint and sort by color because it is amazing to me that tiny, tiny dust particles can amount to house-sized quantities of lint and that gray isn't gray at all when you look closely. Then I started thinking about how clouds are that way too–tiny, tiny droplets that amount to powerful forces of nature. That, everything will be dust at some point.
Is the dryer lint dyed?

No.
Is your stuff for sale?

Yes, everything is for sale. A few clouds and several of the photos have sold but I am printing and mounting five of each photograph so more are available. Contact The Brink for information. Also, I will post a slideshow of the photos somewhere soon.
Lastly! My dress. I think it turned out pretty stinkin' cute.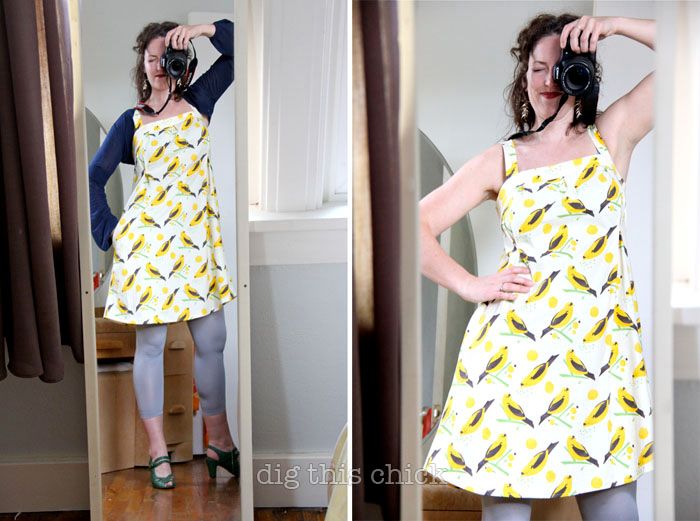 sweet little shrug, footless tights and green shoes from my local favorite Betty's Divine
I used the Trapeze Dress pattern from Weekend Sewing. I made a medium and it was super comfy, but a bit too mu mu-like for my taste. I love the big pockets, I love the general shape. Alterations: added a box pleat in the front center where dress attaches to bodice (the pattern only called for two box pleats), removed one inch from bodice diameter, stitched pleats in place eight inches down from bottom of bodice on the back of the dress, added two box pleat hand-sewn tacks to the front under my girls, straight down from outer edge of strap to create shape, hemmed to just above my knee.
How do I wrap this up? Just, yay. Enjoy! The rest of your weekend, life, your people, art. Enjoy.
:: :: ::
all photos taken with a Canon Digital SLR from Vanns.com