hump day nuggets: little bits of the season in photos and words about the last week

Last weekend I was busted by a heavily-moustached security guard for peeing behind a bush. Any mama who has held it for hours so she wouldn't wake the kid on your back might understand my urgency and choice. When he asked my name so he could personalize the lecture, I said, "Becky. No, Nici." because I wanted to lie but I can't. I actually will not lie no matter how insignificant it may seem. Lies are too messy and lies just beget more lies beget more lies until the truth is a hazy muddle.
What does it mean to be an "honest mom" or an "honest writer?" These phrases are certainly tossed around the interweb a lot these days, especially regarding blogging, and I have been thinking about it. Perhaps to my detriment.
I started my blog in 2007 and a few blogging trends and labels have emerged and been criticized: bloggers who merrily document joy and creativity and bloggers who self-deprecatingly document shortcomings. The former is pigeon-holed into being out of touch and blamed for making people feel inadequate. The latter is billed as being mean and blamed for validating poor choices. Both are criticized for being dishonest and misleading.
I don't like that. I think people choose to write about different things because people choose to reflect on different things. Writing isn't black and white. People aren't black and white. Honesty in writing means honoring your own inclinations. It is up to the reader to own their interpretation. I find beauty, lesson and solidarity in all styles, in all content. The thing I love about blogging is the creative outlet, kinship, inspiration and interaction. I think it is destructive to categorize people, it creates a "them" and "us" dynamic that fights the creativity, kinship, inspiration and interaction I come here for. We are all more complicated than that.
Thinking about all of this has made me pay too much attention to what I sound like or how my words might be interpreted and I suppose I am writing about it here to declare: no more! This is my space where I reflect on the lovely, knee-buckling, funny and real happenings in my life in all their iterations including happiness, including ache. Honest. Just like you.
A friend told me the other day that I was endlessly cheerful. Another friend called me get-shit-done Cline. I am asked a lot how I 'do it all'. I tend to get defensive explaining I have moments that are sad and unproductive, like I need to justify myself. Again, I am here to declare: no more! I don't feel like I fit tidily in a mold but if anyone wants to place me in the Merry Blogger-Life-Parenthood Camp, I will simply and happily say, thanks.
Just as I need to own my reaction to another's outlook and writing, I need to own my own outlook and writing.
OK, so that was a very long hump day nugget introduction and it perhaps has nothing to do with the following nuggets. Or, most likely, it has everything to do with the following nuggets.
NUGGETS.
:: We got two new hens from a friend who is moving.

Names?
And, the scene as Margot and Ruby watched me chase and eventually tackle the chickens to take home was something. When it was all over and the girls were safe in a box I said wow and Margot said holy smokes mama.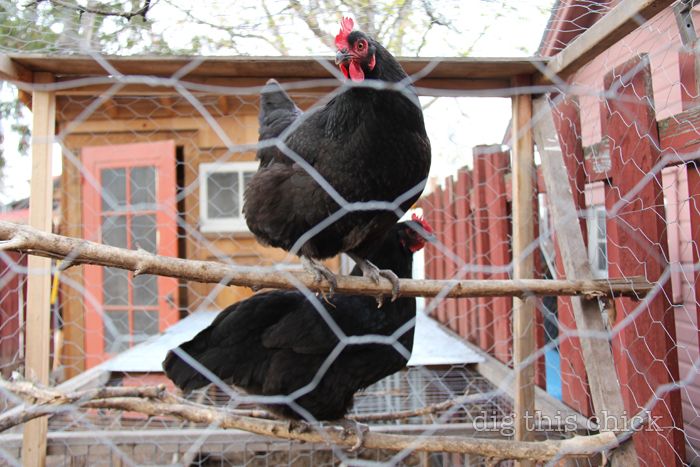 There was an initial hiccup where I made the mistake of thinking my hens would welcome the newbies with open wings. Instead a chicken fight ensued and I broke it up by wildly swinging my camera between Cooper and New Hen.
I quarantined them and Margot walked over to the run and said, "Hi chickens. You should like our other chickens. Maybe try sharing and being kind?"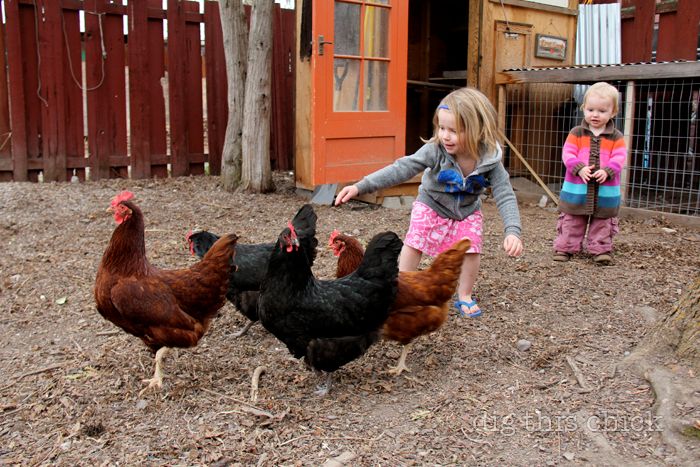 And now they coexist peacefully. Margot's chat worked.
:: We made potholders for the grandmas. Margot and Ruby drew on fabric with permanent fabric markers, I assembled the potholder and quilted over a few elements of their design with matching thread. They turned out pretty stinkin' cute.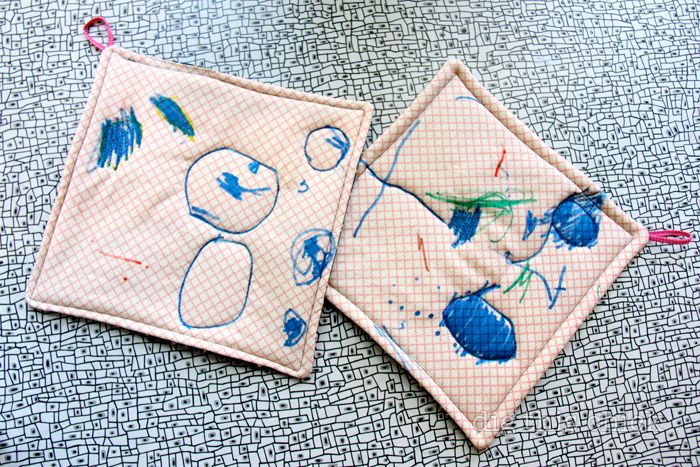 And, cards too.
:: Sunny morning bike rides to our favorite coffee shop are the best.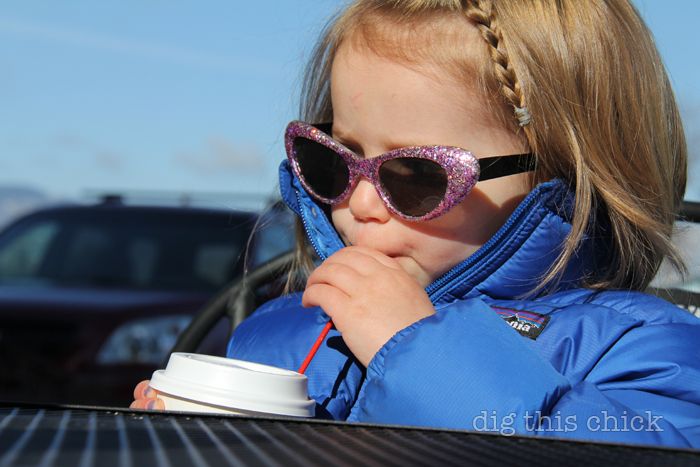 :: The dandelions are out in force. Our neighbor's yard is insane with the cheery yellow dudes and, much to Margot's excitement, she invited her to come and pick as many as she'd like, whenever she likes.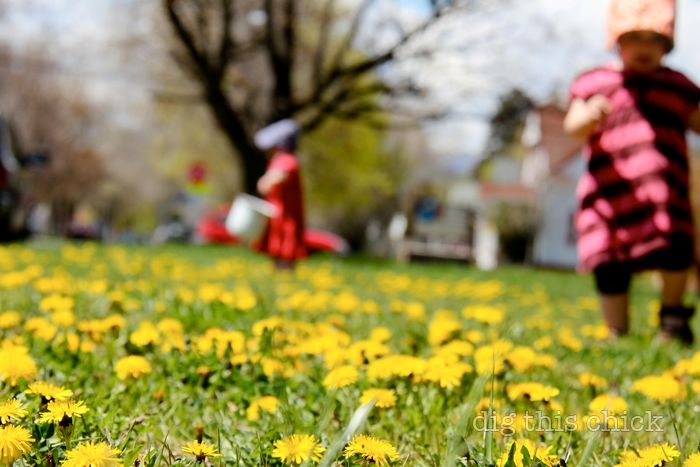 Margot enthusiastically, repeatedly declares, "Oh another one! A big one mama! Look!"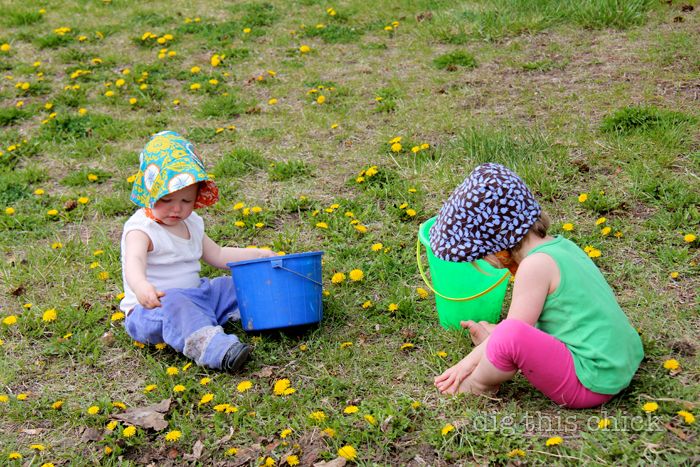 And then there is the sorting and studying of the dandelions.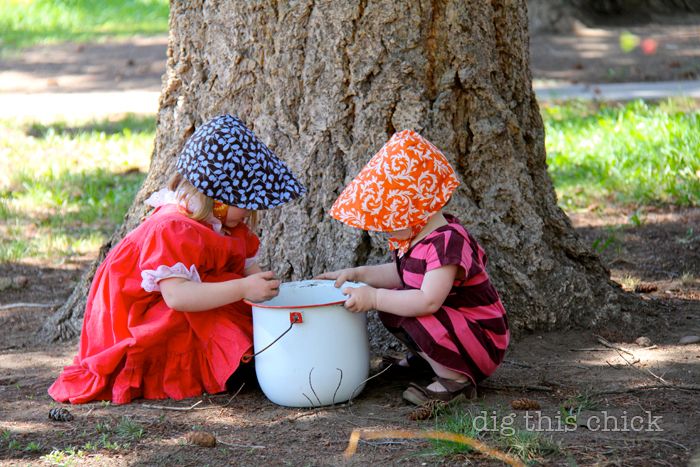 :: Seeds, seeds, seeds in the ground.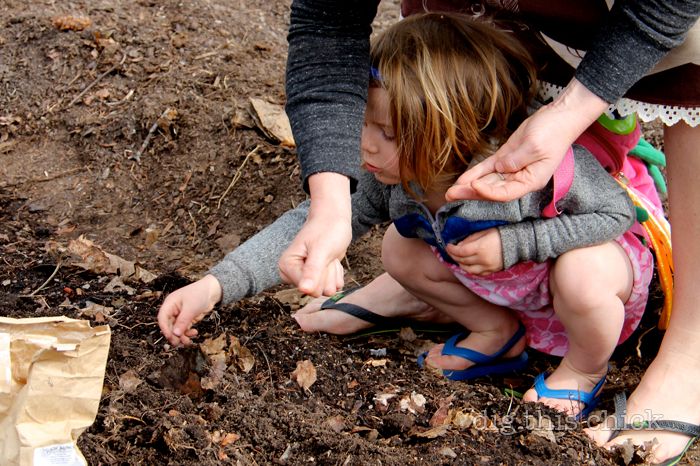 Margot planted her garden: beets and carrots
:: Huzzah for new sponsor Wee Chef Baby Organics!
This small Montana business makes baby food with local organic produce, fruit, grains and legumes in small batches, crafted by hand. They sent my family a variety and I was super impressed, as were my daughters. This food isn't just for babies but it is an easy and delicious way to add flavor and nutrition to kid meals.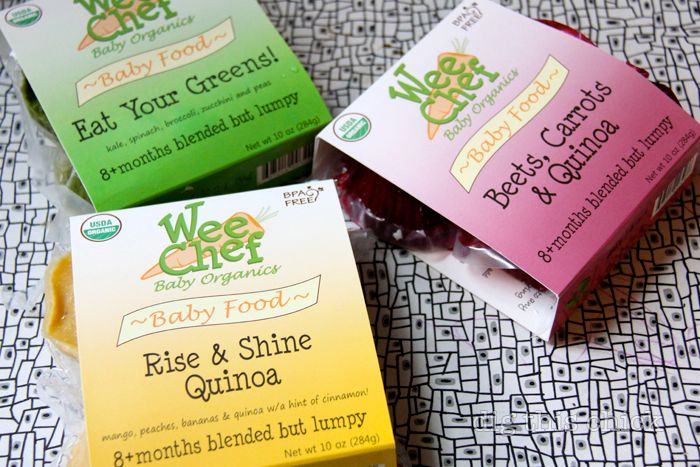 We added the 'Eat your Greens' to rice and tofu; We mixed 'Rise and Shine' in with oatmeal and yogurt; Margot ate the beets straight out of the package, saving some for dessert.
Wee Chef is available locally through Farm to Family and the Good Food Store, where chef-owners will be sampling their awesome food this Saturday, May 14 from 11am-1:30pm. Soon, you will be able to order their food from anywhere and I will let you know when that is available!
:: Ruby's morning routine involves letting the chickens out and collecting eggs. She is SO proud and contemplative when carrying her egg every morning.

Most of the time the egg makes it to the fridge without breaking
:: Margot has been into "getting rid" of things. I am pretty sure this comes from my spring purge of unused stuff in our home. We've delivered many boxes to YWCA Secret Seconds in the last few months. So, now, when she bumps her elbow on the tub she says, "I want to get rid of this tub!" A few days ago she asked for alone time and then quietly said, "Mom, I want to get rid of Ruby. I am over it." The words broke my heart but I knew the meaning was not meant to be so permanent. We talked and she explained that sometimes she doesn't want to share space with her sister. And then, like it was scripted, Ruby toddled over to her, grabbed her face and gave her a big, wet, open-mouthed kiss. Margot laughed.
I get not wanting to always share space. We all need moments of quiet alone time. For those mediative moments allow the shared moments breathe freely.
Oh the warmth and light of spring. The purge from our closets, literal and metaphorical. The magic of childhood, the intensity of parenthood. The constant state of learning (no more peeing behind bushes!) and evolving.
Life is rich, eh?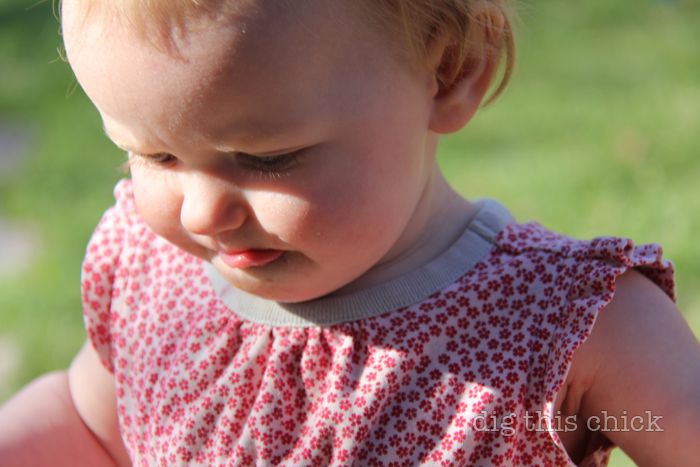 happy hump day out there.
:: :: ::
all photos taken with a Canon Digital SLR from Vanns.com