So I get a lot of questions from readers about getting outside with kids. Hiking, biking, gardening, playing. In snow, sun, rain, dirt. This here post is dedicated to systems and approaches that work for my family.
– – –
I find the old adage where there's a will there's a way to be most true with kids. The doubt and insecurity comes later, it is learned. Margot often wants to put 17 books, 3 dolls and a fistful of fruit leathers in her tiny elmo backpack. And boy does homegirl try and retry. She lays everything out and arranges and rearranges arriving at her own conclusion. She decides what to leave out, what can fit. Sometimes she surprises everyone with just how much stuff can actually squeeze in that tattered bag.
With my kids, I try my damnedest to give them space and support for self-discovery. Now, I don't mean that I let Margot wear socked feet in the snow. There are non-negotiables. But I do let her climb to jump from high rocks, get out of the stroller try to keep up with my running and fill buckets with as much dirt as she wants. Because even though I know the rock is too tall and dangerous, her little legs can't turnover at my pace and she'll never be able to lift the heavy bucket, I think it is vital that she discovers these things on her own. She gets up on the rock and decides it isn't safe and asks for help down, she sprints for 10 steps and wants back in the stroller, she grunts to lift the bucket and then removes dirt until she can lift it.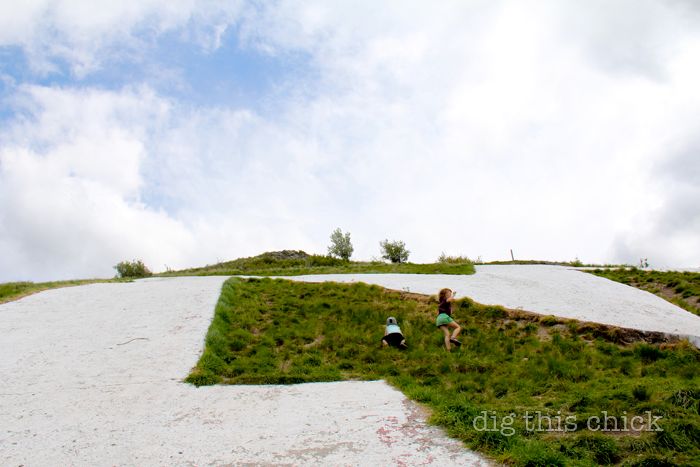 It is not always my inclination to give my children this space. It is hardest for me when I am in a hurry, when my frantic energy infects the whole situation.
The funny thing is that when I am hurried and I try to scoot my kids along, it always takes longer and ends in tears. Taking the time to let Margot and Ruby wander through the world, to change shoes and socks seven times when we are all ready to go or to stack every single spoon we own just so, actually takes less time and discussion and it is way more rewarding for everyone involved. I constantly remind myself of this.
All of this transfers to children in nature. Kids continually amaze me with just how capable, strong and smart they are and with how much they can figure out and accomplish if given the chance. Just last week, Margot and two other small children hiked to the "M" trail which is a steep 620 vertical foot climb in just under one mile (the photos in this post are from this hike). I have found that when we give kids the opportunity to make choices and try, they step up. They get it. And when I let go of rushing, they respond.
I think a bit of structure, incentive and gear are good when venturing out. Following are a few specific ideas, methods and things that allow kids and parents to learn, explore and accomplish in the garden and on the trail.
In the Garden:
– Plant seeds. My kids plant "seeds" with me. A pile of hole punches, rice or pea gravel work great.
– Turn dirt. Margot and Ruby love to dig in freshly turned dirt. So, I turn a section and let them have at it.
– Engage. My best days in the garden with kids are when I allow myself to not get stuff done, when I relax my agenda and dork out over a big worm or two egg-shaped rocks.
– Provide an abundance of vessels and tools. Gardening gloves, buckets, yogurt containers, egg cartons, toy trucks, spoons, sticks, watering cans…whatever containers/earth movers I can find! My daughters love to sort dirt, rocks, weeds into different containers. They do this for hours.
– Create paths. We have designated paths for walking within our plot and it is a game to stay on the path and not step on the garden.
– Teach kids to weed. If there are a lot of one kind of weed,  I challenge Margot (and task her with helping Ruby) to pull as many as she can and encourage her to ask if unsure.
On the trail:
– Bring fun snacks. I can never have too many options. We haul fruit leathers, goldfish, almonds, raisins, fig bars…On the "M" hike my friend, Marge, brought suckers. They were an awesome treat at the half-way point and lasted until the end.
– Take breaks. It is important that I listen to my kids when they get tired. I don't want them to have a negative association with exploring. We pick a tree or rock and get there to stop for water or a snack or to just sit and stare at clouds. Sometimes we stop a lot.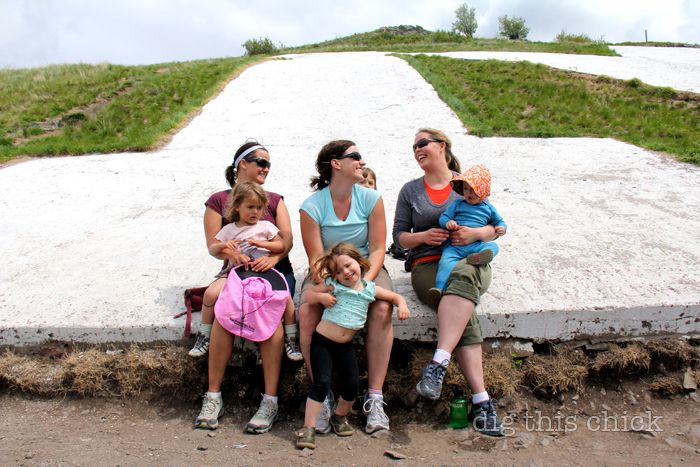 – Let go. If it is time to turn around and go home, it is time. When I push it and push on, it annoys everyone.
– Stay close. I usually try to stay within a 45 minute trek to the car or home so if a scraped knee or exhaustion occurs, we can get back pretty quickly.
– Be prepared. While little is needed, there are a few warm weather essentials our fam uses (I talk about our cold weather faves here)
Ergo baby carrier. I get a lot of questions about this carrier. We love love them. We have two and both kids hang in them all the time. We don't even use a framed backpack. AND, Ergobaby is giving one away to one of you lucky ducks! Leave a comment for a chance to win win win. I'll randomly pick on Monday, June 6.
A good, sturdy, easy stroller. My museum co-workers all chipped in on our swanky stroller when Ruby was born and it is awesome.
Bike trailer. Definitely our main mode of transportation in the summer, we snagged ours off of craigslist and I think they are pretty easy to find used. 
After listing all that stuff, I have to say the thing I dig most about getting out with my kids is that I realize how
little
we need to find adventure, game, play, memories, fun and wonderfully tired muscles. How many pine needles can I fit in this puddle? Who can find a sharp rock? How many different colors of green do you see? Stop and be still. What can you hear? Should we skip up to the next tree? Can you see the red truck way down there?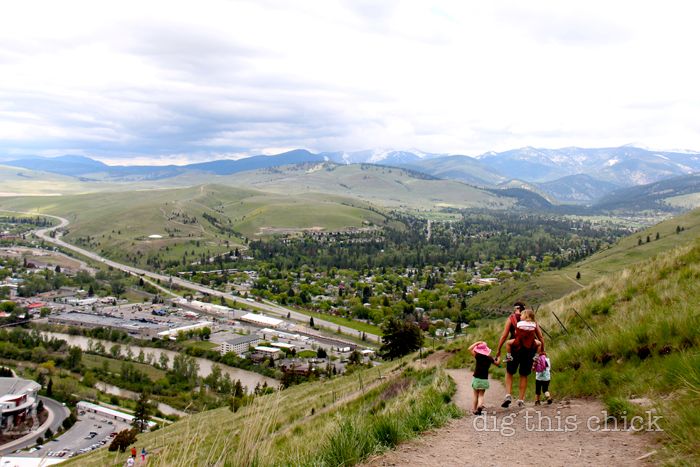 I've said it here many times but being out in nature is our peace, our church, our recharge. We gain perspective, patience and joy. I have always been connected to being out in the mountains and now that I am a mama, it sure is different. I don't run eight miles up the gut of the Rattlesnake and I don't ski backcountry. But I have found these moments of teaching my kids and exploring with them to be the most rewarding, challenging and important experiences so far.
I hope this information is helpful. I'd love to hear what works for your family.
"A bird doesn't sing because it has an answer, it sings because it has a song." – Lou Holtz
ps THANK YOU andralinn for suggesting Maria and Captain for our new chicken names. They stuck. Although Margot now refers to the entire flock as Von Captain's Seven Children.
:: :: ::
all photos taken with a Canon Digital SLR from Vanns.com