hump day nuggets: little bits of the season in photos and words about the last week

As I have exhaustively told you all about, our winter was long and our spring more like the postlude to winter.
But now! Now we wake and assume it will be warm. I don't think about turning the heat on at night, our vegetables are pushing up and out, exposing color and pledging to feed us soon.
So with this sudden and so awesome summer that is happening, I haven't been writing as much. I have notes all over the place, both literally and in my brain, indicating things I want to download into essays and yet I end up instead installing sandboxes, watching storms, smearing sunscreen and pitching tents. And by the day's end, I look at my notes and feel a real, fun urge to write but it is all we can do to grab greens from the plot and pair it with anything for a meal, run around a bit more and fall into bed.
My habit is to write nuggets on Tuesday nights when the family is tucked in. I sit cross-legged on our couch with my computer as I comb through photos and eek out words that tell the story of our last week. I like this ritual a lot. It still exists in the summer but happens much later, as dictated by our kids' bedtimes that follow the sun. And sometimes, like last night, it just didn't happen because I met up with friends at our local brewery and then came home to a wide-eyed Margot excited to camp out with mama again. Summer.
I think it was like 11pm the last time I told her sternly (but through a giant smile hidden by the darkness in our backyard tent) Margot, for real. It's bedtime. And so we fell asleep snuggled so perfectly in our shelter next to the chicken coop. It was so good.
Nuggets.
:: Our Red Lodge trip ended and we took off west, headed home to see papa. Thankfully, it was smoother than the first leg. We weren't 10 miles out of RL when Margot said, "Mom! It's so beautiful! Should we pull over and run around in that tall grass?" Now, my girl knows how to tug my heart into bliss. "YES," I said.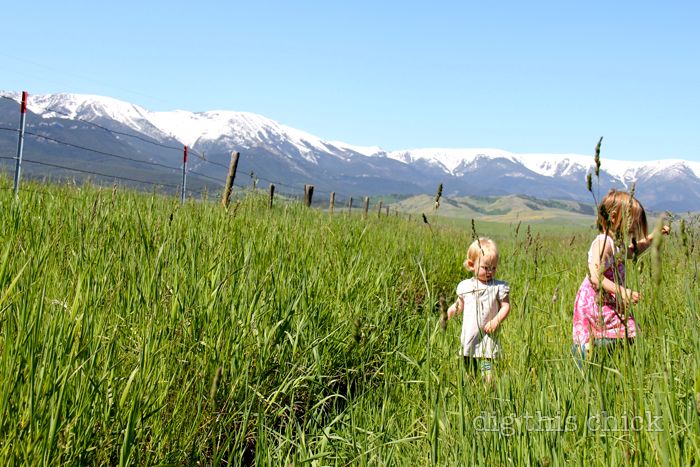 For Montana peeps: this is on the Victor Road

:: I love my mother-in-law and am thankful she is a day's drive away.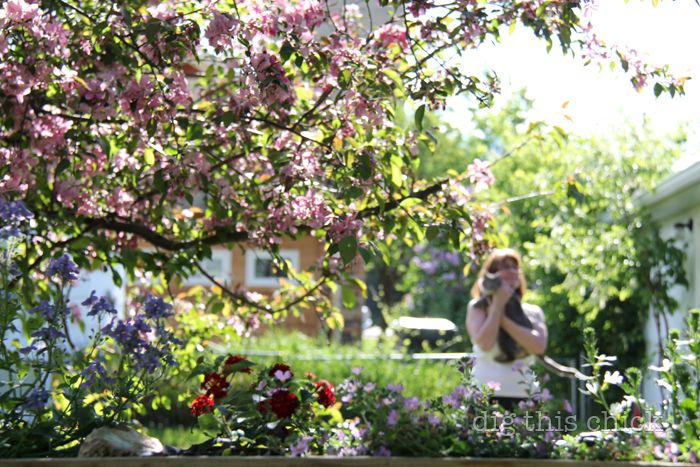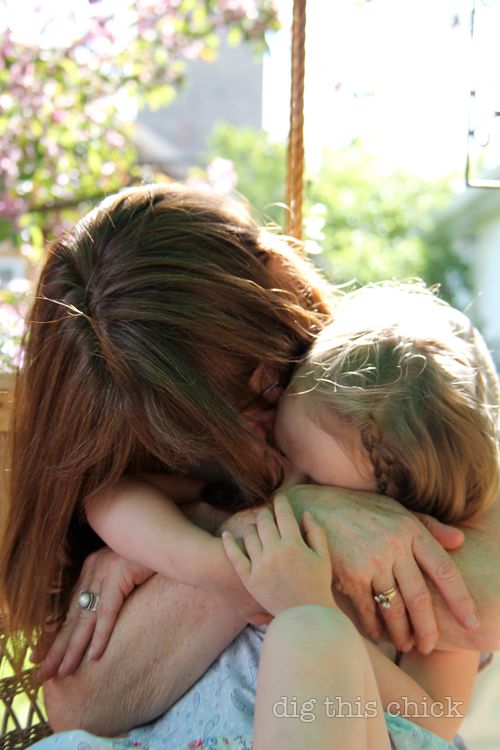 :: We had our pal over for dinner, the one Margot calls by his first and last name as if it is one word BenBarbee. He is one of Andy's oldest friends and my girls adore him. On this particular night Margot shushed us every time we got a little loud because her delicate baby was sleeping. Her baby, on that evening, was a yellow and pink bouncy ball in the bottom of a cup full of water.
She consoled, cuddled and rocked her baby all night and then Andy asked, "Margot, I wonder how he can breathe under the water like that. What do you think?" Ben and I nodded and looked to her for the answer. And she set him down, put her hands on her hips and said, "You guys. It's just a ball. Geez. Balls, like, don't breathe."
:: Early summer bouquet of daisies and tarragon, the prefect combination of sweet and savory.
:: Shared summer meals with friends are the best, no?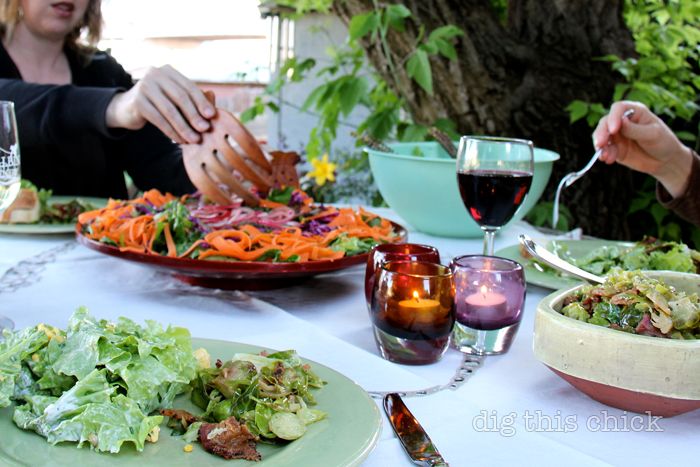 :: Margot's current clothing fixation is her polka dot tights. After the third day of rolling in dirt in light pink tights I announced she needed to wear something else so I could wash them. She protested and I held firm. She was upset and I sighed with the realization that my discomfort surrounding her too-warm disposition and crusty tights was my own. She only wanted those dirty, hot tights and so I said, "Oh, okay. Big deal, mama. Margot, wear the tights!" And she twirled and said, "Ruby! Did you hear that? It's a miracle!"

Plus, she REALLY loves that Ruby has the same same.

:: Neighborhood ducks are back and it is a wonderfully wonderful thing to sit and stare at the mama and her ducklings with my kids.
:: I am so excited to tell you that I have an assistant! My business has been growing, both writing and clothes, and I have been a bit nervous for next. It has been a many-month process to decide this step was a good one and then, right as I was certain, Sarah Jess (her whole first name, all southern and sweet) landed right next to my husband in line at a coffee shop. We knew her, a friend of a friend and, long story short, she's perfect. And darling. And my kids love her.
I am excited to share some new things with you all. Soon.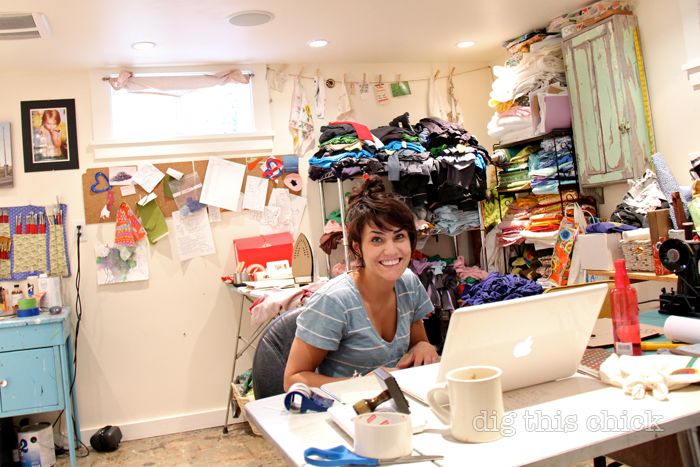 :: "Dad, wow! Our shoes match. Mom, take a picture."

Let me answer before you ask: my husband has a funky shin vein. It's fine.
:: Black & Decker sent me a PlantSmart digital plant care to give a go.

those sorry squash looks so much better since I added blood meal.
I tracked my winter squash for two days, plugged that bugger straight into my computer and *poof*. Charts showing me sun, moisture and temperature readings. Cool.
And? You could win one! Leave a comment for a chance at it. What are you growing? Thanks, Black & Decker!
:: I sincerely love my dog.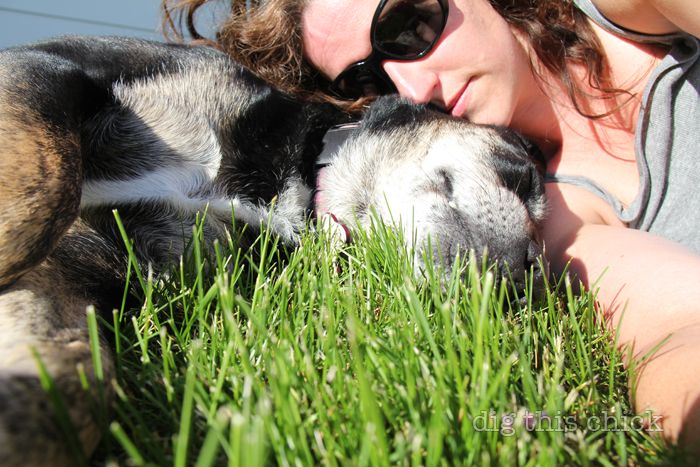 :: We had some left-over oven-roasted fingerling potatoes and I made a pretty dang good potato salad.
Not Your Grandma's Potato Salad (a very loose recipe)
a few handfuls of fingerling potatoes
olive oil
chives, parsley, tarragon, rosemary (or whatever herbs you have), minced
7 cloves garlic, minced
4 eggs, hard boiled and chopped
3/4 cup crumbled feta cheese
red wine vinegar
salt
Chunk up potatoes and toss with olive oil, salt, herbs and garlic. Bake at 425 until done. Let cool. Add eggs, feta, more herbs, a splash of vinegar, oil and salt to taste. It's good.
:: First strawberries are always the most exciting harvest around here. Always.
:: Peas are a close second. And they're just around the bend.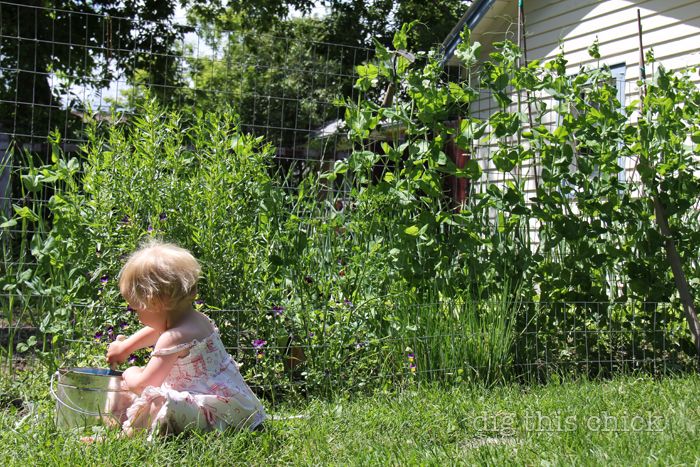 :: I have a feeling I'll probs declare beans, tomatoes, cauliflower, basil, squash, carrots, broccoli and beets to hold the same rank.
:: I am really interested in wires against sky. The sharp, defined man-made line communicating with intangible eternity.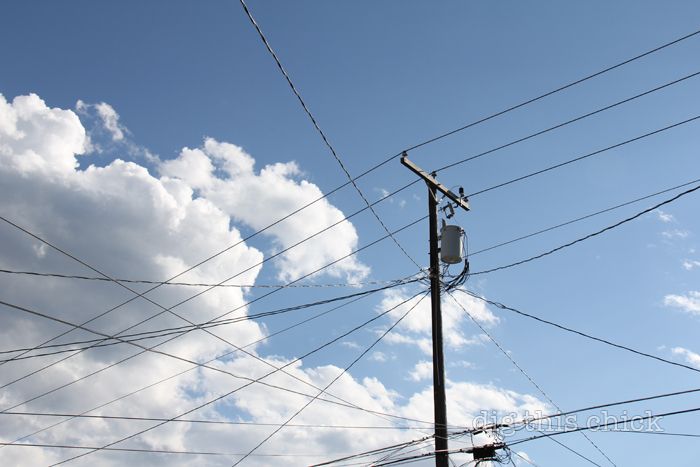 So summer is here and my backyard camp awaits (with a squealing kid).

See that tent back there? A whole other world.
I conclude with my warm, green disclaimer: During the heightened energy of Summer 2011, Nuggets may be late but know they will arrive and it just means author is living the next Nugget.
Happy hump day out there.
:: :: ::
all photos taken with a Canon Digital SLR from Vanns.com