hump day nuggets: little bits of the season in photos and words about the last week
Hello world.
I feel very alive today. Everything around me is stretching and surviving.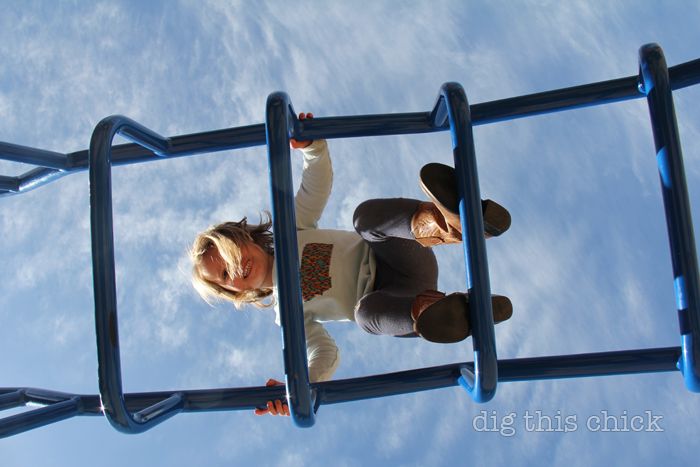 it really is remarkable how infrequently my child's shoes are on the correct feet
I'd say thriving but my damn spinach is in a desperate place of survival. It'll get there. Sometimes hang ups exist. In the roots, before the roots. We may never know the reasons for this pale, unfortunate hiccup.
It's the risk in a boulevard garden. Animals and people have at the space. No fences, little control. We'll diagnose the lame spinach issue (I think we have a nitrogen deficiency in one area), problem solve with blood meal and whispered well wishes. Hope for a turnaround.
We garden on very little space here in the center of Missoula valley. Our property is complicated in that it is bigish (two city lots) with giant 150 year-old maples and spruces. So, we punt. Eek out an itty beet bed in a sliver of light, surgically slice a path for basil. I know the details of every single fold in our yard like one might know their lover's nooks. How much sun it gets at every time of year, which way the green shoots lean, the dense clay patches, the loamy ovulating patches.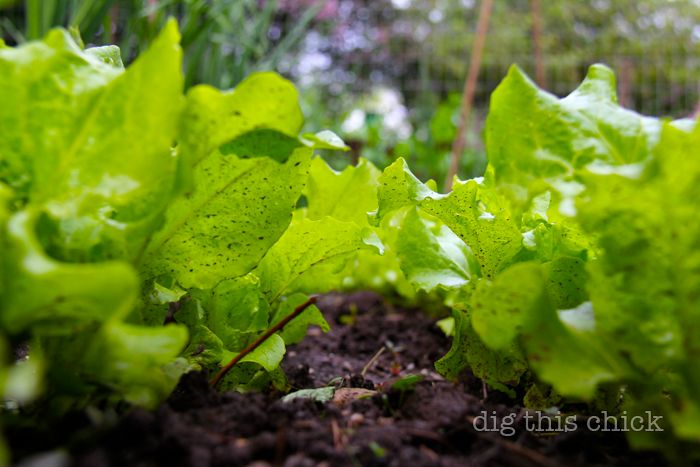 We barely get away with early season crops in some corners that, by the June leaf explosion, are in shade 21 hours a day. Sometimes (a lot of times) I crave a full sun space to just grow shit. But it is also kind of fun to really learn a chunk of earth and get better at tending her riches.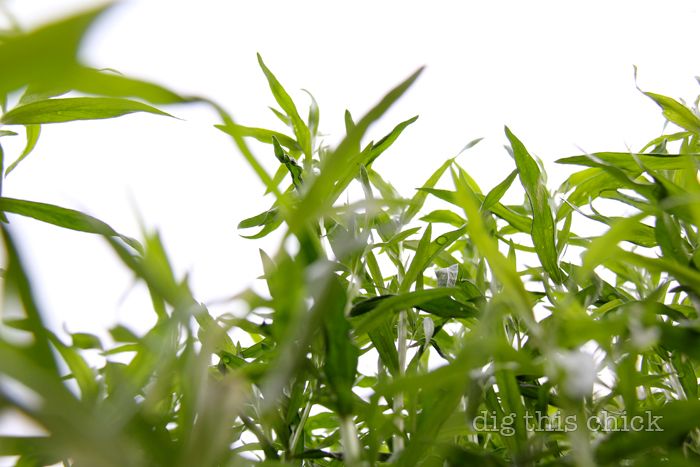 tarragon
Craving the full sun is why we ventured into the boulevard. It is a bohemian, rogue move. Planting in the city-owned space is not allowed and exposed to anyone who wants to pillage. Thing is, that space gets sun all day long. I can handle sideways glances from the neighbors who love lawn (mowed weeds), I can let go of traipsing dogs and children. This tiny addition doubled our harvest last year.
And you never know until you try. This year I dug planted even more. The harvest will inform, tell a story.
Nuggets.
:: Margot and I went shopping for some good summer romping shoes.

she picked darker blue with long rainbow laces
But her favorite part? "MAMA! There's chocolate on the bottom!"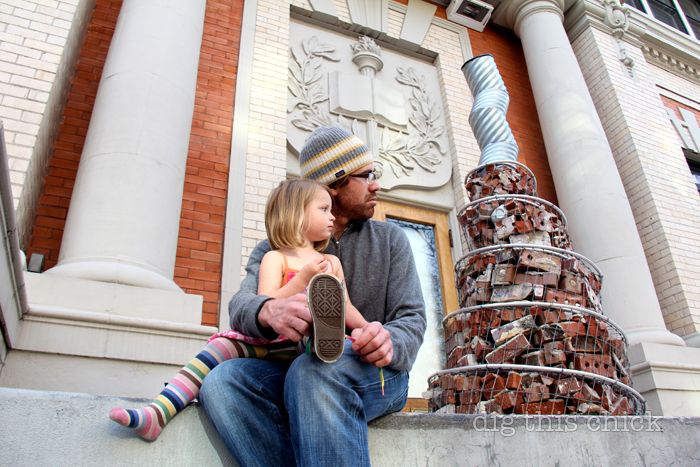 on the steps of the Missoula Art Museum
:: Been just enjoying the heck out of warm mornings in our backyard. So much to see and hear and smell and taste. It's pretty dang wonderful.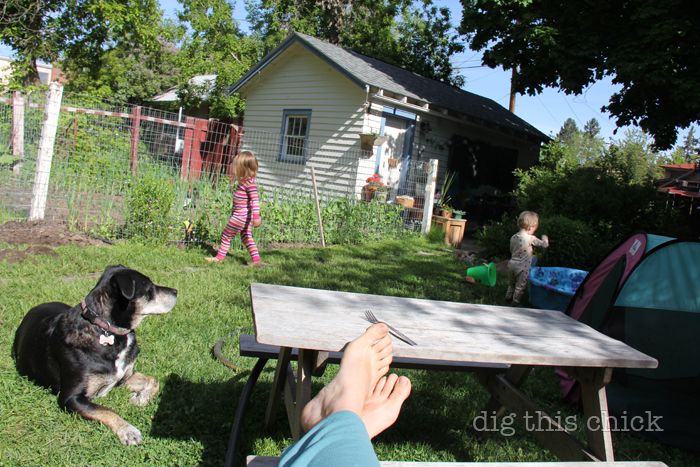 :: And then there are warm afternoons. Meals in the sun's beams make me sing.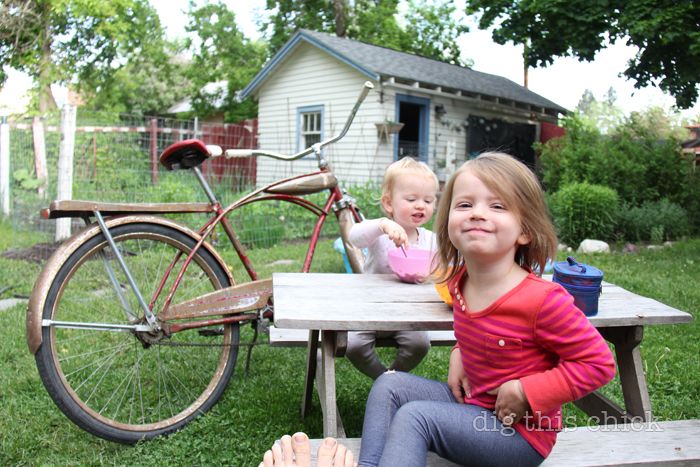 :: Margot hiked the "M" so she naturally wanted to hike the "L."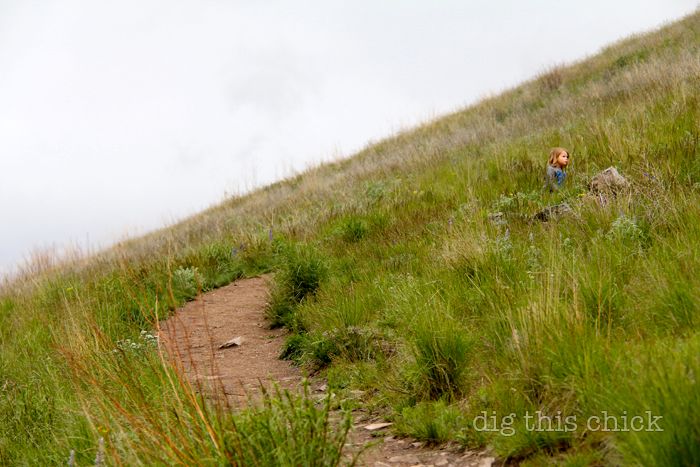 Yes, for those who inquired, the letters are giant white cement icons on the sides of our carefully preserved mountains. It's super weird. And yet normal.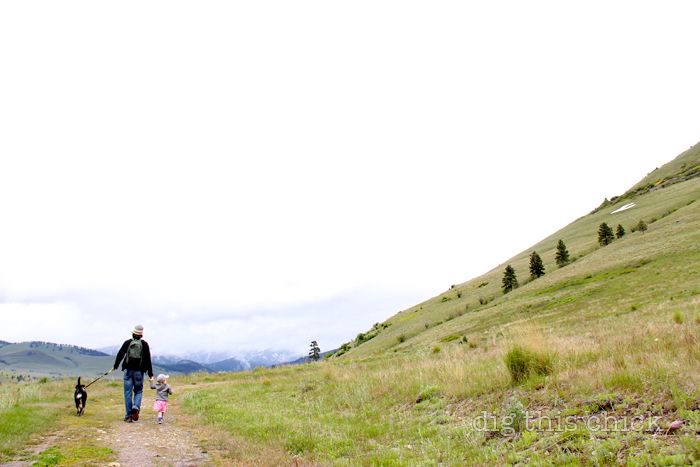 The "M" is for my alma mater, The University of Montana. The "L" is for a private Catholic high school. The "L" was loose rock for years and it was awesomely, constantly rearranged into words like yo, love, marry me, 420 and, my favorite, poop.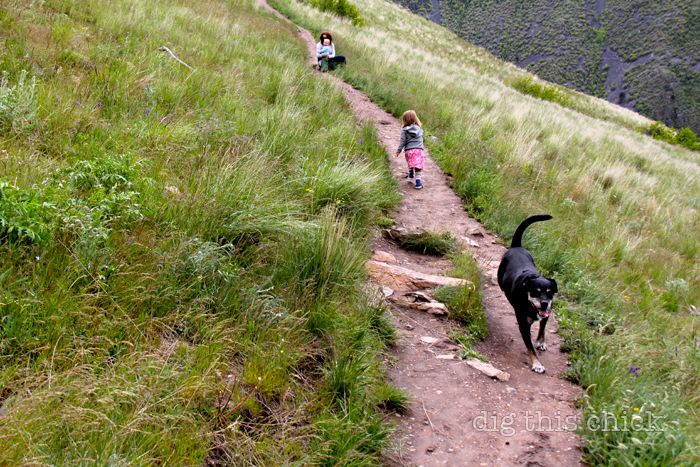 And then one bright day, the high school paid crazy amounts of money to cement in their hillside letter via a helicopter and buckets of cement. All of Missoula watched it unfold from the valley floor. So now, it's only an "L" with breathtaking views and funny memories.
One day last year I was driving over the Clark Fork River and Margot exclaimed, "Mom! Look! Is that my mountain with the "M?!" How could I say no? A few weeks later, with equal excitement, she said, "Oh and there's Ruby's "R!" It's true that a capital "L"looks like the mirror image of a lower case "r"…we went with it.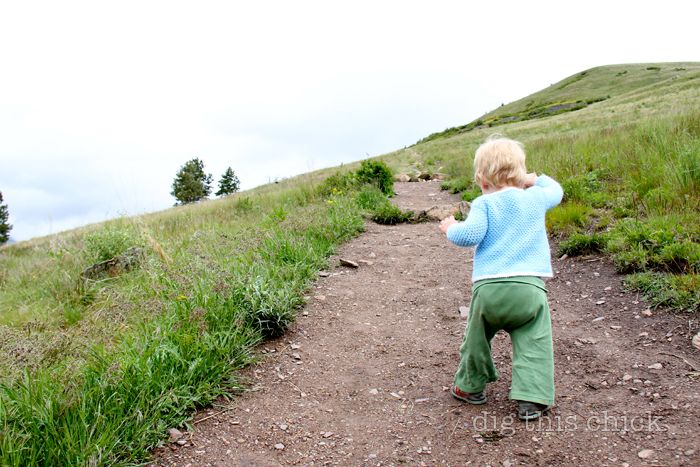 Ruby hiked an impressive amount on this steep climb (with grown-up propping, sister kept giggling as she leaned backwards. Amazing the trust that she will always be caught. And she is. Always caught.)
It's true we've led our children to believe they each have their own mountain. Hope that plays out alright down the road.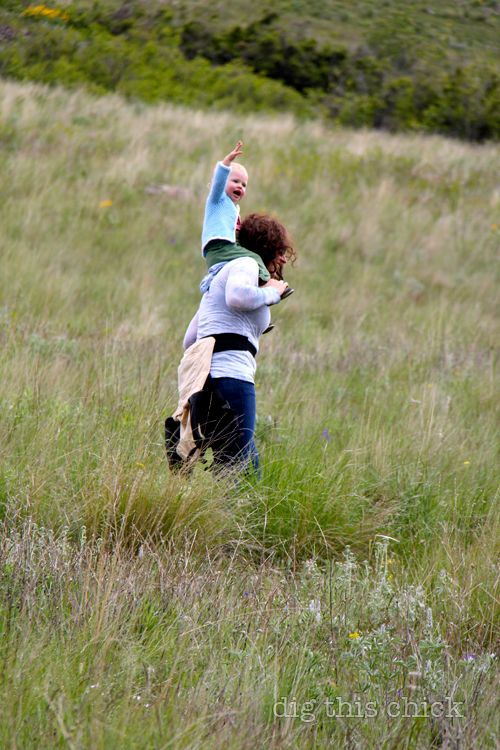 Ruby, taking ownership of her mountain, waved and shouted "HI!" to
unknowing Missoulians several hundred feet below.
:: "Make us a nest in Ruby's crib!"
:: I am supremely excited for the opportunity to review some amazing books over the next few months. I got a small stack in the mail a bit ago and have loved combing through the new pages that inspire change and enthusiasm in our home.
Kids in the Wild Garden follows Kids in the Garden and we are loving it. In fact, we are compelled to grow a few mealworm beetles to be released into our backyard habitat (I'll keep you posted). Full of educational information and wonderful, interactive ideas for getting to know your yard and encourage biodiversity, this book is really engaging and interesting for adults and kids of all ages.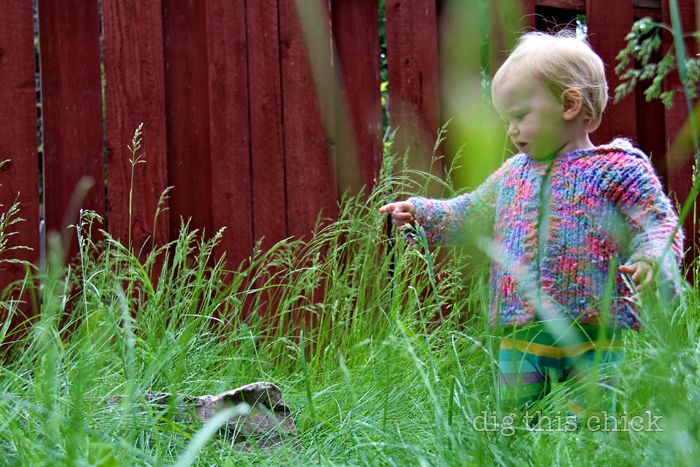 We keep a small area of our yard unmowed and undisturbed (buffalo grass). We made the choice for our cats who love to bask in the tall grass but love all the critters that are attracted to our little grassy habitat. 
A couple of things just for you:
+ Get 40% off both Kids in the Garden and Kids in the Wild Garden by emailing jess at blackdogonline dot com

+ Leave a comment for a chance to win a copy of Kids in the Garden 
Thanks, black dog publishing!
:: I really love Ruby's post-nap snuggles.
:: It was rainy and windy a few days ago, our garden tools abandoned like movie theater popcorn in the aisle. A loving indicator of some previous indulgent act, now stale and waiting to be put away.
Margot was grumpy, trying to wedge memory game cards into a small zippered bag.
"ARGH! Mom. It's just, like, not fair!"
"What isn't fair, bug?"
"All this wind!"
Turns out wind is totally unsettling to Margot. She later revealed her agitation and uneasiness about blowing curtains and clanging climes. Andy and I actually remembered a few times at outdoor occasions when she wasn't happy and it was windy. Our girl doesn't like the wind. I am so happy to know.
We ended up distracting ourselves making dishwasher detergent and laundry powder. Two things I've wanted to do for some time and finally researched and did. It was easy and fun and, holy holy, it saves us some money! And waste. I have been uncomfortably chewing on all that plastic in the recycling bin (not literally of course but that's funny to imagine).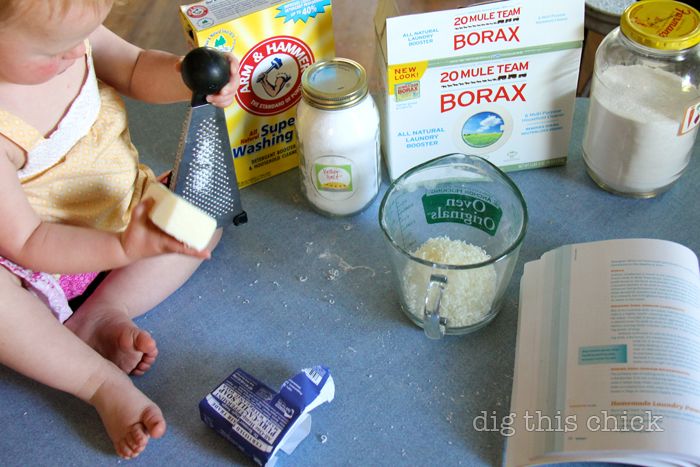 The breakdown:
Previously, we spent $25 for 105 laundry loads and 90 dish washes:
Ecos laundry detergent: $19 for 105 laundry loads; Seventh Generation dishwasher detergent: $6 for 90 dish washes.
We now spend $12 for 80 laundry loads and 96 dish washes:
borax: $2.50, washing soda: $2, Dr. Bonner's soap (peppermint): $4.50, kosher salt: $.50, citric acid: $2
We tried both of these recipes and can say YAY! They work really well. And it's fun to do. The recipes:
DISHWASHER DETERGENT:
2 cups borax
2 cups washing soda
1 cup citric acid
1 cup kosher salt
white vinegar
Mix dry ingredients together well and store in a jar. Use 1 tablespoon per load. Add a bit of vinegar into the 'rinse aid' thingie.
*edited to add: make sure your jar is bone dry before adding detergent! Apparently I had some moisture in the jar and our detergent solidified. We had to chip off chunks of detergent to use. It still worked well!
LAUNDRY POWDER (from Making It):
2 cups finely grated soap (we used Dr. Bonner's peppermint and one 5 oz. bar = 2 cups)
4 cups borax
4 cups washing soda
Mix well and store in a jar. Use 1-2 tablespoons per load.
*edited to add: We now have a HE washing machine and this low-sudsing powder works wonderfully!
:: Sometimes I wonder, Can it get better than right now?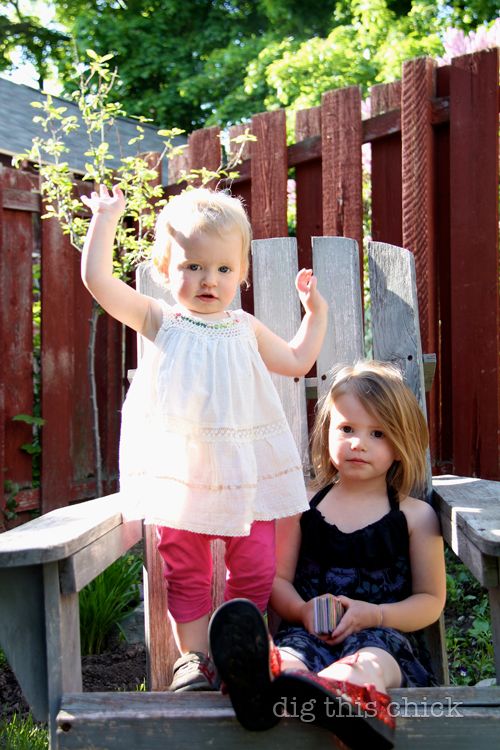 :: I know life will dance and grow. I don't know anything, really.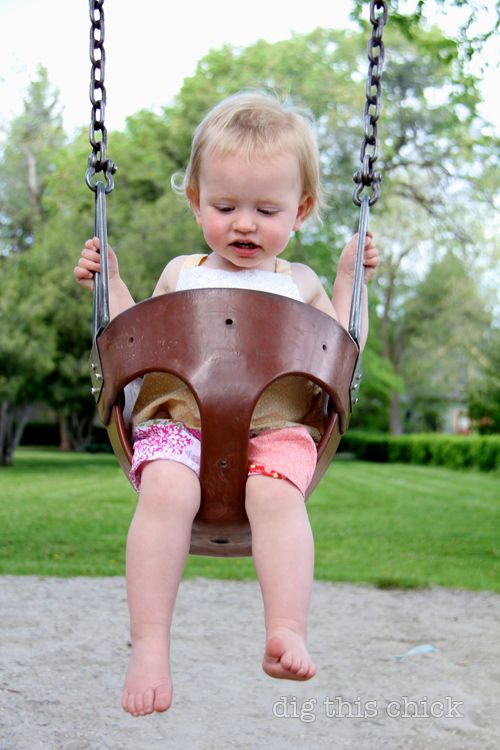 But it seems like my kids are growing faster than our peas, racing towards the sun. Thriving, surviving.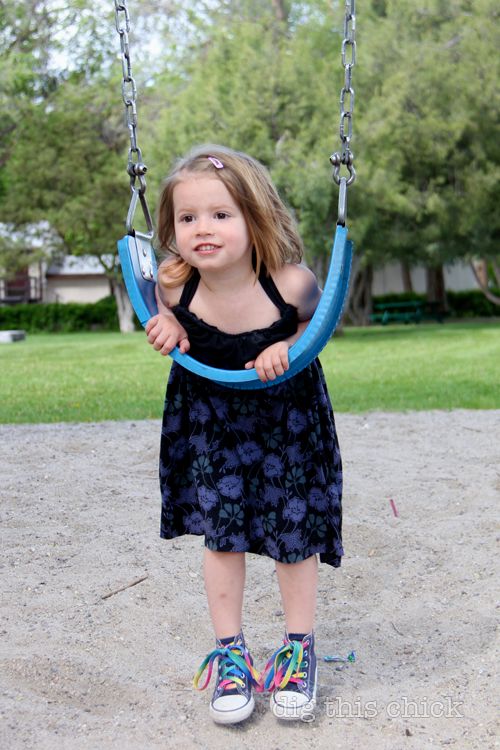 Gardening, parenting.
Sow, nourish, grow, bloom, evolve. Pay attention.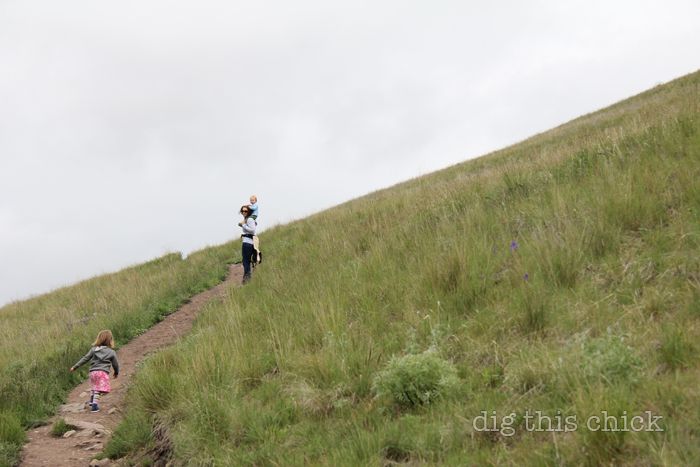 happy hump day out there.
ps I am presenting at the Get Published Conference in Bozeman in a few weeks. I am excited for the opportunity and look forward to learning from the other wonderful speakers.


:: :: ::
all photos taken with a Canon Digital SLR from Vanns.com
You might also like