There was total silence coming from the girls' room while I made coffee in the kitchen. This always means one of two things: Margot and Ruby are playing harmoniously in joyful silence or something I'd rather not happen is happening. Like, say, Margot is cutting Ruby's hair or a bowl of milk and granola is being massaged into a quilt. It's a fifty-fifty shot these days so I just inquired in my best non-assuming mom voice, "What's going on in there girlfriends?" and Margot replied, "Oh I am just taking my dog Ruby for a walk."
Coffee on, I rounded the corner to see just what this meant. Both kids stood, expressionless, in their bright room strewn with books and toys and life. Their seriousness evaporated into a fit of giggles when I started laughing so hard.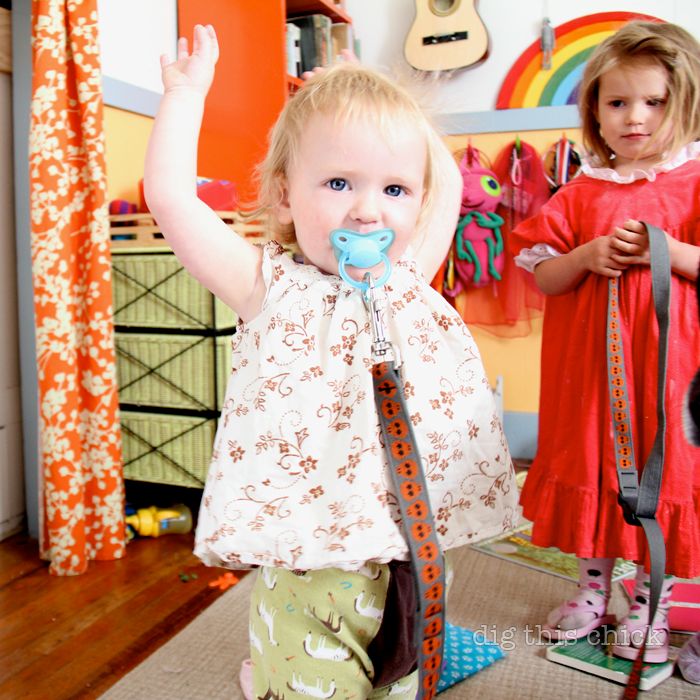 It was a fun game for a good length of time, Margot encouraging Ruby, "Come here girl! Come on! Good girl!" and Ruby toddling behind, trying to keep enough slack in the leash to avoid a mookers eviction.
My girls are my best story-makers. I've always gravitated toward writing non-fiction and now that I have a Margot and a Ruby I can't ever imagine tackling fiction. It's just so juicy right here.
In this week's mama digs I wrote about a recent car adventure with Alice, Margot, Ruby and Owen, Margot's Barbie. Owen was decapitated on I-90 just east of Bozeman. Click to read mama digs: blast out.
ps hula hoop winner:
Annie said…Playing in the sprinkler with my kids, catching my kids as they jump off the dock into my arms, camping in the Black Hills with my family, keeping up with our small vege garden. So funny that Margot's bike is the stinger! Tart has loads of wonderful things! A Hula hoop would be a blast to have with camping…entertainment just around the bend.
You'll have a hula hoop to camp with, Annie! Congrats. Email me at digthischick at gmail dot com.