hump day nuggets: little bits of the season in photos and words about the last week

Lately, more than ever before in my whole life, I have moments that pull my attention like an unforgiving magnet, yank me away (even when I resist) from whatever it is I am doing and scream do nothing but this!
Like when my kids run naked though the house in the morning. Windows open, sunlight morphing dust bunnies into a charming sparkle. Shrill, open-mouthed laughter and limitless energy. What a way to begin a day.
Or when Andy gets home from work and every creature is wound up tight and hopeful: the kids, the pets and me all excited for different arms. What a way to begin an evening.
Or, at bedtime when we skip though the routine and settle into the warm embrace of quilts and quiet light to read and read. And then spin stories about magic carousels that fly. What a way to begin sleep.
It's the magic of summer, the magic of warm skin and long days. It's the magic of plants and kids that grow while we watch, making us excited for next and nostalgic for last.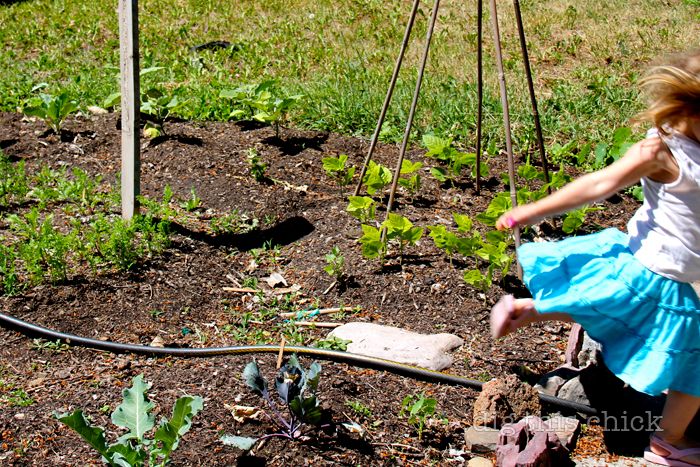 nuggets.
:: Evening rain storms complete with thunder and lightening have been quite exciting encouraging us all to cuddle and stare out the window – waiting – for the next boom and flash. The beginnings are my favorite. When the sky is neon and changes every second. Warm drops of rain are refreshing and exhilarating, thunder is distant. Perfect time for picking yarrow with my rhubarb.
:: Our lettuce has moved from tender, sweet naivety to coarse, seasoned bitterness. I always wait until the *last* possible moment to pull the thick stalks that grew from a seed the size of a glitter fleck. My lament is softened by the chickens lusty pursuit of the cast aways.
:: I am loving morning hikes, just me and my kids and a host of things to look at, listen to and talk about.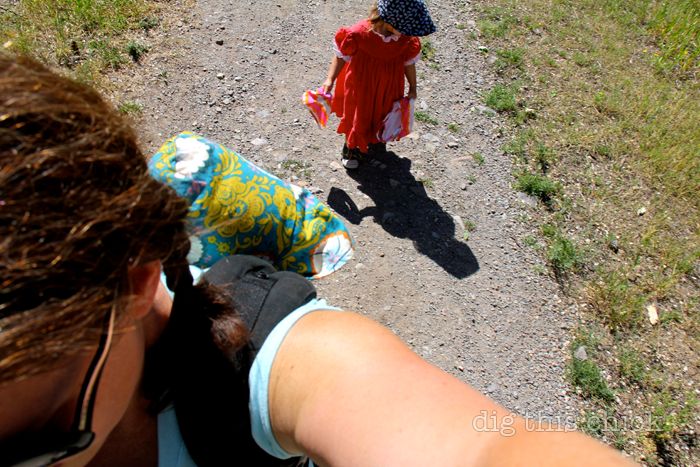 :: I also love afternoon yoga sessions. Margot is a wonderful teacher, Ruby a captive, adoring pupil.
:: I might detest putting laundry away but I love hanging laundry on the line. The hopeful organization and simple aesthetic of it all. Our diaper covers have been working hard for nearly four years.

For regular care, we wash in cold and line dry covers. Recently, they developed a funk. An unclean, ammonia smell. I washed the whole lot in hot water, rinsed three times. Poof. Smell gone.
:: "MOM! Come here! Can you find us?!"
:: You remember the amazing Montana business that gave me my dreamboat after my camera died? Yes, 
Vann's
 is awesome.
They have another Missoula-based business called Bigskycountry.com. where they well all sorts of high-quality outdoor stuff from top brands like Columbia, Mountain Hardwear, Marmot, Isis, Pearl Izumi, and Burton. And, you could *win* a giant stash of prizes by entering your name here. Good luck! And, thank you so so much, Vann's and Bigskycountry.com!
:: Our neighborhood ducklings grew up before our eyes. Margot is shocked and relies on me to tell the difference between the mama and the babies. She asks, "They are big now? So fast?"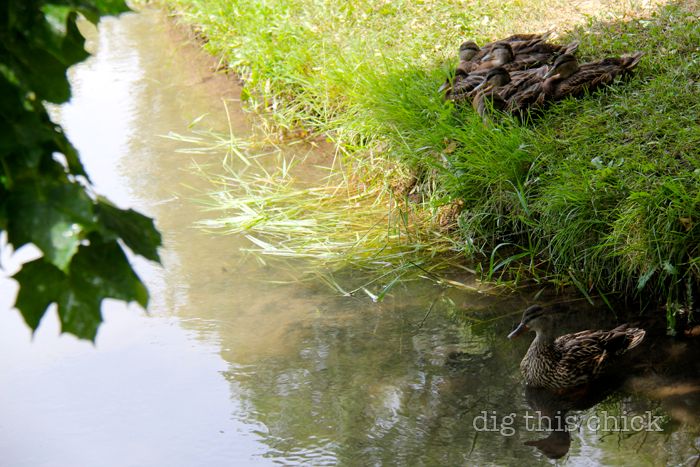 Her questions make me tear up because I can't help but look at her strong, tall, capable body and think the very same thing.
Her opinion and autonomy multiply daily. Goodness, I just love her every cell.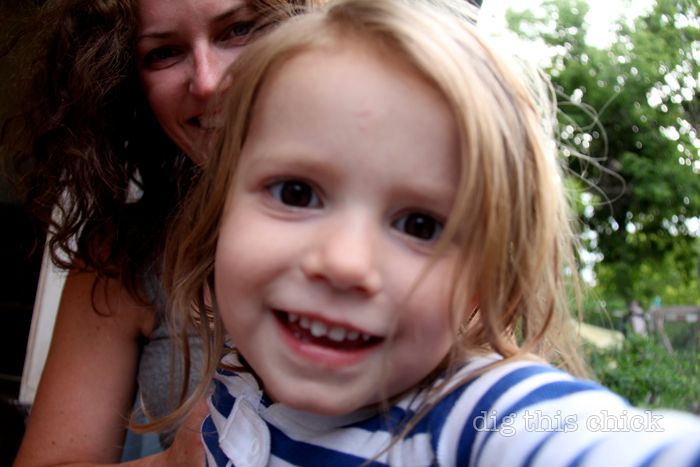 "Mama, it's so beautiful! Let's go outside and take our picture!"

:: My parents beloved dog died this week.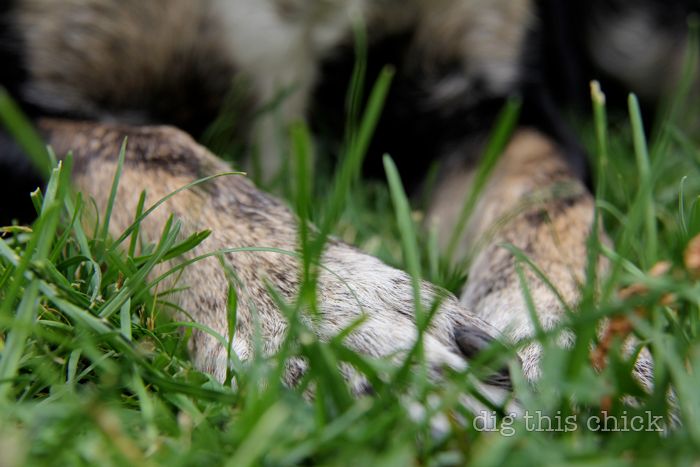 I told Margot Annie died. She asked, "I won't see Annie again?" I told her no, that death meant she was gone. There was silence and I opened my mouth several times to fill it but didn't. And then, "But my dog won't die, right? Because Alice is alive." I inhaled and told here that indeed every living thing dies and yes, Alice is alive and that is wonderful thing to think about and love.
:: When Margot was a baby, my friend bought her this beautiful handmade doll in London. I kept it high on a shelf because it is fragile, hand-stitched from recycled cashmere, stuffed with lentils. Margot asked regularly to hold the baby in the lighter pink pajamas and I'd fetch him and then put him back. Until I didn't put him back. Because, suddenly, I realized he was made to be loved. Everything lives and then dies, right? And, what's life on a shelf?


Many months later, 'baby in the lighter pink pajamas' is hanging tough, all pilly and adored. A hole patched with a bandaid and a big ol' chocolate ice cream bruise.
:: Every morning, Margot and Ruby race out to see if there are any more peas. Amazingly, there are. The peas I put up last year lasted through the winter. I really don't think we'll have a single sizable harvest this year. And, that's just fine. Great, even.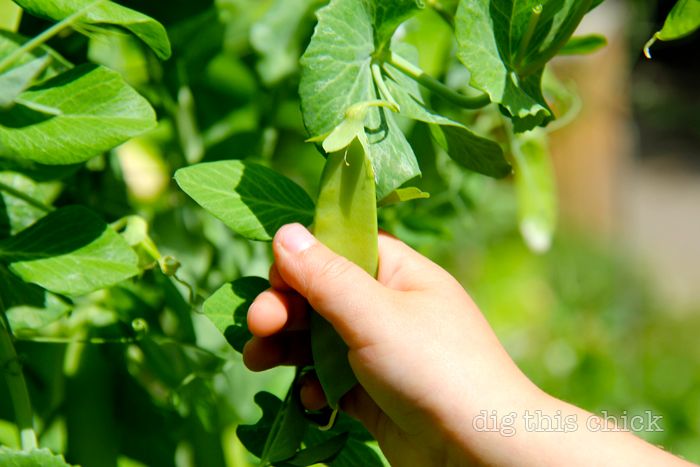 :: I feel addicted to play dates right now. Releasing the kids into the wild while adults meander with watchful eyes. It's so wonderfully summery and awesome.
:: Oh these easy evenings of low, hot sun and people in fits of activity or nothing at all.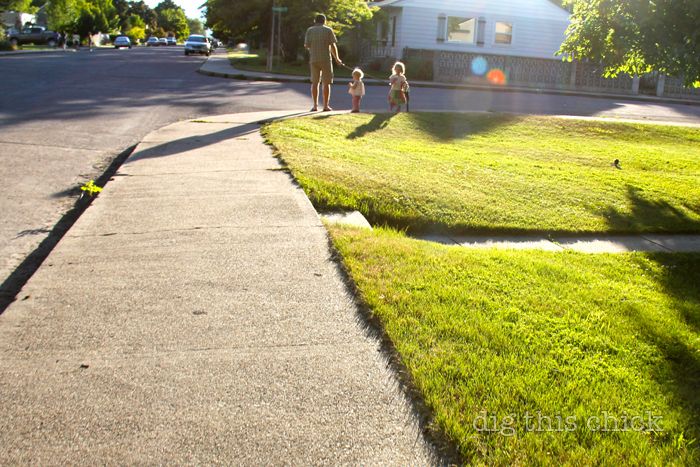 :: I keep noticing that my kids are kids. It hits me when I am making the bed and look to see their sisterly communication and problem-solving. It's awesome and heartbreaking.
Awesome because they are developing as they should and it continues to be challenging, fun and surprising in the loveliest ways. Heartbreaking because I want to make them miniature and stuff them into my mouth, preserved under my tongue, in the soft nook behind my lower front teeth.
The heartbreaking part is pretty fleeting. I mean I can't dwell on it too long because something is happening like water is gushing through floor boards of our old home into basement like a waterfall because Margot experimented with flushing an entire roll of toilet paper or Ruby is singing indiscernible soliloquies while Alice barks top volume. Importantly, something begs for my attention.
pedicure by Margot
I decided it is a good place to be, excited for next and nostalgic for last. Here. Where water pushes down the hall among a soundtrack of vowels and barks.
happy hump day out there.
ps: I started hump day nuggets because I found, at the end of a week, I had snippets I wanted to document and share. Nuggets are my snappy memories and thoughts, "little bits of the season in photos and words about the last week." Many have asked about adopting the nuggety format. I always answer yes! and very much appreciate the camaraderie and respect in asking.
Nugget it up and share. Here's code for a the HDN diddy to the left: 
:: :: ::
all photos taken with a Canon Digital SLR from Vanns.com