How do you feel about self-portraits?
It's funny because I did a lot of them, most a bit dark and introspective, when studying art in college. I was an evaluative, self-reflective twenty-something realizing I didn't know shit, on the heels of thinking I knew everything. I carved rough chunks of wood to look like my elbow. I took photos of torso. I stared myself in the eyes for hours, pencil in hand. It was a whole new world to look at myself.
And then that was that. Now, I have a blog and I write about and post photos of lots of things I think are beautiful. And, every rare time I post a photo of myself I feel a little silly. There is already so much of me here and my thirty-something ego usually feels like self-portraits are too too and I backspace. When I am in the photo, I don't  just consider concept, feeling and craft, as I do all other photos I share. I am harder on myself, not overly self-conscious but I feel too look at me! or something.
However.
However, I love thinking back on the exploration and experimentation of those college self-portraits (don't get dirty with that sentence!). And I think about how different I now am. I was sucked into one of those weird late-night internet hop-arounds that landed me on this great blog post about self-portraiture (and I am pretty sure I found that post through this creative lady) that quieted my concerns and gave me the permission I needed, wanted to go, whether I share them here or not.
The photographer, Vivienne (which was nearly Margot's name) shared a warning about about self-portraiture:
You might dance like no one is watching. You might find your voice. You might come to a place of peace with your reflection…You might stand at the shore of your potential and conclude that you are worth sticking with both the ebb and the flow. The biggest danger is this. You might see your beauty and document your truth.
These words I read just before my head hit pillow have come back to me many times over the last few weeks. And then I was by myself taking photos of lupine, hail, rain, mud, mountains and sky feeling a lot so I turned the camera and had so much fun doing all the things Vivienne said I could do.
I got this killer bathing suit from new sponsor, Popina, and this is what I said over email: OK, but I will not be posting a photo of me in a bathing suit and the kind, awesome, Portland people were just fine with this. But after meditating on what self-portraiture can be I thought, what if I could? What if I pushed myself to see my beauty and document my truth?
Also, I have to say I have never, ever in my whole life liked a bathing suit. Never wanted to move around in one, never wanted a photo of me in one. I have always tucked boobs into ill-fitting compartments and tugged at wonky seams. So in my 34th year I decided I wanted a suit I liked, for myself and for my daughters who learn from me. I don't want to be twitchy in swimwear. Is it possible? I set out to make one, had a pattern drafted and fabric selected and the whole nine. But swimwear boutique Popina kept popping up here (available locally at Betty's Divine) and there (on my friend's blog) and then I snagged this opportunity and now I am publishing photos of myself in a bright red bathing suit on the interweb. Because I am strong, fast, sexy and smart in this suit.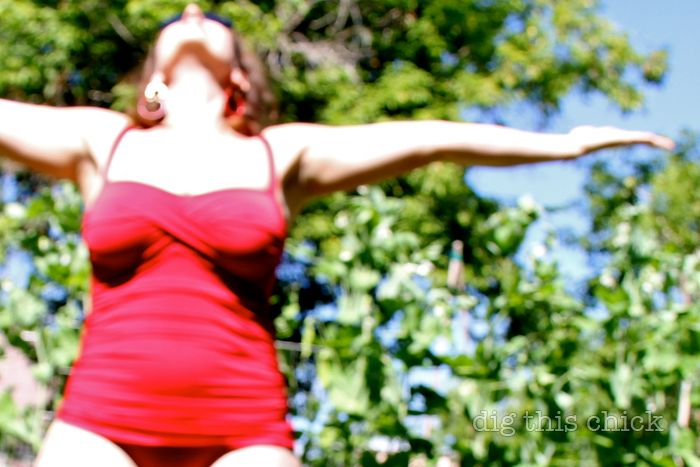 This small west-coast business sells retro swimwear and vintage swimwear.  My suit is a Jantzen bathing suit. Thank you, Popina!
So, I dare you to take a photo of yourself feeling strong, fast, sexy and smart and share it. If inclined, post wherever you'd like and share the link in the comments here.
Wishing every last one of you a wonderful weekend.
xo,
dig
:: :: ::
all photos taken with a Canon Digital SLR from Vanns.com