our favorite secret swimming hole
Things are shifting. Soon, I sneak outside to tuck my tomatoes in under the cool moon. We bike to my neighborhood farm and buy four dozen ears of the best corn that will dutifully wait in the chest freezer for a blustery opportunity to remind us of tan skin and bare toes.
Last week, I wore my down coat and I swam in the Clark Fork (at different times). Our home heats up like a whore on nickel night* during the day and cools to down comforter necessity at night.
In the mornings I sit outside in the chilly morning air, I sip coffee and study the way my daughters' bare toes shuffle through the grass. I regularly stop mid-pick to stare at a sunflower's perfection. I memorize the curves of Margot's growing body. Her baby belly is gone. Flat. Just like that. I witness Ruby's zucchini-like growth. Too bad I can't harvest her to preserve her nowness. Although, growth is cool too.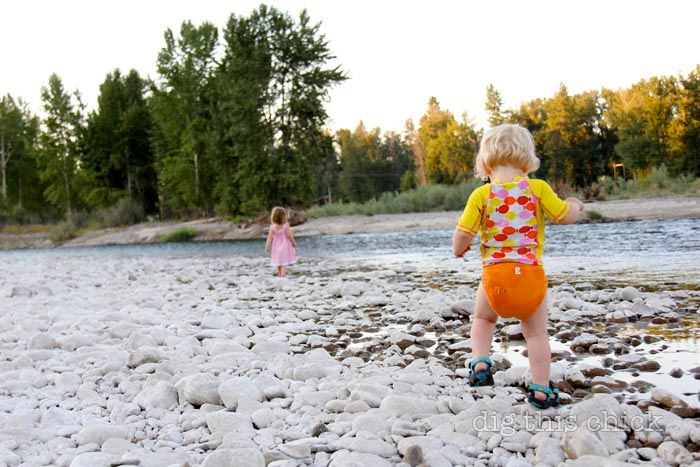 I feel introspective and aware with the coming fall. I always do a bit. This year feels particularly poignant with Margot's new gig. Starting Tuesday, she will spend two days a week in a beautiful blue classroom which stings me with pride and the raw difficulty untucking her from my wing a bit.
In this week's mama digs, I wrote about my family's compass. Last year we had a severe scare that I am actually thankful for. It rocked our world and we came out with clear motivation and understanding of ourselves. Er, that sounds so final, like we are there. We are there but we are moving that direction and it feels fantastic. Goodness, the link already: At least I love today. 

It is a haul to get to our spot. A short drive but a super steep descent down to the river. Ruby on my back, I was on all fours several times. And then two side channel crossings but once there, it is the most perfect place in the world.
ps HOLY SMOKES y'all. Thanks for your purchases! I had over 60 orders this weekend! Sale ends Wednesday, Aug 31. xo
*props to Anne for that little gem of a saying
:: :: ::
all photos taken with a Canon Digital SLR from Vanns.com