hump day nuggets: little bits of the season in photos and words about the last week

Margot's first day of school was awesome. She loved it so much and recounted details with such enthusiasm I had to restrain myself from grabbing her animated self and biting her cheek. Of course the biting wouldn't allow me to hang onto that information any longer, which is what I sought. But man, sometimes I want to bite my kids. Love bite. But hard. And loving.
Things of note:
1. She remembers every single kid's name.
2. She has two new songs memorized. Um, and now so do I.
3. When I asked her to tell me one thing she remembered hearing she said, "It's time to clean up."
4. She ate her whole lunch except for two beet chunks she saved for the ride home and she never said anything about the drawing I hid in her lunchbox.
I want to age gracefully. I want to be graceful in my life, as a parent. And, yet I find myself ugly-grabbing the slick, round, un-grippable edges of time. Like Margot on that damn steep red slide in our neighborhood, she repeatedly tries to slow herself down or stop. But the pitch and smoothness won't allow it. It's not like I am outwardly expressing my desire to slow time but, inside, I am learning some real, new, awesome lessons about grace.
You get on the slide, you move.
nuggets.
:: It was 57 degrees this morning, late morning. And we had a good storm last night, (unfortunately with laundry on the line). Just like that. Hi, September.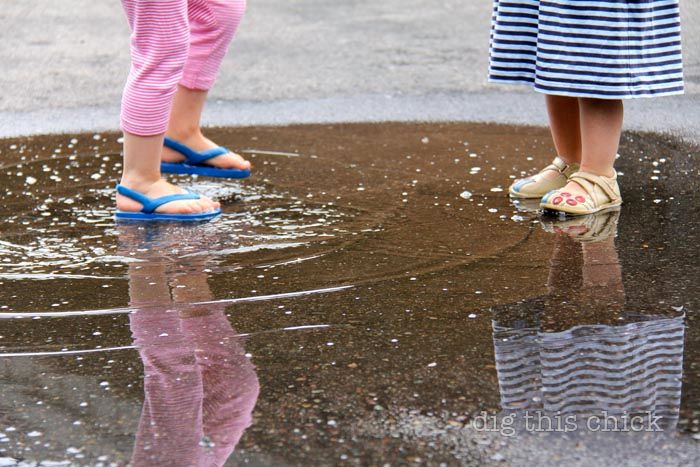 :: Still plenty of bare foot time though. Right?
:: I tossed some lettuce seed in the ground about three weeks ago in a shady spot. I never know if it'll bolt of hold in the August heat but it is totally worth a try. This year, it is holding strong, that lettuce.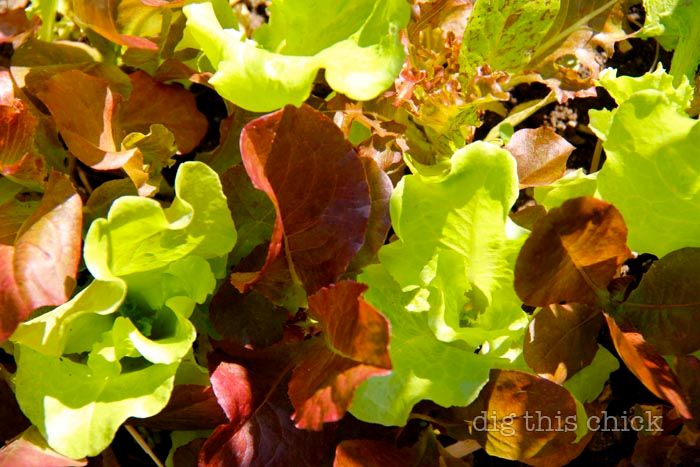 :: My daughters and I get to curate the most beautiful masterpieces every day.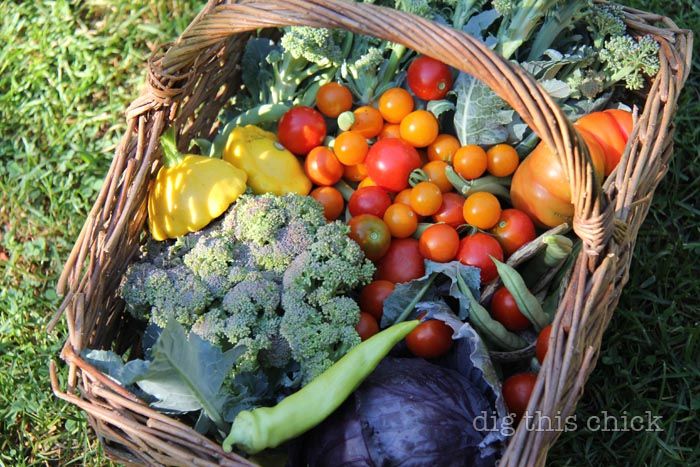 :: Ruby's favorite garden chore is to find and peel ripe tomatillos. Sweet thing tries a bite every time. She still doesn't like them.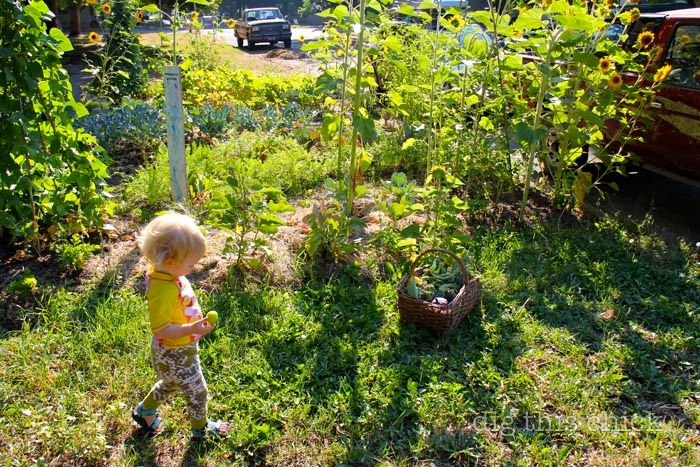 :: Margot favorite chore is to lure Ruby off somewhere fun.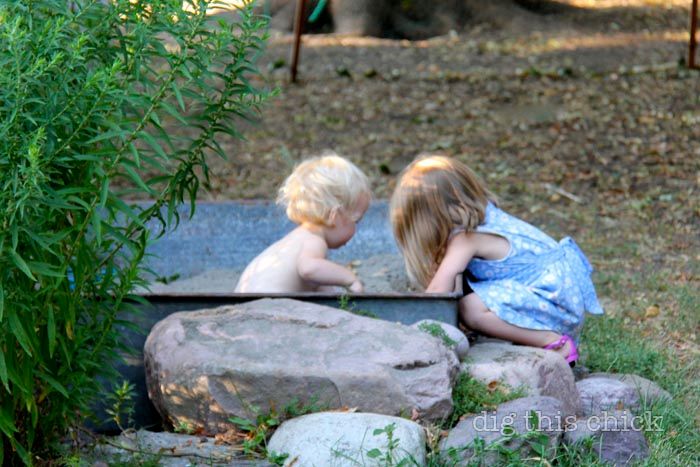 :: My favorite chore is prowling through our urban jungle, staring at plants from different angles until a fistful of vegetables pops into focus. Like one of those mall art carts with the blurry dots that suddenly snap into three-dimensional dolphins.

That center sunflower burst is the bottom of one volunteer! It is about 12 feet tall.
:: Things that suck in the garden this year: beets, parsnips, pumpkins. Things that rock in the garden this year: everything else.
:: Simple Harvest Fried Rice
This can be made with many combinations of vegetables. I think the secret is adding shredded carrot and garlic at the end so the summery flavors are bright and fresh. We have also added tofu or pork. I keep some aside and add less soy sauce for the kids.
sesame oil
giant zucchini, chopped small
1 onion, chopped
6 garlic cloves, minced
bunch of broccoli, chopped small
2 carrots, shredded
2 eggs, scrambled
1 1/2 cups basmati rice, cooked
soy sauce
Cook rice. Sauté onion in one tablespoon of sesame oil for a few minutes. Add zucchini (and a bit more oil) and cook over high heat for several minutes, stirring occassionally, allowing zucchini and onion to brown a bit. Add broccoli and a bit of water if is seems dry. Scramble egg and cook in a separate pan. Add egg to veggies and mix well, still over high heat. Add a bit more oil. Add shredded carrots and garlic (add garlic with onion for milder flavor) and toss. Stir in cooked rice, add soy sauce, cook over high heat for a few and serve.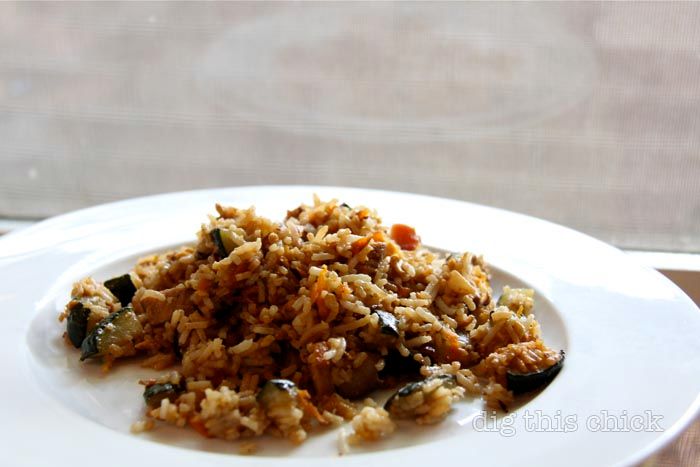 :: I have been hunting for the perfect egg carton. I collect and cook a lot of eggs. I am tired of our plastic camp egg carton. Plus our hens lay gargantuan eggs that don't fit in standard egg cartons. I have actually become a bit obsessed with stalking vintage egg holders and was about to finally pull the trigger on a turquoise number. I was talking myself into this silly purchase with my assistant and she said, I'll make you one. So, amazing ceramicist Sarahjess made me one! And I LOVE IT.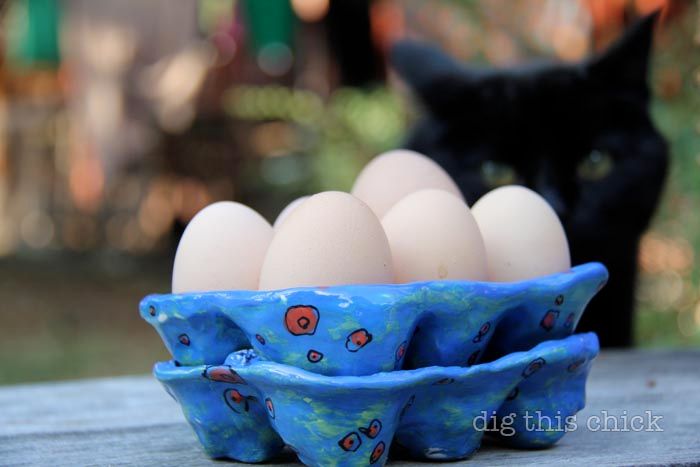 So smart, she split into two so they can stack when we have fewer than 12 eggs. She is willing to make more! So, if you are interested in purchasing, email her.
:: We are a bit behind on the preserving but getting there. Our first big push was apricot butter. A friend and I picked an unkept tree and the fruit was amazing. Man, I am a total free fruit hooker.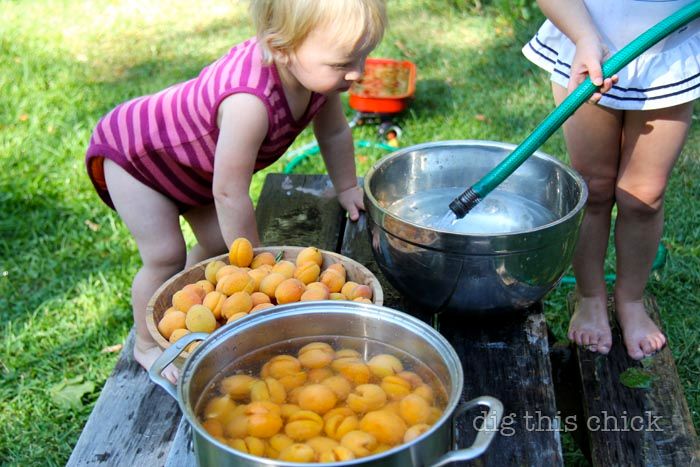 This year, more than ever before, my kids were all up in hot jars, hot lids, boiling water and simmering apricots. We had big, repetitive talks about stool placement and distance. I may have even rolled my eyes at myself what with the repetitive This Will BURN You. And, as I was yammering on about hot water, I accidentally dunked part of my hand right in said water. Best lesson ever, actually. Hurt like a bitch and my kids took note.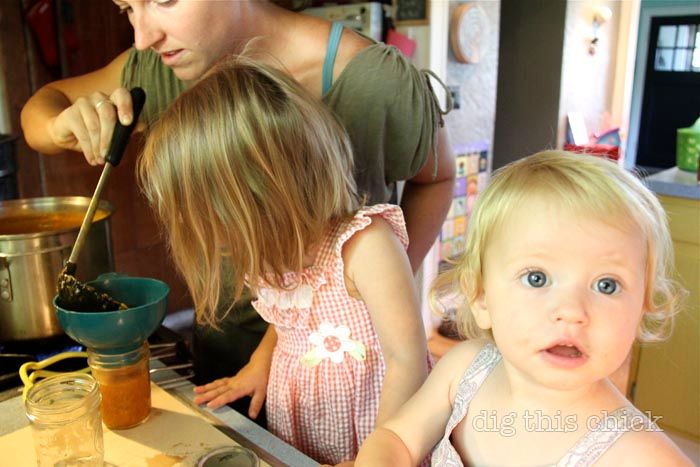 I did a canning tutorial when I was very pregnant with Ruby! 
We sat and listened to the pinging jars promise a summery winter. And then labeled and stored. Easy, mostly free, delicious. Favorite.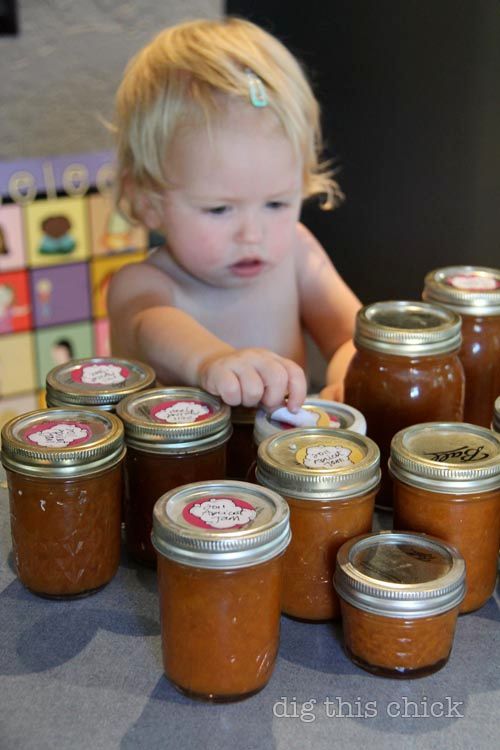 Preserve. Time boils, eventually evaporates. I am off to draw another little something for tomorrow's lunchbox. Happy hump day out there.
:: :: ::
*Nugget it up and share. If you'd like, link to your nuggets in the comments.*
ps Winner! Of the lunchbox from Walking Stick Toys:
Ingrid said…can you send me a tomato if I win the lunch box stuff? 🙂
Ingrid, I am totally sending you a tomato. Email me to claim your prize! Congrats!
Everyone else: Use coupon code 'DIGCHICK' for 20% off!
:: :: ::
all photos taken with a Canon Digital SLR from Vanns.com