hump day nuggets: little bits of the season in photos and words about the last week

I was whining to a friend the other day about how I miss running and how I am annoyed with myself for not making time to run. I need it, I miss it so what gives? She, as friends do, put a great perspective on it. She explained that our lifestyle, the one we choose by living here, is active. She told me that even when she isn't running she feels fit. She inhales fresh air most of the day, gets physical in the kitchen filling jars with food, digs carrots, hangs laundry, bikes to and from work. True, I thought as I rubbed my achy tricep.
My arms were a little sore from kneading pretzel dough for our German supper club gatthering. And then I jogged to our hosts' home whilst balancing the pretzels atop my head in a basket I wove that morning. Andy biked in his lederhosen, sporting wine in a shoulder yoke.
I get what Molly is saying. It might not be my legs turning over early morning, Alice keeping rhythm, our breath vapors visible in the quiet, hopeful dark. I'll have that time again one day. For now, I get a lot of movement and activity just living the life I chose. I eek out little, infrequent spaces to run alone but, mostly, my girls and I hike, walk, bike, schlep, dig and roll all over this valley and her peaks. And I feel thankful.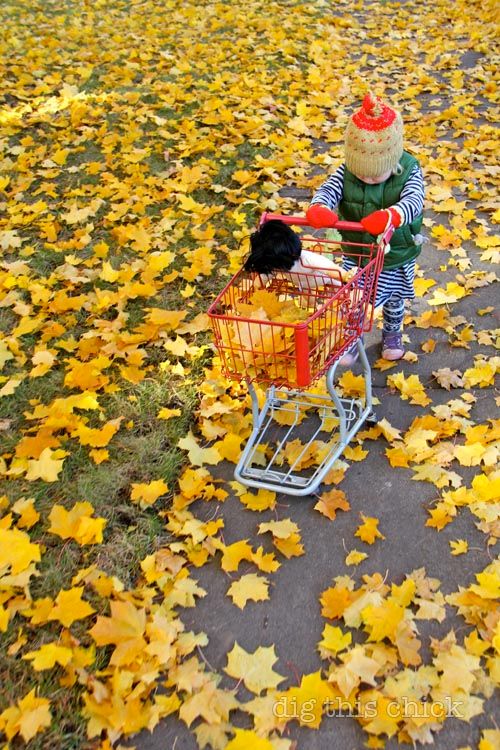 nuggets.
:: Margot's pumpkin is Fred. We are still trying to find the perfect arms and legs. Ruby regularly, spontaneously declares My Punkin! and, like a Chinese fire drill she races to the steps to say hello.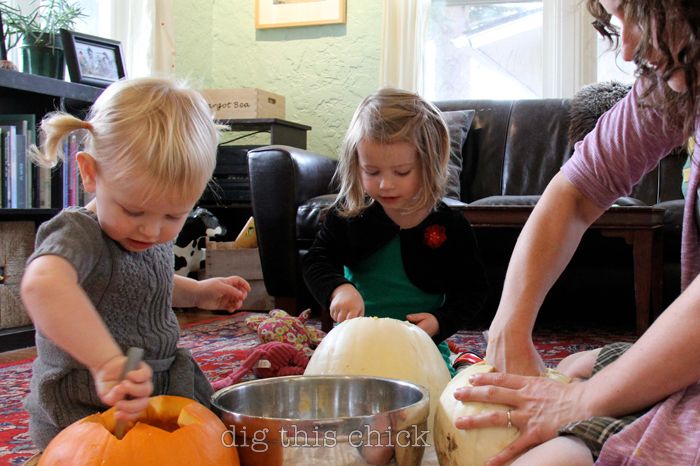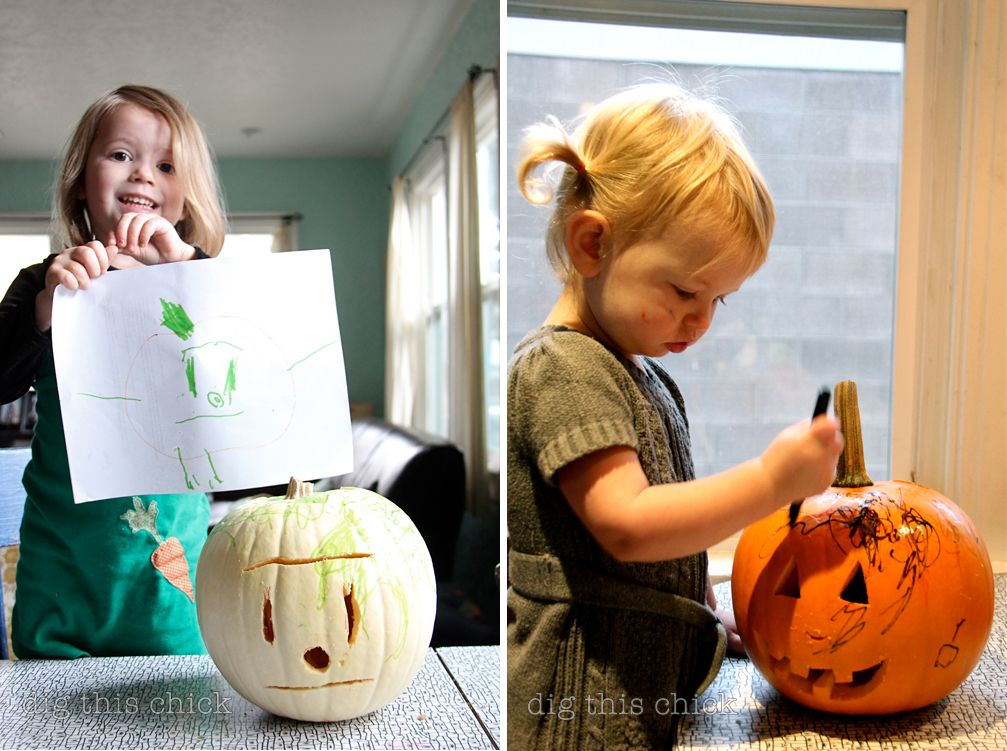 :: And I wasn't kidding about the pretzel dough tiring my arm muscles. Holy hell that is some stiff dough.

We used this recipe. Once it rose it was super pliable and easy to work with. Andy taught the girls how to twirl the dough into the classic shape.
Also, we made mustard which I will do from now on. So easy, so delicious.
:: Popcorn, tofu and plums for lunch.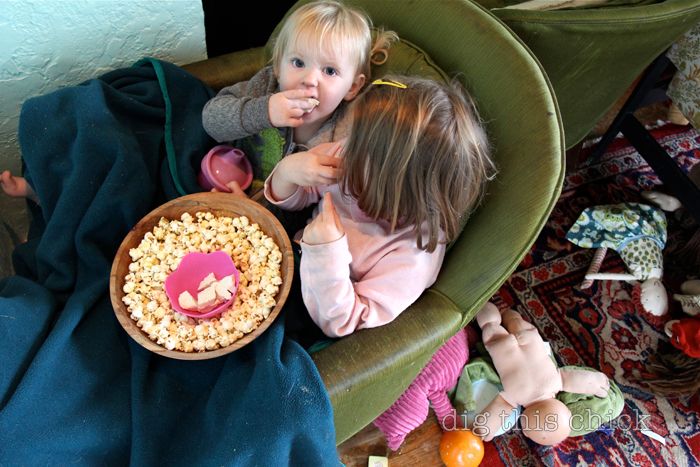 :: In my estimation, nature's most brilliant color combination:
:: Can't believe she is nearly two, my little opinionated cherub. While nursing, she stops, looks into my eyes and asks, kiss mama? You bet.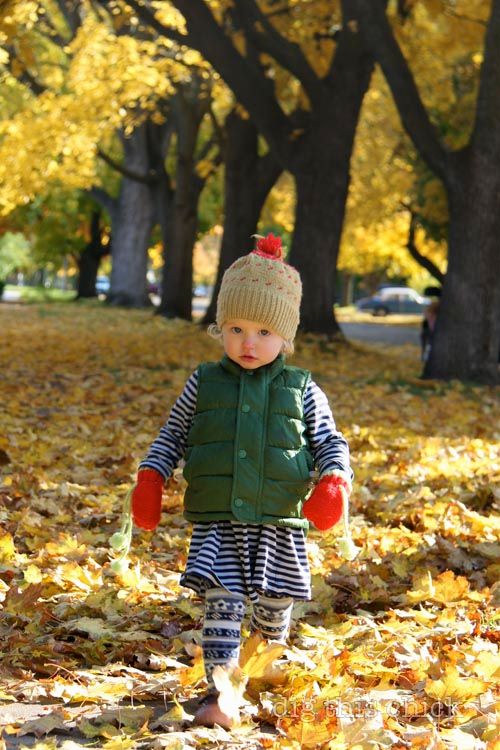 ::  Welcome to new sponsor Melody Joy 1983! This mama knits up the dreamiest numbers my neck has ever laid skin on. She came on board as a sponsor, surprised me with a box of delicious goodies and I was so smitten with the cowl that I bought another. I get compliments on my cowls every day (I wear them every day). I love the cowls y'all! She is also the brilliant artist behind the Mama Bird's Nest necklace many have asked me about.  That non-cowl photo is of my warm legs. A few things: free shipping for you! Use code DIGSFREESHIPPING. And, to stay in Melody's creative loop, like her on facebook. She posts sales and such there. Thanks so much, Melody Joy!

:: I need to get on making a few costumes today. One three year-old wants to be half sun, half moon with a yellow jacket stinger on the bum. One one year-old wants to be a boofly, as decided by her big sis who knows her love of butterflies. Margot and I drew this up together and I took Ruby to the fabric store where she got to pick any fabric she wanted.
:: We made dishwasher detergent and laundry power last week and I updated this page to address a few questions that have come up.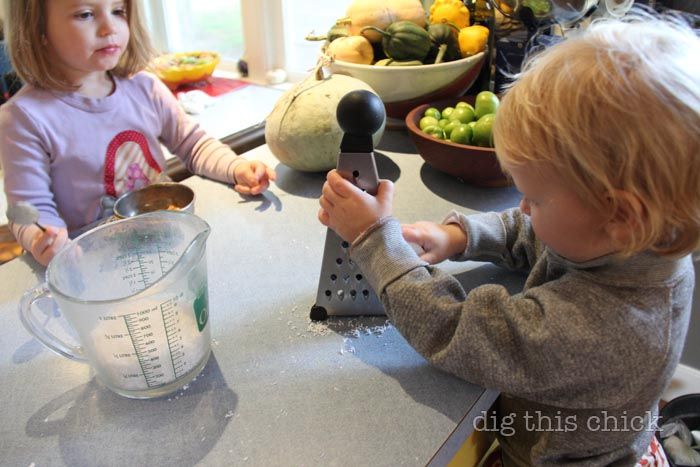 :: Margot and Ruby recently inherited this little shopping cart from friends and little sis is a neighborhood dynamo with it.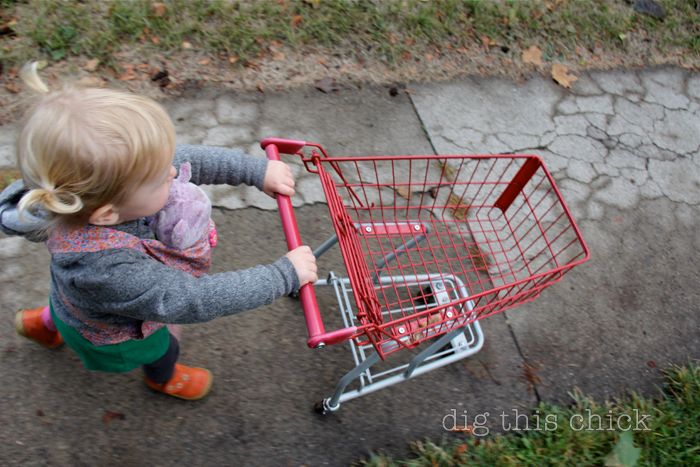 baby carrier made by my mama
:: I am looking forward to winter in the kitchen with these two, especially with the stack of recipes we have to explore and all the good ideas my kids have.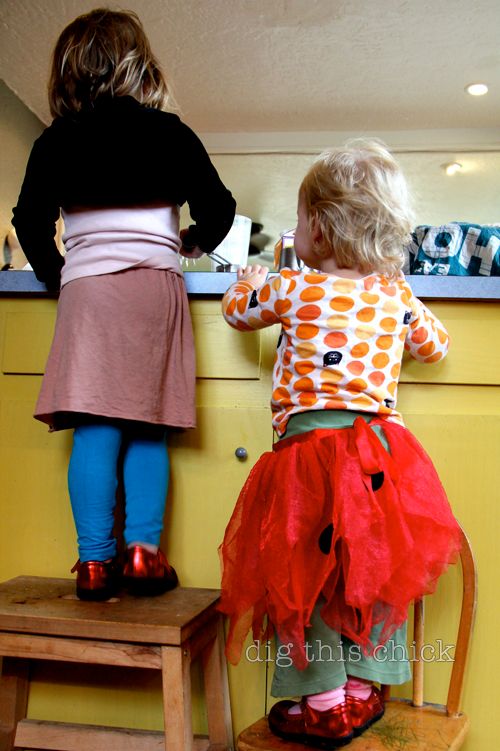 :: And…hump day nuggets will be making occasional appearances for a while. This mama just wants to shake it up a bit. You'll see.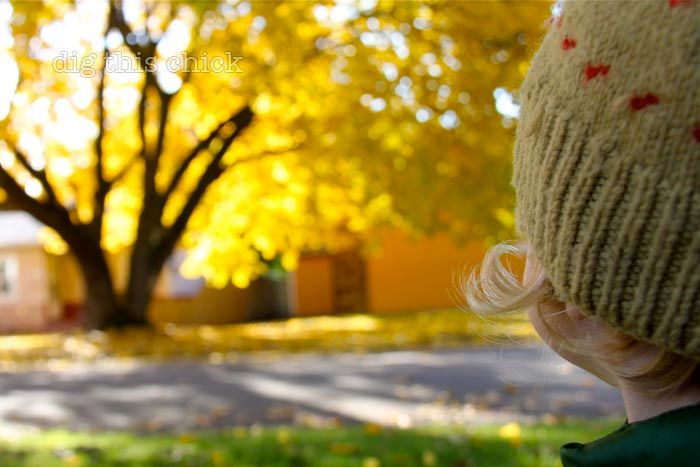 happy hump day out there
:: :: ::
all photos taken with a Canon Digital SLR from Vanns.com