In my kitchen, I just swept up a full dust pan worth of long weekend.
Over the last six days we have had two to ten loved ones humming in our home. It was simultaneously nuts and relaxing. You know, when a large group is trying to arrange nap schedules and negotiate large meals it can seem unattainable but then it always settles into the perfect pattern of exactly how it is supposed to be with everyone taking turns reading books, chopping vegetables, pouring beverages, showering, walking dogs. It's happy chaos. It's family.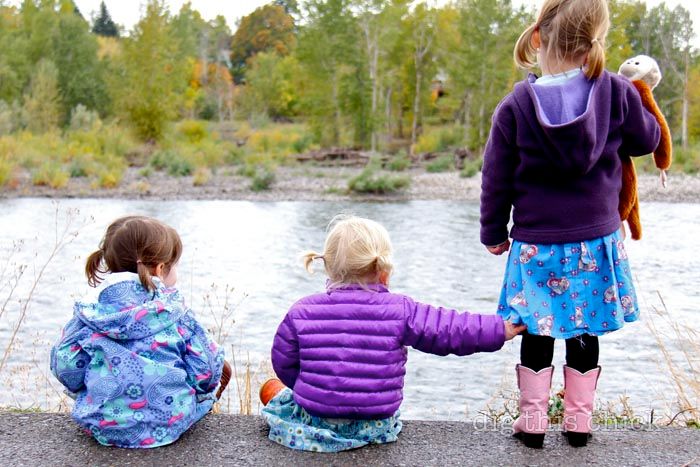 cousins in grandma-given pigtails
Every once in a while Andy and I will see a large family or talk to his stepmom who is one of 16 kids and we'll have a conversation like, Holy cow! Can you imagine? How would we get anything done or get out the door? But this weekend as I watched Andy slap together nine gourmet sandwiches in about three minutes and we participated in the many-vehicle, many bathing suit, many snack entourage to the swimming pool, I realized that a biomass of family is pretty amazing and efficient, no matter the actual number. It's like one big contemporary jazz piece, the ones that sound like the musicians forgot to practice and their instruments are out of tune but eventually the wild noise morphs into patterned harmony. I'm groovin'.
So today I am loving my quiet house and the constantly uncovered evidence of the last few days. So far I have a pair of shoes, a t shirt, cell phone charger and one sock in a pile to be sent back to their owners. I am still looking for a small brown train and a purple eyeglasses case. There isn't a clean towel in the house and all beds are stripped. Approximately seven million hair elastics pepper the living room and baskets of pears, apples and plums continue to wait on the kitchen floor.
Now we turn to our daily activity, fueled by having just absorbed the energy and love of my creative, generous, funny, opinionated family. To me, there really is nothing more important and rich than family of blood, family of choice. And it is because they were here that I couldn't be here and why my mama digs is late. I just couldn't bear to work when they were convening in my kitchen. My column and nuggets will be up on Wednesday.
xo
dig
:: :: ::
all photos taken with a Canon Digital SLR from Vanns.com