I made a few wreathes. And, for some reason, I want to talk gangsta and swears about these pricks. I texted my holiday craft-lovin' friend a photo of one finished project accompanied by some colorful, excited language that I keep typing and then deleting so as to not offend your delicate eyeballs. I think it is funny. Especially in the context of a holiday craft that symbolizes friendship and the circle of life. Like the decorative gourd essay.
Word, bitches.
OK, enough I promise. But know this: as I am writing this whole post, I am wanting to write swears instead of "wreath." Not because I am angry with the wreath. On the contrary, I am excited by the wreath and want to express it with expletives. Like, put your hands up for the wreathes! Feel free to insert your swear of choice wherever you see "wreath."
The wreathes.
The first was super simple. I scored a straw wreath at a thrift store for 75 cents and got my hot glue gun on. Margot and I collected dry leaves and attached them with said hot glue.
I used a scrap piece of one inch black binding that I wrapped around the wreath (should have done this first!) and up over our front door, tacked in place on the other side.
It was super easy and fast, the kids had fun and the whole thing is made from natural materials (we collected the free range glue sticks from our back yard).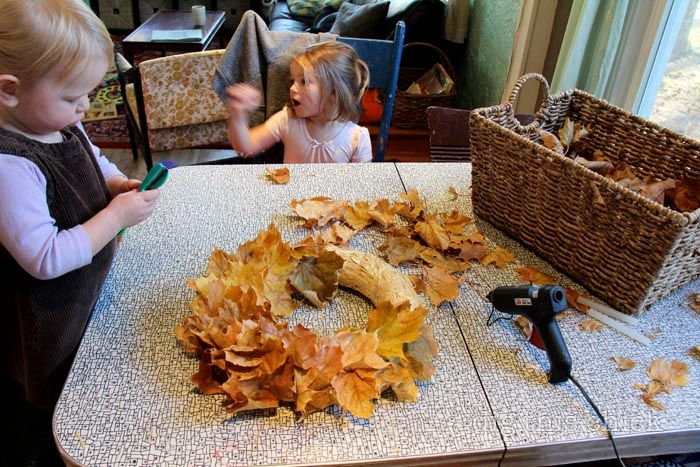 Ruby played with scissors and Margot sang Dynamite. 
Also, if it gets mucked up in our, ahem, storage "system", it can be reconstructed or changed entirely without waste.



The second wreath was inspired by this lady's felted wool sweater number. I saw it last year and have been more than a little gobsmacked by it. I think it is so beautiful and simple, love that it is made from upcycled stuff. I have been on the hunt for second-hand wool sweaters but they are spendy these days. Instead, I opted to buy eco-felt (made from recycled plastic bottles) and a wee bit of wool felt because it is so so beautiful.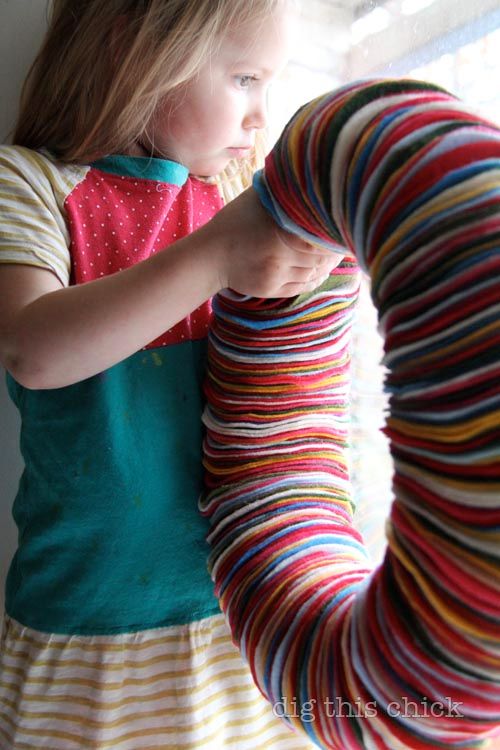 materials:
thick wire, 2 – 2 1/2 feet
a circle to trace (like a wide mouth canning lid or yogurt lid)
scissors
3 – 3 1/2 yards of felt (the eco-felt is 45″ wide, wool felt is 36″ wide)
   I used (I had some left over):
   9 inches light blue and dark blue eco-felt
   17 inches red, dark pink, white, yellow eco-felt
   17 inches light green wool felt
   22 inches dark green wool felt
I used a thick piece of scrap copper wire (benefits of wedding an electrician!), like twice as thick as a wire hangar. I traced eleven million circles and then they only filled half my wreath so I returned to the fabric store and traced eleven million more, using a 4″ ceramic dish.

I folded my felt in half and cut two at a time.
At first I was pushing a thick needle through the center of each felt circle and then muscling the wire through. I was a mama dedicated to my craft, my fingers red and sore, my hand aching and in a permanent gnarled fist from clutching the wire circle. Andy saw me struggling and casually observed, "Why don't you just fold those circles in half and snip a small cut in the center?" As my bloody digits trembled, I replied, "Where's the fun in that?"
After my man's brilliant suggestion, it went pretty dang quick. My kids participated by choosing, stacking and tossing the felt circles. I wrapped the wire onto itself at the end and cut a few felt circle slits a bit bigger to slide over the increased bulk. I hung it with a 4″ nail.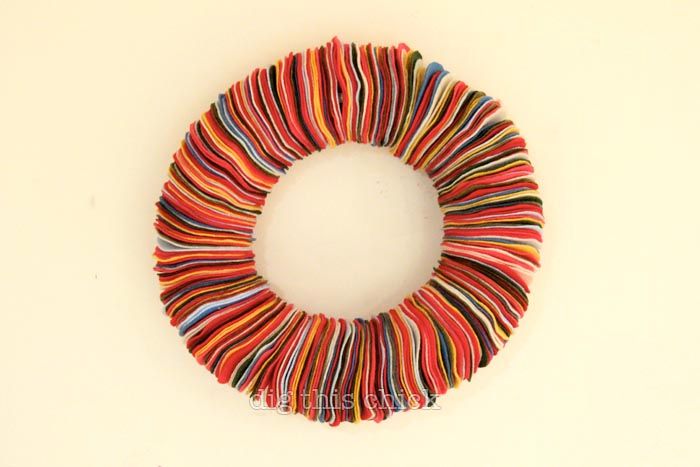 It is so tactile, everyone who comes over wants to caress that beefy, lofty orb. And they can! It is so magnificently sturdy. We might even play Thanksgiving flag football with this wreath. I really love it and think I'll leave the cocksucker up all year.
In other holiday cheer of the g-rated variety, my family gave ourselves an ongoing assignment to give something every day. Read about what inspired us and how much we love it so far in this week's mama digs: giving.
* * * *
ALSO! There have been so many issues with comment leaving on the bucket list/camera giveaway post. I am so sorry, I have no idea why your entries aren't showing up and have contacted blogger. I am extending the giveaway for one more day! Leave a comment (and copy, save it) and double check it posted. If it isn't there, try again…people seem to have luck the second go round.