I cooked all day yesterday for my dig holiday party. I felt like a real, official businesswoman hosting a dinner for my employees and their families. It wound down and just as my tired head hit my soft pillow I remembered I hadn't written my column. For a hot second I considered rallying, getting it together but instead I emailed an apology and fell asleep four seconds later.
Mama digs
will be up on Wednesday.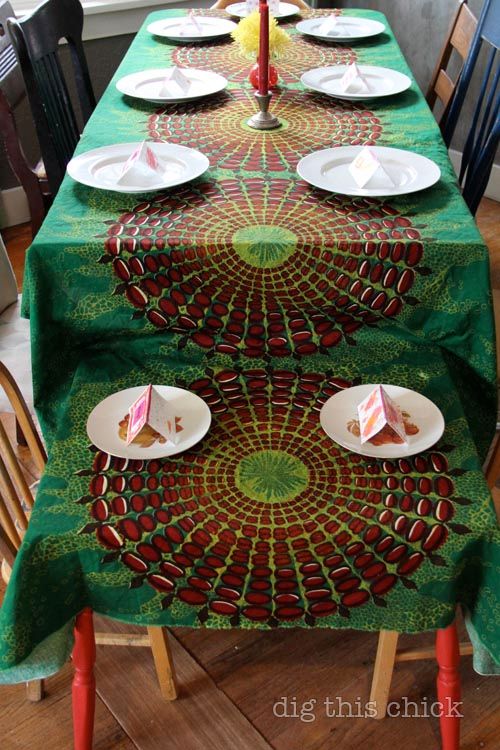 The fact that I did one thing well and failed at another is something I am experiencing on a daily basis around here. We just have a lot happening. Good stuff, yes, but I still feel overwhelmed. It is possible to feel happy and bananas at the same time. It is possible to feel thankful and stressed at the same time.
One thing I really love about my relationship with my husband is how in synch we are when it comes to tuning the different spokes on our wheel: family time, recreation, alone time, creative time, friend time, work time. When one of us is grumpy the other beams with bigger perspective. Like last weekend when I was in a tailspin about the one million things I needed to do and Andy suggested we go skiing. It was like I stared into a hole in the ground searching for sun and Andy said, "Hey babe, look up."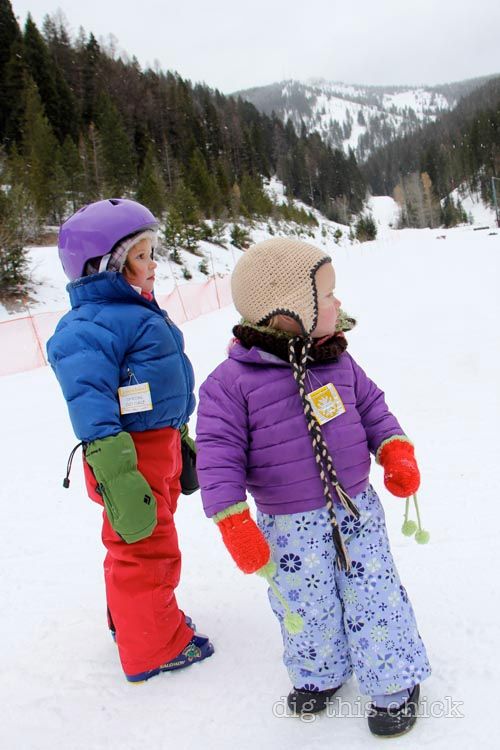 It was Ruby's first day on skis and Margot's first day tearing it up without any help at all. Nearly four, she does laps on the rope tow, makes turns and giggles the entire time. More than once I teared up witnessing such joy in my kids.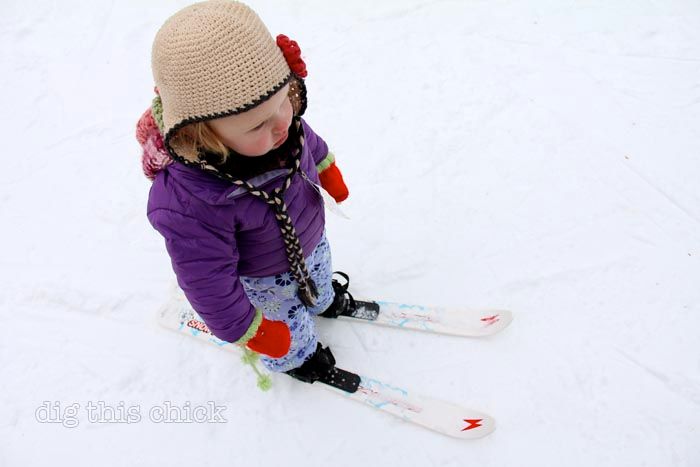 Both of our kids started skiing at two on strap-on toddler cross country skis. At that age, it isn't about skiing. It is about scooting around and having fun on snow, getting ready for next year!
I seriously didn't take any photos of Margot skiing because I was so busy chasing her. Watch out Picabo.

She fell and her edgie wedgie slipped off. She said, "Oh well, I am done with that thing anyway." And that was that.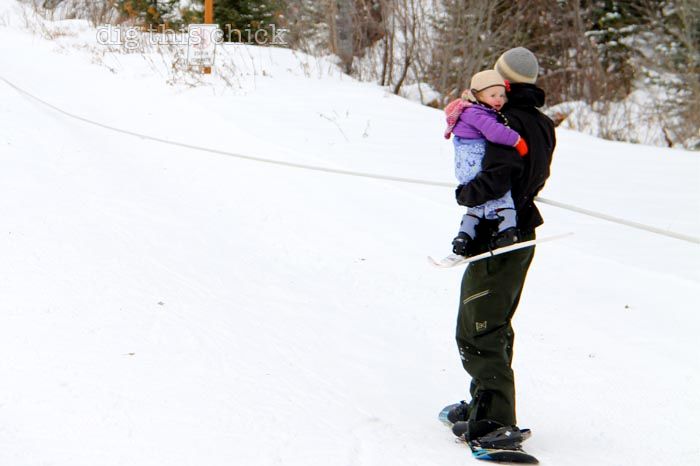 Andy carrying Ruby up the rope tow. It is a little blurry because just as I snapped the photo, I heard Margot's trailing voice, "Come on mama!" and I turned to catch my girl.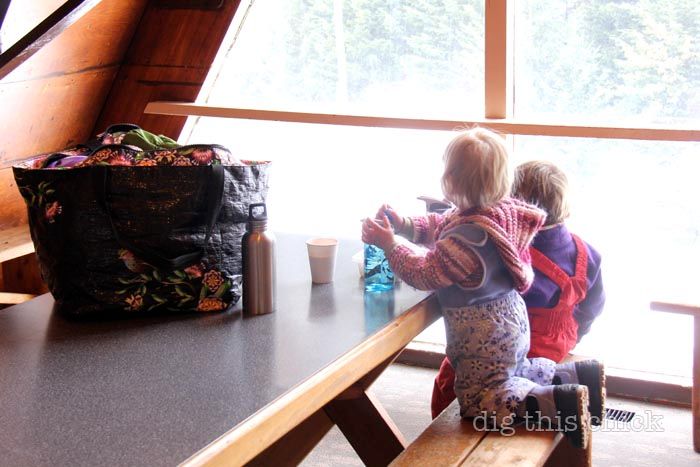 Followed by hot chocolate in the lodge while papa took a run. We really really love that big bag. 
The girls and their rosy cheeks fell asleep the moment we got it the car. When we got home I was energized and clear. I decided to use that good stuff to make my kids an advent calendar, something I've wanted to do for a few years now. I didn't even change out of my ski clothes, I didn't have a pattern or an idea and I walked into my studio and started.
My cousin sent me an incredible pile of fabrics a few years back. I have been afraid to cut into them–all hand-dyed or hand-woven or just generally amazing. She collected them on her travels to Africa and South America. I used some to make Ruby's birthday frog (that same fabric is used as a table cloth in the top photo) and that gave me courage to cut into one of my favorites.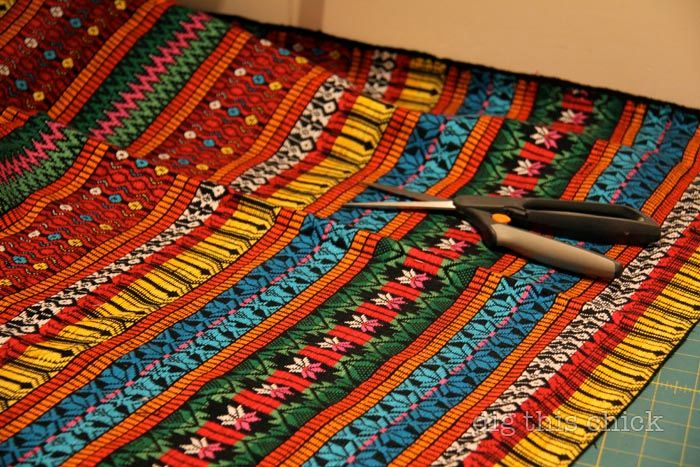 My "pattern" was super simple and I used the fabric repeat to determine size. Two pieces 11×34″, wrong sides together (and two 2×10″ hanging tabs inserted at the top), stitched. Six 11×3.5″ pieces spaced evenly, horizontally the bottom of each piece stitched to the main panel. And then I stitched each horizontal piece vertically, into quarters creating pockets. I didn't hem or turn anything. This fabric will certainly fray but I like the rough edge and it will likely rarely get washed. I decided not to do numbers because I couldn't quite sort out how to do it best. I am thinking white felt circles and I wish I embroidered…Ideas?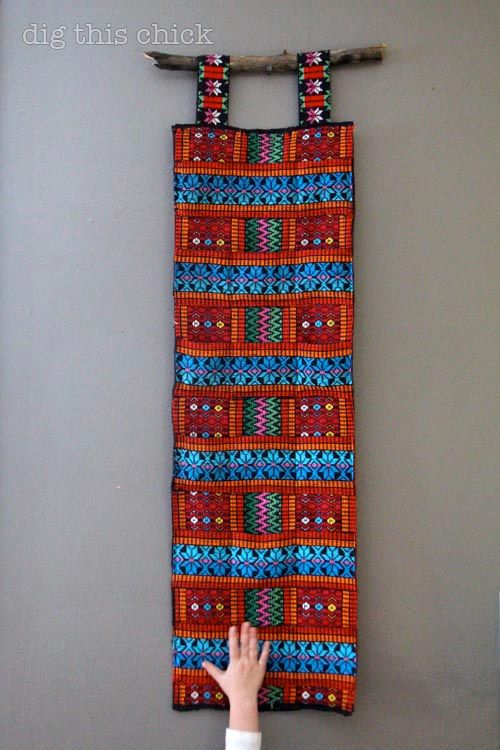 The girls were still napping so I set about running all over our house searching for 24 trinkets to fill those pockets. Andy may have raised his eyebrows at me several times. No need to buy a thing, the magic is in not knowing what each day will hold. I found seashells, old jewelry of mine, nail polish, carousel tokens, beads, gum, lip balm…
A reader pointed out that I sewed three pockets in each row, instead of four. Oh, typical. I was all set to seam rip and restitch when another reader said 'who says 24 is the rule? Why not stop on the solstice?' You all are so smart. 
So the day turned out pretty dang great. There is still a lot to do this month. I still have frenzied, uncomfortable moments. But it is so encouraging that the simple act of looking up can often spin me right into the place where I thrive. And, allow me to enjoy that big ol' to-do list.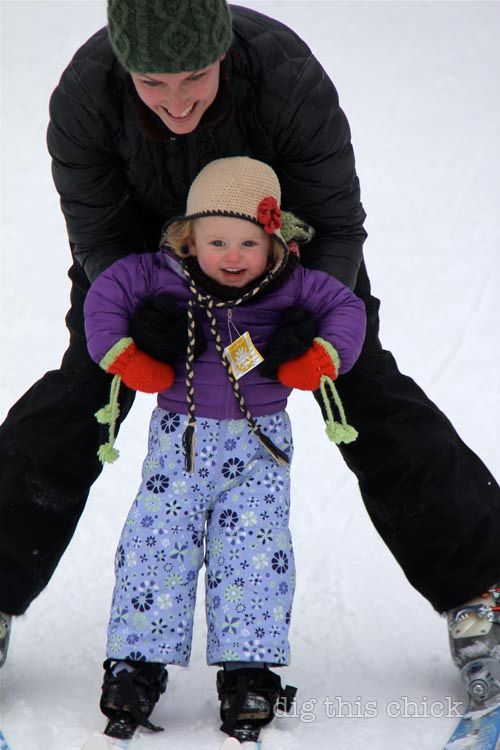 ps I loved your comments on the
last post
! I am pretty certain I have the best readers on the planet. 
Congrats to the randomly selected calendar winner: Bikini By 30 said…After almost seven years in a day job I hate, I am finally doing the "what day do I end this" dance. It's time, and every other minute I teeter back and forth with what to do. Ultimately I know that I need to stop being riddled with Sunday blues every week, and finally feel "Christmas-y" for the first time in a long time. Dig, your rallying/roll-with-the-punches attitude is very real and inspriational to this struggling artist, and I am so glad we get to read all about your adventures.