Writing amidst boxes and boxes, I sit, exhausted. Thankfully, my awesome mom is on her way to help us out for 10 days. My mom is the most productive and generous person I know. She keeps saying things like now leave some stuff for me to do! which is funny because, oh mom, there is PLENTY for you to do.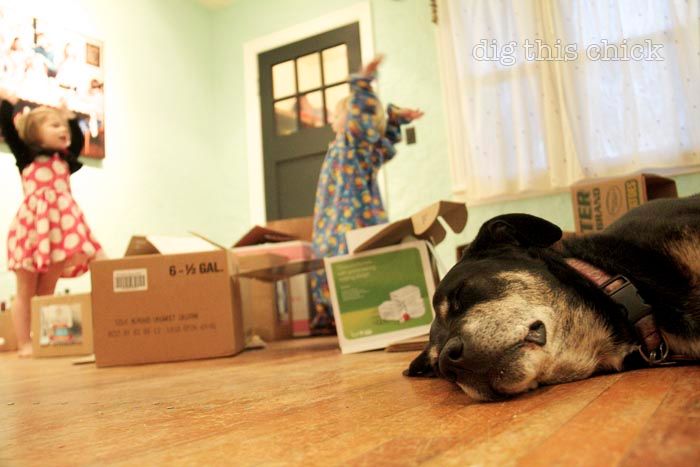 I am feeling ready to nest in our little apartment. I lay in bed at night dreaming up space saving ideas, imagining my family in our cozy, sunny space. I scored a solid wood bunk bed at a thrift store last week and we just downloaded murphey bed instructions. It's fun to thoughtfully pick which very few items we'll bring with us and the process calls attention to the things we can probably do without all together.
It might sound a little crazy but I am excited to live in this small apartment. I am sure in five months, I will be really ready to spill into our new home but, now, I look forward to this adventure in sharing everything with my family. With most of our stuff packed away, we currently live out of a few suitcases and very little stuff. I really notice how little we need.
It's a good challenge to encourage this transition to feel fun and interesting to our kids, instead of scary and unsettling. I've felt both sides and I think it is necessary we all feel what we need to feel but I am also realizing so much is about looking up from the chaos and laughing. Really, how lucky are we?
Thanks, Uncle Trav and Crystal for the epic crayon assortment. 
When we got home from Minnesota, Andy had moved all the furniture in two days. He came home a bit early and, with the help of his dad, poof. The girls curiously and cautiously explored every room (and I stood behind them, mouth dangling open) asking questions about where their stuff had gone and when they could join it, what it will look like, where they will sleep, if the the chickens get to come. I spent that afternoon cleaning and packing their room, creating a comfortable, playful space. I placed their mattresses together on the floor and heaped all their blankets and pillows into a colorful island in their empty room. It worked, they loved it and cuddled right into this transition.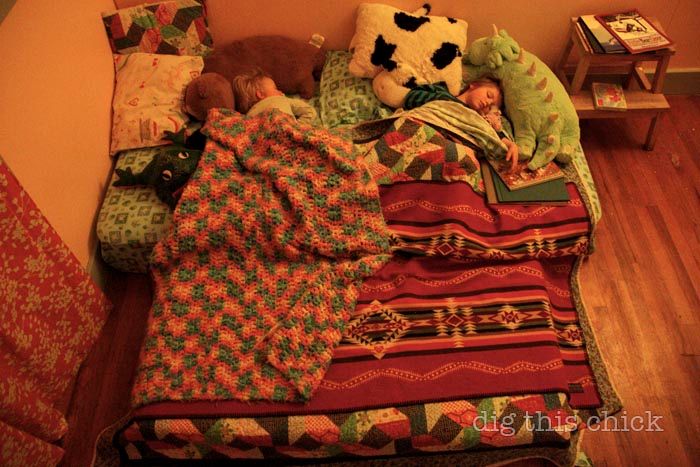 Over the last few days, their bed has become their play spot. Their sweet imaginations have turned it into a tower, a boat, a tent, a school, a grocery store. I love that they have each other through this.
The creature taking the move the hardest is Alice. Our dog has so much anxiety, the only home she's ever known turned inside out. She sleeps in between Andy and me and I regularly tumble over her because she is four inches away at all times. I repeatedly assure her it will all be ok.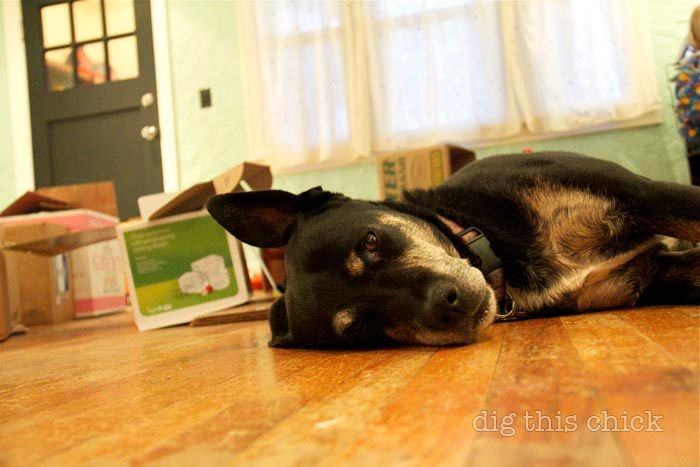 Oh baby, let's go for a run tomorrow and sort this out.
With all this work I am doing to keep our flock hopeful and secure, it works for me too. When I ask my animals and kids to trust this wild current, I tell myself too.  And I believe it with every cell of my being.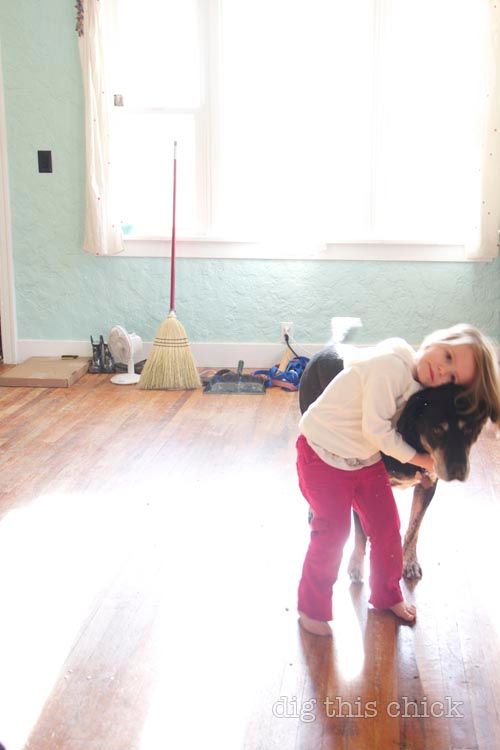 "Mom, will you please take a picture of me with Alice? I love her."
In this week's mama digs I wrote about our New Year's Eve. It was funny and fun, a perfect entry into 2012.  Click to read mama digs: catching life.
all photos taken with a Canon Digital SLR from Vanns.com