Last week, I played on the couch with Ruby for over an hour. With pillows, tracing faces, counting toes. Andy was in the kitchen, which is like eight feet away. I said, "I feel so alive, so present. Like I am participating in life without distraction for the first time in a few months." He laughed and said, "Yep."
Last month, we were way busier than we like to be. Part of me wants to list all the drama and craziness that happened in December. But a bigger part of me just wants to say this: I am impressed with and proud of us. We accomplished a whole lot. My body is thankful it is over and ready to settle into the regular ol' life drama.

I'll do a post dedicated to this outfit that has rarely left my child's grip in days. I couldn't resist a preview.
Also, my body, in its unwinding state, settled right into a gnarly cold. I know it is strange, but I felt a little (just a little) psyched to get a cold. Perhaps I can only declare that now that I am on the other side of the cold. Sure, it was annoying to be so exhausted and snotty but I feel like it made me do exactly what I needed to do: make time for rest. For two entire days, I napped with my kids and cancelled plans. I hydrated. I worked very little, went to bed at 8. And yesterday I woke feeling renewed with ideas! And insight! And motivation!
During the foggy cold days I wasn't on top of my parenting game. I was impatient and grumpy.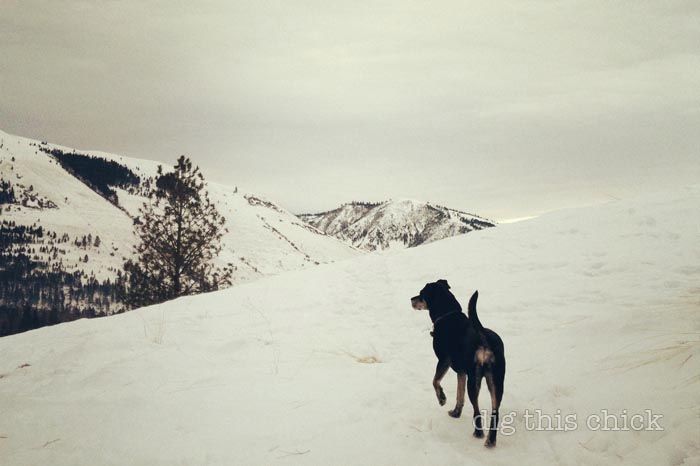 The whole curmudegeonly bit crescendoed on a walk with my kids. I wrote about our vision quest in this week's mama digs: making room.
:: :: ::
Four things:
1. My story about my snagged url was syndicated on blogher. Thank you, kind reader, who passed my words to the good people over there.
2. The ah-mazing Elke Govertsen is featured in the February issue of Where Women Create. And, I am so honored to be the photographer for her story! You can buy WWC at Barnes & Noble, craft stores and more.

3. This week I am hosting a skirt sale on facebook. All my skirts are repurposed from button down shirts, tees and sweaters with appliquéd love. Sizes 12 month – adult xl. Not on facebook? You can still view the images and email me if interested ([email protected]).
4. My new temp studio space is right in downtown Missoula. I am sharing Piper and Paisley's shop until June and we have public hours and a retail space. 612 South Higgins. Locals, come on down.

the girls love it at Piper & Paisley – Dig HQ
I have so enjoyed this slowing down and haven't been the best blogger. I am now officially back and ready for more regular posts. I have a lot to share including some awesome new sponsors, recipes, riveting stories about our move and answers to many of your questions (the number one FAQ regarding the move: Did you bring your chickens? Yes. And wait until you see the coop my man is building!).
Soon!
xo,
dig