Yesterday, I woke to Ruby singing to me. I nursed my girl and Andy brought me coffee in bed (really, just handed it to me as the stove is only a few feet away) in a mug that read You are my sunshine. My only sunshine. He left for work before the sun rose, a quick kiss and soft smile. Happy birthday, babe he said.
I am 34.
My daughters and I went to my sewing studio early, I got all my work done by 10. Then, they went to a play date at Bobby's and I hiked with Alice over shiny ice, under brilliant sun. I fetched the girls, they had made me some art for my birthday. We had planned to meet Andy for lunch. It didn't work out because of a tired Ruby and busy daddy so we drove to his job site with gourmet sandwiches and ate in our ratty Subaru, our funny family of four.
Ruby napped, Margot didn't. I put laundry away while Margot protested and I encouraged her to talk quietly so her sister could sleep. Ruby woke after a bit and we danced to Ben Harper. They sang Happy Birthday for the 79th time that day. Andy got home from work, tired and ready for a hot shower. I took off, met friends for wine and a fabulous salad of beets, parsley, goat cheese and cubed, marinated bread. I came home to the rainbow cake Margot had dreamed up for me. We made a wish.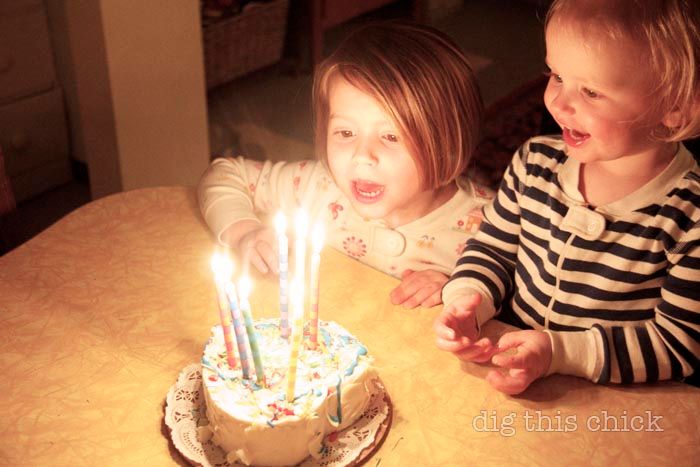 34 things I love right now:
(click to read 33, 32, 31 and 30)
1. Witnessing their relationship.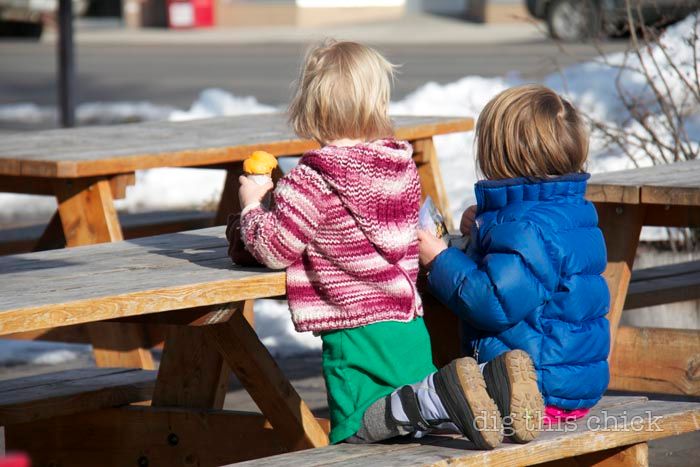 2. Tall socks over tights under boots. I like warm feet.
3. Spinach.
4. My new home.
5. Making art with my kids.
6. The depth of my husband's kindness and calmness.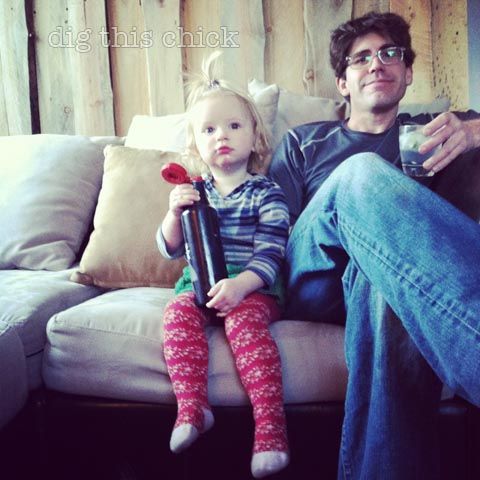 7. Good, motivated people.
8. New earrings.
9. Allegiant added Missoula-Oakland to their flight schedule and I'll get to see my best friends, Lindsay and Paige, with more regularity.
10. Planning my new garden plot.
11. Every morning, my daughters eat oatmeal with honey, peanut butter and rice milk while watching deer out the window.
12. Stormy winter sky.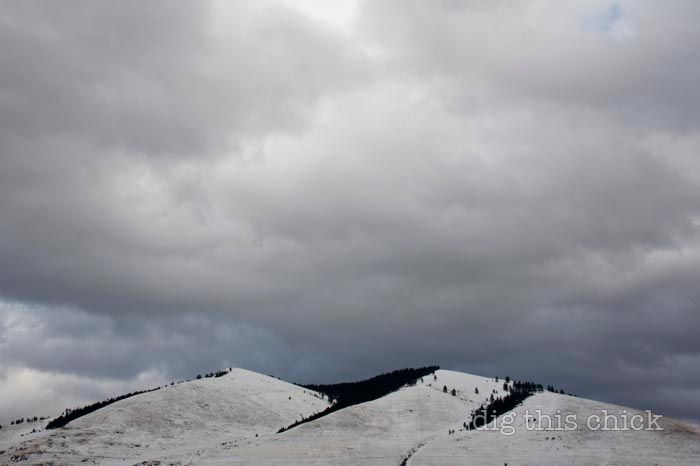 13. This quote:
Whatever you're thinking about is literally like planning a future event. When you're worrying, you are planning. When you're appreciating you are planning…What are you planning? – Abraham Hicks
14. Hot pink.
15. This organic, raw shea butter. It's all I use head to toe (hair included!).
16. Instagram. Loving this photo app. (I'm @nicirae if you follow these sorts of things.)
17. My pets.
18. Ruby's blue eyes, blond curls and buttermilk biscuit cheeks.
19. Margot's brown eyes, sass and no-longer-a-baby-but-still-my-baby face.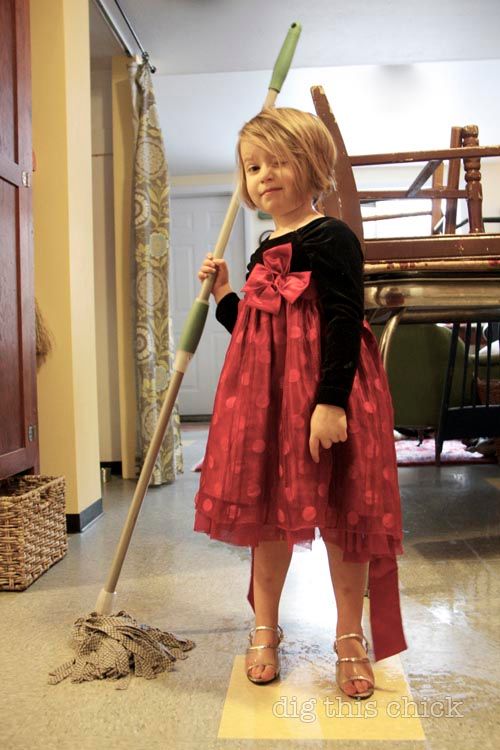 20. Clean sheets.
21. My work. (psst sale in the shop right now!)
22. Watching my strong, athletic kid love gymnastics.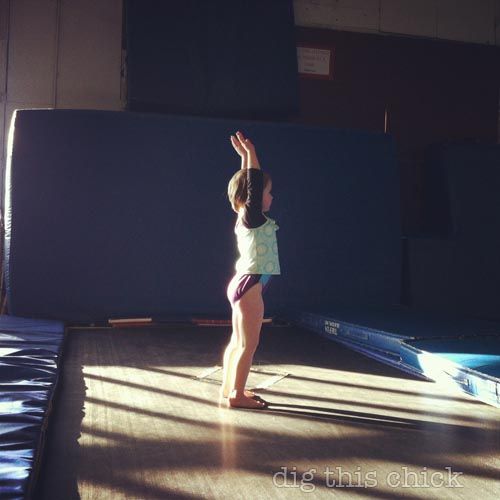 23. Technology that allows my kids to see and talk to their friends in Spain and Mexico.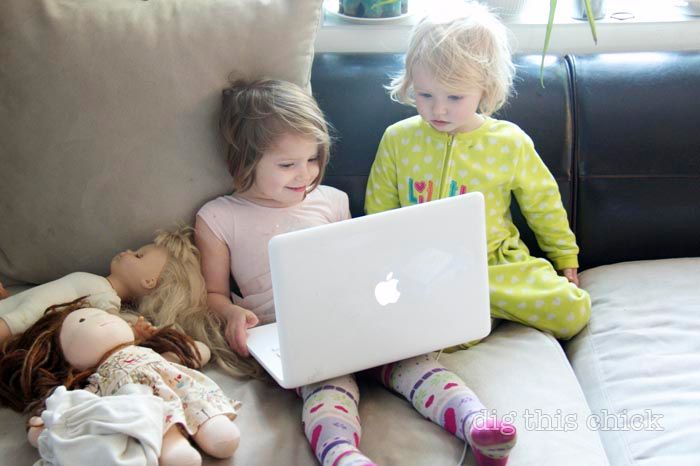 24. A good yawn.
25. Sledding.
26. Imagining human rights for gay people being as mainstream as women voting when my daughters are grown.
27. Hiking with my hair down.
28. Checking items off my to-do list.
29. Beets.
30. Kissing.
31. Margot changes Ruby's diaper.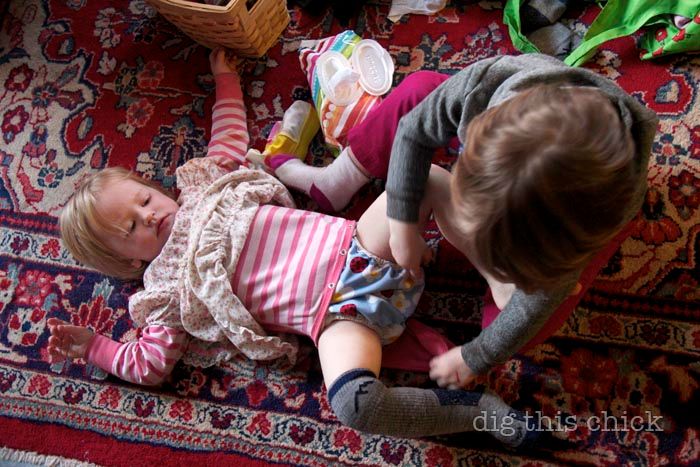 32. Sharing wine with friends who are family.
33. New, fine point permanent markers.
34. That very first moment I wake up every morning.
xo