Yesterday afternoon I sat on our couch to write my mama digs to the soundtrack of four girls (two of them mine) squealing top volume as they careened down the sledding hill. Andy was outside, giving me a bit of space to crank out my column.
It was nice to have that space but hard to see that fun out the window. I'd get a few sentences written and then hear Andy say OK! Here you go! And all four little girl screams would echo as they rocketed by in the bright orange sled.
"Gillian! Margot! Gillian!" I heard outside. Phoebe, our neighbor stumbled by the window in a t shirt, skirt and moon boots. "I LOST MY FIRST TOOTH! Gillian! Margot!" her red head bounced into the field, arms overhead as Margot and Gillian ran like suited-up astronauts to see the bloody hole in her lower gum. Ruby and Lucy, disinterested, stayed in the sled.
There was more squealing and giggling and then Phoebe ran home and sledding continued. I had started to write my column about how at peace I feel about not skiing much right now, how I have so much fun on the bunny hill with my kids. But the lost tooth sent me into this larger thought about how our lives have changed a lot. It isn't that they were one way and then another. One day I'm cooking an elaborate meal all afternoon, the next I'm typing an essay while sitting on a pile of play scarves listening to little girls shriek over a hole in their friend's mouth. Rather, it is a gradual ride, a series of events that roll into each other making our lives what they are. Click to read my mama digs this week: Lodge Mama.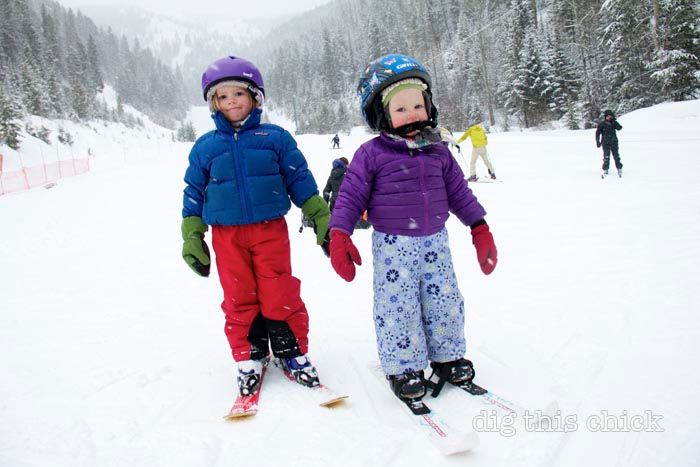 my new favorite photo 


Also, after the sledding-lost tooth and before the tangerine sorbet melt down, I heard the Oscars were happening that evening.
I thought it'd be fun to watch the red carpet bit with Margot since my kid is crazy about clothing and accessories. Also, I was a guest judge at our local Project Selvedge fashion show last Friday and bug thought that was totally awesome (me too!). She remembered every design and talked about them at length. She loves fabric, loves color. She notices everything and carefully selects her outfits every day.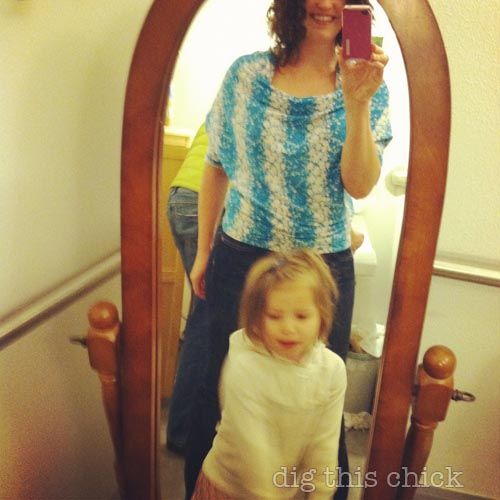 Margot practicing her runway moves int the bathroom during a fashion show 
break last Friday. My shirt is a new pattern of mine.
When we leave the grocery store Margot will often say something like mama, did you SEE that purple shirt? And those long gold earrings with the longer green sparkly thing?!

her two current favorite outfits: a slippery leotard and a skirt I made out of two silky shirts of mine :: the dress I made her for her sun/moon Halloween costume
We recently inherited a television so Andy hauled it in from the garage and I felt a little bit like a 50s family watching Leave it to Beaver for the first time. Daddy set up the magic box while mommy made popcorn and the two daughters said oh goody gumdrops!
Margot was SO into it and very opinionated. She wore a yellow t-shirt with a sneaker-wearing beaver, a black velvet shrug and a pink tutu and gasped when she saw all that glitz. It was very fun and we had fabulous design conversation about dress construction and color. During the commercials we flipped down one station to PBS where the program was Railway Journeys: The West. It'd be all J Lo's hot stuff and then locomotive steam in the San Juan Mountains.
When Brad Pitt was on the carpet, I said how I thought he was darling and Margot asked me to repeat my statement. I told her I thought he was handsome and asked what she thought. "The boy?" she asked incredulously. "No. I don't think any of the boys are cute. Only the moms are cute."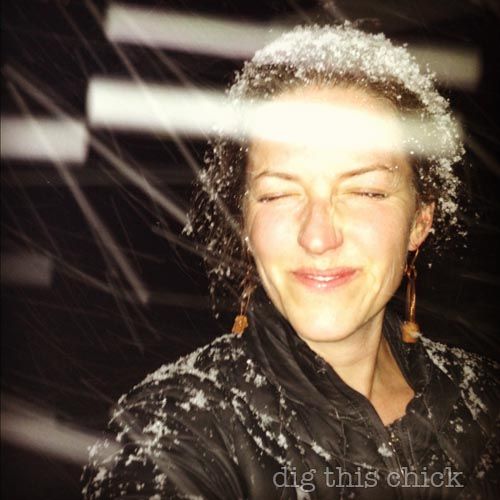 I'll be back on Wednesday with Hump Day Nuggets! It's been a while.