We are pretty lucky to live in a small space with access to the internet. I am loving the camaraderie and creativity out there. People who live in 250 square feet and nerd out on space efficiency and then hop online to share their nerdiness with nerdy people like us.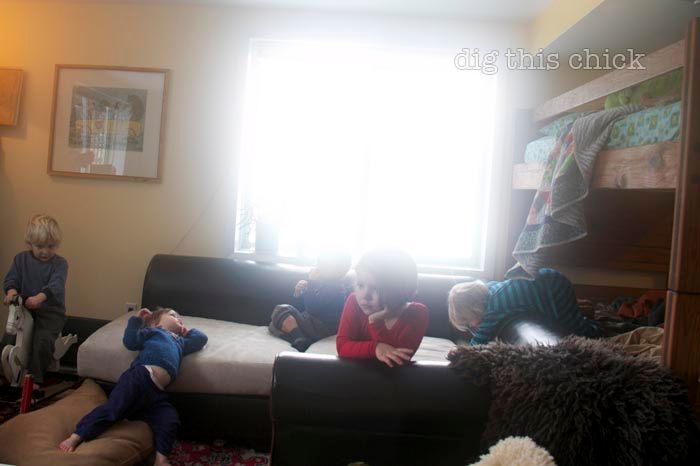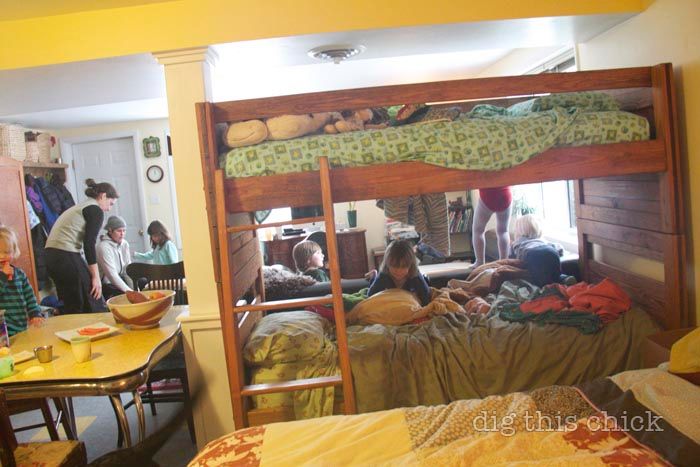 Having wee friends over is funny.
There is much about our space (400 square feet; a bit smaller than a two-car garage) that feels exciting and liberating:
We picked exactly what we need and realized we still had space for non-essentials.
Our kids have never been more creative with their play, with only a few books, art supplies, puzzles and a bag of scarves.
It feels like camping every day.
More cuddling, hanging, reading, talking, being together.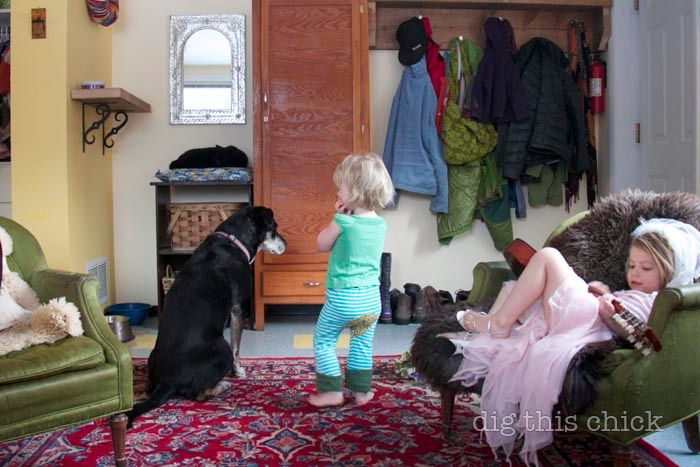 There are a few things about our space that are challenging:
Cooking! Not much kitchen space.
Our home always feels messy. For example, laundry to put away? It's in the kitchen. Kids make a fort? I can't walk.
It's like camping every day.
The kids don't really want to sleep because, a few feet away, mom and dad are doing something awesome and interesting (not in that way. GEEZ). 
The last challenge is the biggest. Sleep. No sound barriers, no doors. Often I fall asleep with Ruby at 8, in my clothes. Other times, Andy and I sit on the couch in quiet darkness, whispering, waiting for the deep breaths of our kids, eventually falling asleep on each other. Other times, Margot and Ruby fight it and we read more books and all end up a pile of sleeping tired people in our bed, in the kitchen. We've talked a lot about the majority of the world's people who sleep seven to a room. It keeps it in perspective and let's us know this difficulty is an adjustment. We are adjusting to this new schtick.
And we built a wall. The Great Wall of Better Sleep.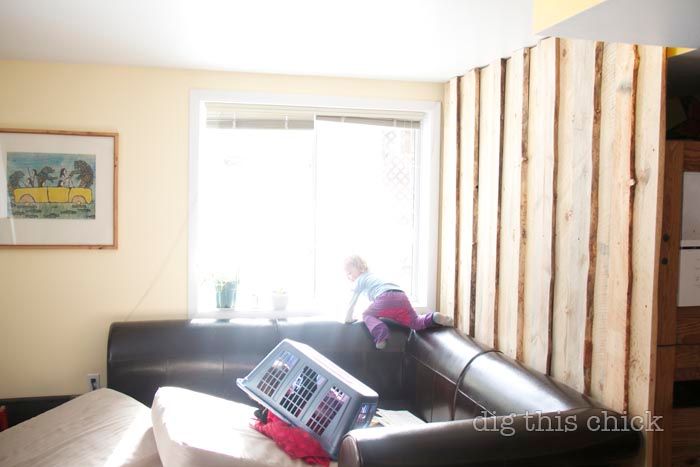 I had this vision of a wall made from cool old doors but a few things complicated my vision. One, lead paint. Two, how would we reuse those doors? We are only in this small space until June and wanted to create a temporary wall out of material that could be reused.
We visited our local building materials reuse store and sleepily walked around on slick ice, Margot in her
gown and veil
, until we found some cool rough cut wood. There's an awesome metaphor in there somewhere. 
Andy screwed the boards right into the bunk bed, staggering them to create more interest and more of a light barrier.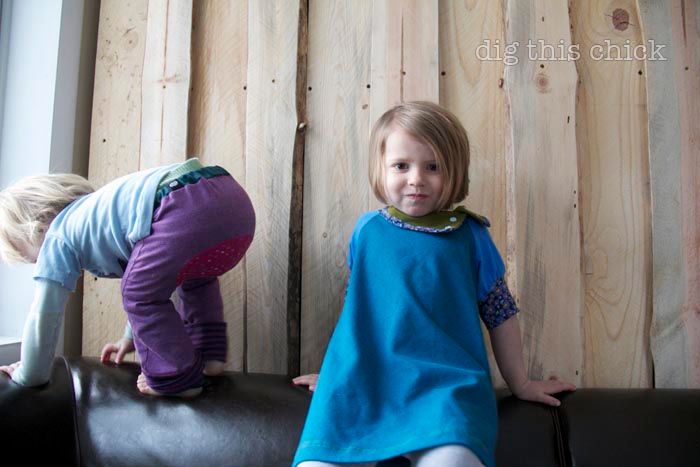 At first the girls were bummed to lose this side of their jungle gym but they quickly (that night) enjoyed the coziness of their private, peaceful space.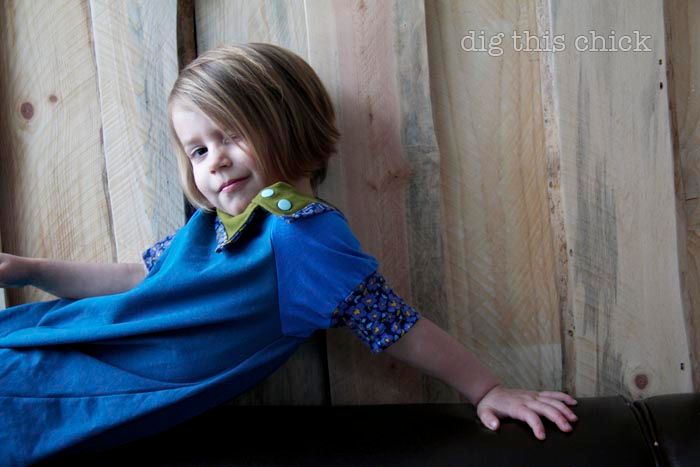 This wall makes us wink.
Notice some cute clothes in these photos? Yes. Those are designed and made right here in Montana by the brilliant CarolLynn Lapotka. I am so pleased to present
REcreate Designs
as a sponsor!
This mama runs a green business with such acute attention to design. All of her products are upcycled, repurposed. She puts a shiny new twist on thrift store scores, makes clothes that people
choose
over everything else in their closet. I
adore
my skirt
. Ruby is in love with her
fancy pants
. Margot, the pickiest dresser in our family thinks this
skirt
(below) and
dress
(above) are the cat's pajamas.
REcreate is offering one of you lucky ducks a $50 gift certificate. Visit
REcreate Designs
site and come back here to leave a comment telling us how you'd spend $50. Extra entry:
like REcreate on Facebook
and leave a separate comment saying so. And!
All
you lucky ducks get 10% off your purchase with coupon code 'digthischick.' Thanks, REcreate Designs.
OK, I'm off to the other side of this wall to slumber. Sweet dreams out there.