The girls and I set out for our daily outside romp, the one where I beam and my kids beam and we take turns exclaiming at the mountains' beauty, the sun's brilliance and how lucky we feel to live here.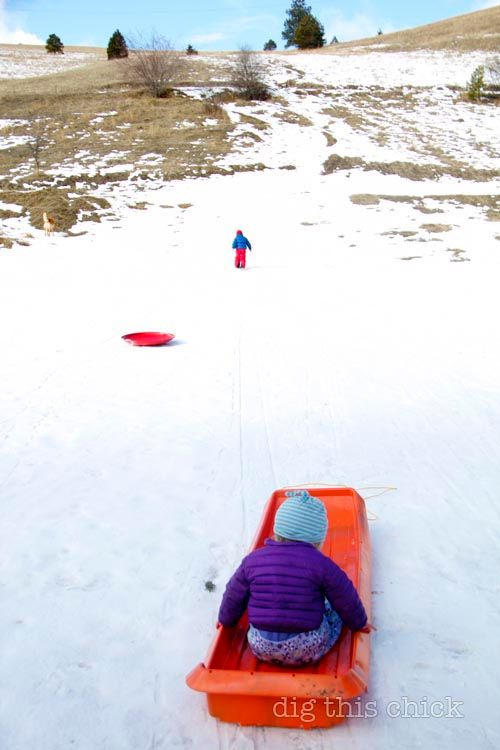 I just don't ever get over it, the grounding, buzzing beauty of Montana. And our new home is situated so we have the opportunity to spin circles and sing like Maria on the hilltop and have 360 degree postcard-worthy views.
This location is what pulled us to move across town. It's quiet and open with access to trails that zig all the way up to grizzly bear country. What we didn't know was how awesome the neighborhood would be, that every neighbor would stop by to meet us, welcome us with pies, cookies and no-need-for-handshakes–straight to hugs.
People have fences around their yards with gates on all sides so neighbor kids can just pop over whenever. One guy spent an entire summer de-rocking a city-owned field and irrigating it so the kids could have a place to play soccer. When we bought our house, we had to agree to a few unconventional criteria: one, we had to be groovy with the hood cutting through our property to access the sledding hill and two, the home came with a tractor and we had to commit to mowing 1/3 of the field behind our house so the Tuesday night kickball and after-school baseball could occur.
There's a unique, cozy, invested energy in this valley and we are head-over-heels about that surprise.
On this particular day's outing we sledded and I smiled, proud mama, as I witnessed my kids' independence and fearlessness. Margot then told me about a secret she and her dad had found the day before, revealed by a neighbor. We raced up the hill and around a tree to find a giant trampoline. Situated right at the edge of a property, these neighbors placed it so anyone could use it at anytime.
A secret trampoline on a mountainside. Oh man, I had one of the best experiences of my life on that tramp with my daughters. Just joy. We jumped and rolled, beginning in our snow gear and shedding layers on the sun-warmed black mesh.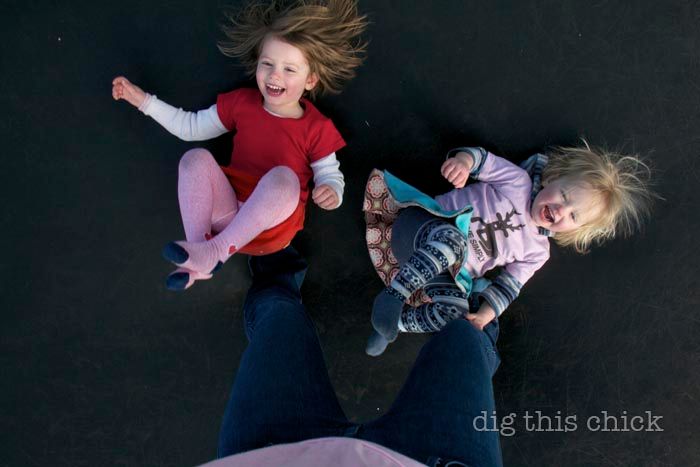 :: onto another subject about people who are equally in love with our state ::
I am honored to present new sponsor, Angle 33! This Missoula-based business, owned and operated by our friends, makes wine thermals. Matt applies his expertise in all things concrete to his manufacturing creating a hip, made-in-Montana product that keeps red wine, white wine and champagne at optimum temperature for up to two hours. And he is driven by his passion for family and outdoors to create a lean manufacturing system that is detail-oriented so, you know, he can get the job done well and then play well. Read more about their admirable business standards here.
The wine thermals are rad. Plus the people who make them are rad. Every purchase contributes to radness. Matt and Marge offer a special deal to you, dear readers, of 20% off! Use coupon code vinolover at checkout. Thanks, Angle 33!
Wishing you all a weekend of magical hidden trampolines or something just as awesome.