When Margot first ate food she swallowed everything we did, puréed. I proudly proclaimed I didn't believe in kid food, that people food would do just fine for all members of our family. A year later something shifted and Margot, who once ate peanut curry, tomato pie and fish tacos, would suddenly only eat white food with a hint of color (thankfully, homegirl has always loved beets, carrots, peas and fruit). Tofu, bread, rice, yogurt, milk, cottage cheese, oatmeal, popcorn, noodles. White whitey white. What happened to my foodie? I wondered, bummed.

Margot, six months old
It was so easy for us to make her what she'd eat and we did get in that habit for a bit until we noticed Ruby taking notes and Margot burrowing into picky eating habits. We decided to reinstate our family food rule: one meal is made for all of us. Everyone has to try it. If they don't like it there is a handful of healthy snacks to choose from (more on this below) but another meal will not be made.
And you know what? It works for us. My kids try everything and like most anything. I have found a few tricks and, in response to many inquiries about food and kids, here are a few things that work for our family:
:: When introducing a new vegetable, I often dice it up and include it in something they already like (for example, chopped brussels sprouts in a soup or diced mushrooms in rice) to allow my kids to try the flavor without psyching themselves out over what it looks like. Then, I pull out the whole vegetable and talk about it with them and we take bites. The kids gain confidence in food identification and taste. It demystifies the whole thing.
:: I include my kids in meal preparation. They are naturally invested in something they helped to make.
:: Trying food is non-negotiable. We all take a bite of everything prepared for us. This is a part of our mealtime culture and our kids don't even question it. Sure, absolutely, they sometimes don't want to try it. Sometimes, they writhe in their chair while painfully looking at dinner. In these cases, Andy and I say ok, you are welcome to have something else just as soon as you try it. Take your time. Not exaggerating: 99% of the time, they try it and like it. Sometimes they don't like it and have a small selection of snacks to choose from: almonds, tofu, carrots and apples. Important: *It's always the same so the snack option isn't exciting or alluring.*
:: We grow and harvest food together. Again, they are invested in and excited about a beet they planted from seed and yanked from the earth.
:: I use herbs and spices and interesting ingredients in our food, I don't dumb it down for the kids. This way they are used to a wide variety of flavors. Examples: add curry to tuna salad, add soy sauce to popcorn, add cilantro to soup.
A few days ago, open windows and a hungry friend recovering from surgery inspired me to get creative in the kitchen. My foodie spirit was on fire as I made a meal out of ingredients on hand that turned out pretty great. It was easy and the whole fam loved it.

turns out there is a GIANT mint bed at our new house
Minty Stuffed Peppers
serves 6
6 large bell peppers
1 onion, chopped
handful fresh mint, finely chopped
8 garlic cloves, minced
3/4 cup pine nuts
2 cups brown or wild rice, prepared
2 6 oz cans tomato paste
1 cup sharp cheddar cheese, shredded
salt
cumin
pinto beans
juice of one lime
dried oregano
salt
plain yogurt
Prepare the rice and beans. Or, open a can of beans. Although I cannot recommend freshly cooked beans enough. They will change your opinion of beans. We use a pressure cooker and make beans in 25 minutes that'll knock your socks off. Also, we are headed to northern California in a week (!!) and are making a special day trip just to see the Rancho Gordo bean farm and store. Oh, and, I am thinking of doing a little meet and greet somewhere, being that I've 'met' so many dear Cali people through this online world. Are you interested? It sounds kind of fun to me. Anyway, beans! They can be epic.
Preheat oven to 400 degree. Toast pine nuts. To "toast" pine nuts quickly, I toss them in a cast iron fry pan and cook over high heat, stirring constantly until brown and fragrant. Do this and set aside. Combine pine nuts, most of the mint, garlic, onion, a few teaspoons of cumin, a few teaspoons of salt and cheese in a large bowl.
In a separate bowl (or rice pot), combine the tomato paste and rice. Don't over-stir and make your rice mushy. You may need to add a bit of water to make stirring easier.
Slice the tops off the peppers. Remove seeds and insides.
Pop out the stems and chop the pepper tops.

Ruby helped out with this meal. 

Margot was busy parenting her chicks.
Add chopped pepper tops to pine nut mixture. Combine pine nut mixture and rice mixture. Scoop the filling into the hollowed out peppers, overfilling a bit. Place stuffed peppers in a pan with a bit (like 1/4 inch) of water in the bottom. Cook for about 45 minutes.
While the peppers are cooking, make the simple pinto bean side dish: Combine beans, lime juice, oregano, rest of mint and salt.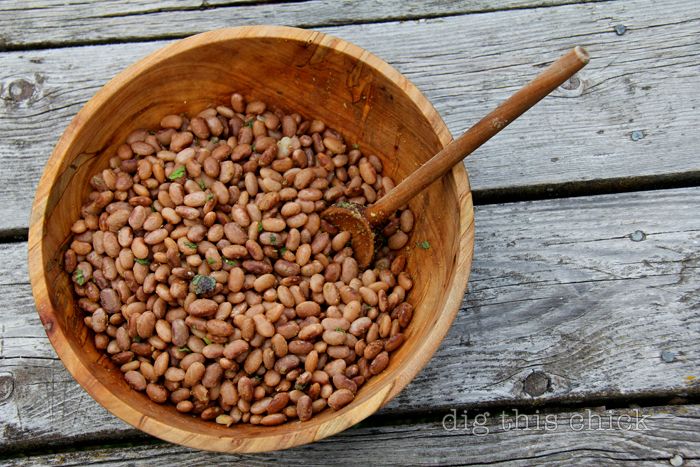 Serve peppers with beans on the side, a generous dollop of yogurt on top of beans.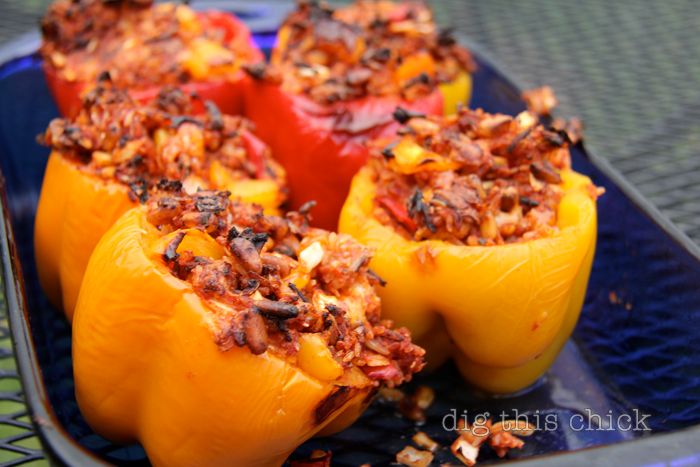 Sorry no pic of beautifully plated meal (blogger no no), we gobbled it right up.


Plus, the meal was easy and colorful to transport to our friends.
How does your family approach mealtime and food exploration with kids? I'd love to know what works for you! Also, how 'bout raising a glass in Point Reyes or San Francisco? Let me know about that too.
xo,
dig