"We need to get on these vegetables. We are close to disaster in here," Andy said as he crammed the half and half back into the refrigerator between cascading cucs and billowing broccoli. By "we" he means me, my family's food grower, harvester and preservationist.
This week, I started with the 80 pounds of peaches I bought from a local orchard. I buy the split pit peaches, which can be literally translated: the pit is split in two and there is sometimes (like 1 in every 8 peaches) an earwig or seven hanging out in there. The split pit peach flavor is the same and my kids have fun opening the peaches in search of the copper bugs. Also, they are $1 per pound which is quite enjoyable.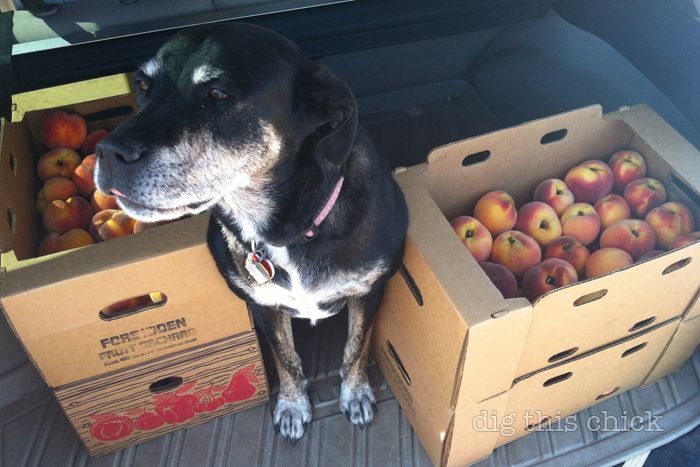 Alice and 80 pounds of peaches
Ruby and I went at it this year, spending Margot's first days at school in the kitchen covered in peach juice, eating peaches, cutting peaches, peeling peaches, boiling peaches, cooling down peaches, puréeing peaches and squealing over surprise earwigs.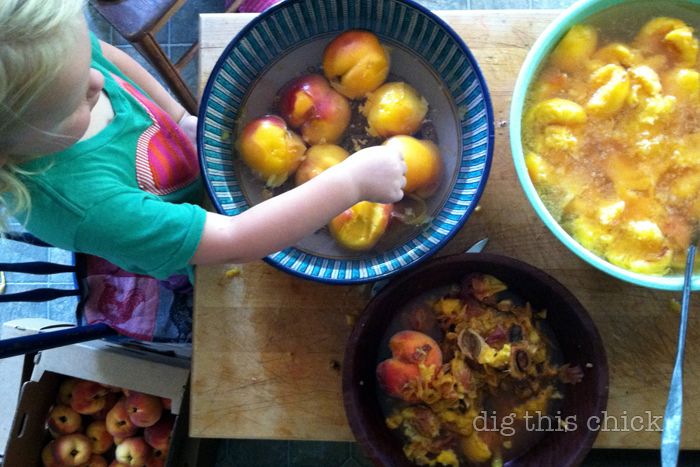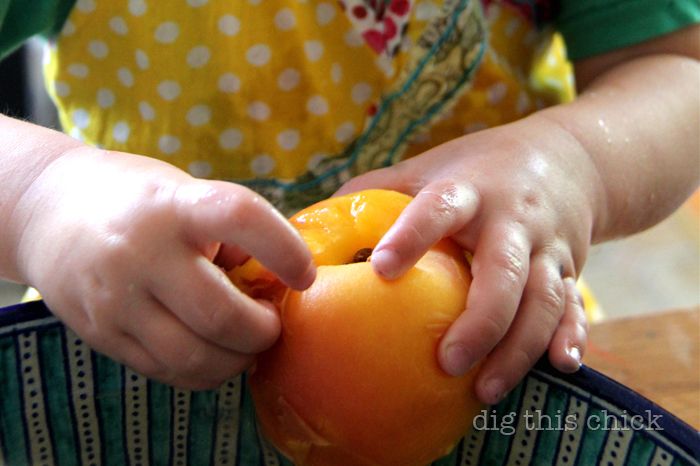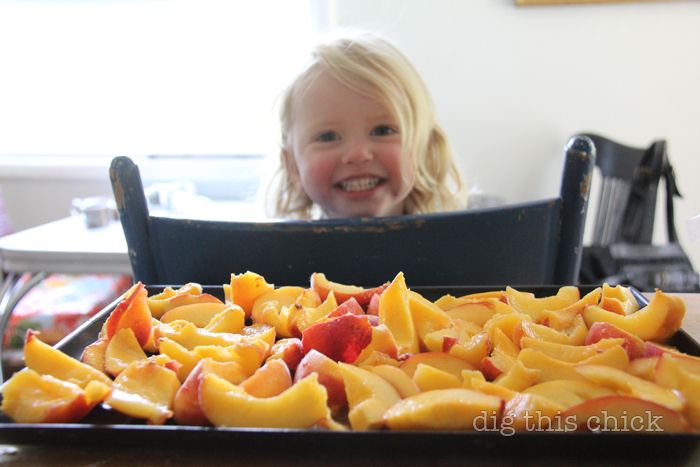 not for peach butter, these peaches are on a baking stone to freeze so they won't stick when we bag them
Me: Ruby, I love you. My little peach.
Ruby: I not a peach! Silly mama.
Me: No?
Ruby: I your sweet potato. Your rhubarb. Your cat-pillar. (All my nicknames for her. Doesn't she resemble a sweet furry little catepillar?)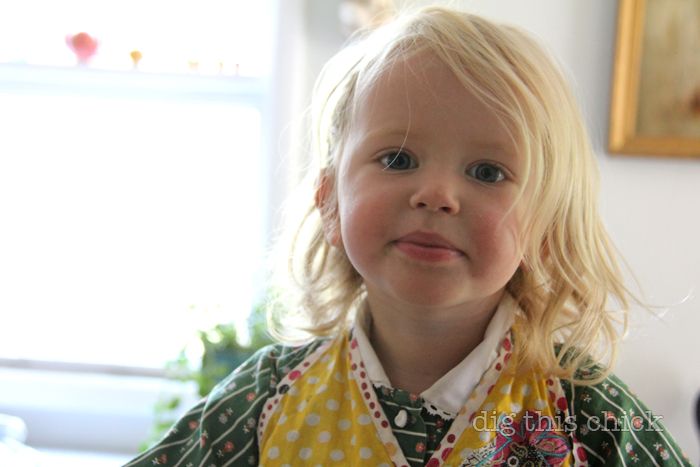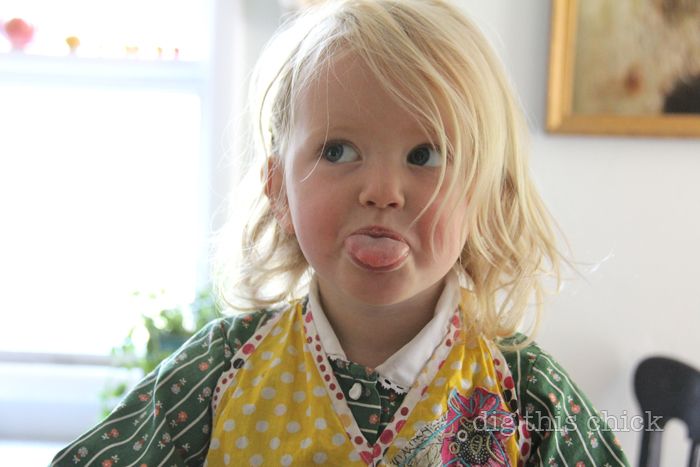 Me: True. Will you be my peach too?
Ruby: OK, mama. Thank you. Then you be my rhubarb.
My canning setup:
1. Fresh peaches
2. Boiling water for blanching, to loosen skins
3. Ice water, to cool so skins slip off.
4. Bowl for pits and skins.
5. Water with a dash of ascorbic acid (to prevent browning) to hold halved peaches
6. Pot over low heat for peaches preparing to be butter.
7. One of my most favorite things I own: a big slotted copper spoon with a hand-forged iron handle
My peach butter recipe and canning tutorial HERE. 
We canned about half the peaches and have eaten and shared about 10 pounds, leaving 30 pounds of really ripe peaches to preserve, stat. We cut and froze some and right this minute making Peach Salsa from Marissa McClellan's fabulous new book Food in Jars: Preserving in Small Batches Year-Round. I've been a fan of Marisa's blog for a while now and was so excited to learn she was to publish this book! And then thrilled for the opportunity to review her book.
It's gorgeous, creative and full of wonderful recipes. Food in Jars is a killer resource for those who want to begin canning as it beautifully and thoroughly explains process with accessibility and ease. It's also a great addition to the seasoned preserver's library — it's creative and full of interesting recipes like Caramelized Red Onion Relish and Pickled Sweet Cherries. I'm also a big fan of the section titled Other Foods in Jars with recipes like Rosemary Salt and Mo's Famous Whole Grain Pancake Mix. I am devouring this book. And one of you lucky ducks could win one, courtesy of Running Press! Leave a comment for a shot at it. If you'd like, link up to what you're preserving this season.

** comments closed **
WINNER: Lucky #24:
About me: said…
I really want to start canning as well. I just purchased a box of Ball supplies, including the jar lifter and a magnetic thingy for pulling the lids out of the boiling water. Look around thrift stores for the canner and basket. This book would be a great help! Amy
Congrats, Amy! Everyone else: buy the book! You will be happy you did.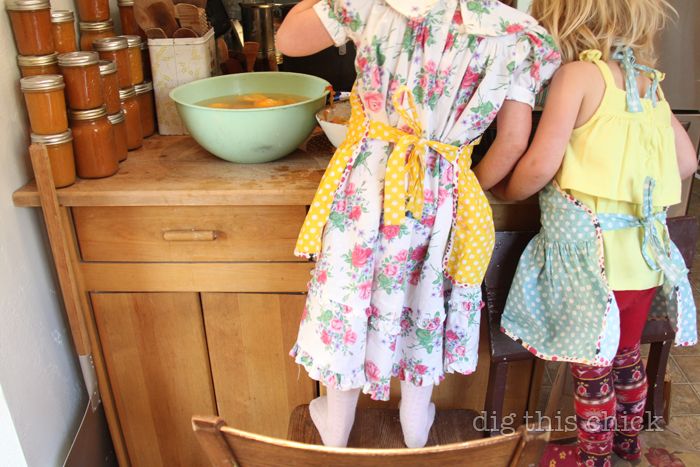 *GIVEAWAY TERMS: Winner randomly selected on the morning of Wednesday, September 5 and announced HERE in this very post, at the bottom. Please check back or leave your email in your comment. If the winner doesn't claim their prize within two weeks, I'll randomly select another.