It seems to happen every near turn of summer to fall, this belly burn I get to sew stuff for my family. Maybe it's the summer-ragged our clothes have become or maybe it's the cooler mornings. Maybe it's all this talk of back-to-school (yesterday I told Margot I would miss her when she was at school in a few weeks and she said, "Oh, it's OK mama. I always come home."). But, really, I think it is just a shift in my own rhythm. For, as summer prepares to pass the torch to fall my attention turns to our interior space. Harvesting, canning, arranging, stitching up duds for my kids (and myself!).
I sew so much for others and people often ask me if it exhausts my sewing muscles. Nope. It is a totally different thing to select fabric with my daughters, measure their excited waists and make their new favorite thing, with their help. I love it.
Margot, Ruby and I worked in the studio yesterday and just as the sun was at its hottest, quietest, most stagnant, Margot said (as she does every day), "Hey mom, will you please make me pants out of this fabric?" And, on this day, I said yes. Ruby promptly picked hers and we made pants.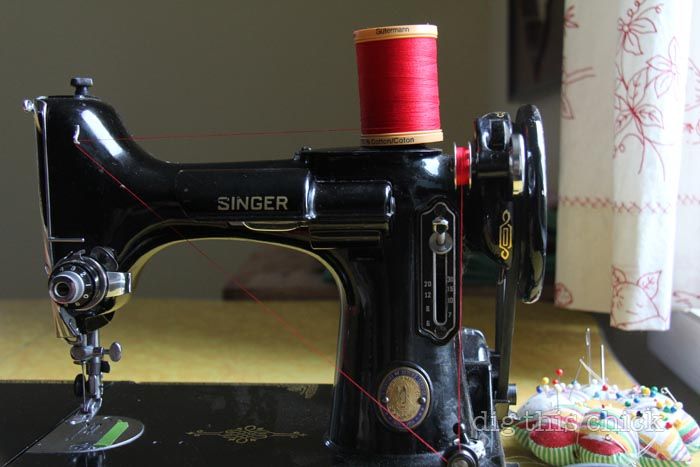 ah, the seam ripper


Andy called at 5:30, his usual at-home time, to say he was running late.
Andy: What are you doing?
Me: Making pants with the kids.
Andy: What?
Me: Making pants with the kids.
Andy: Is that code for something?
Me: What?
Andy: Are you trying to tell me something?
Me: I am making pants with the kids.
Andy: OK. See you soon.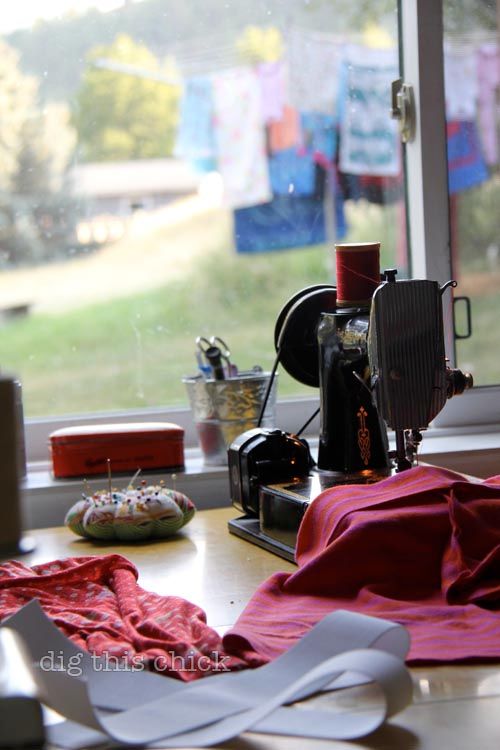 Laundry on the line has been blowing in the wind for two days now. In this week's column I wrote about the messy state of my home, especially when Andy was gone. The thing is when I am in charge of all of it, it's more than I can do.Click to read mama digs: beauty in mess. 
Now, I have followed complicated patterns. But, in general, I just don't. Much like in my kitchen, I am spontaneous and make it up as I go, doing variations on the simple patterns we've developed over the last few years. This pant pattern is so so cake: two pieces of fabric, three stitched lines plus the casing and elastic. The front and back are the same pattern (really!). It isn't tailored in the least, a fun and comfortable play pant.

There are so many tutorials (a great one in The Creative Family and one here too) for tracing pants to make a pattern so I won't add to the mix with sewing instructions but I will share my pattern shape with you, made by simply tracing a pair of my daughter's pants (seen on freezer paper) and adding room in leg and bum. You really can't mess it up.

the pant leg bottom needs to be at a slight angle
Ruby chose a thick, soft cotton knit of which she said, I just want to hold against my cheek please. It doesn't drape as nicely as the silky knit blend Margot selected but she is pleased as punch with her choice.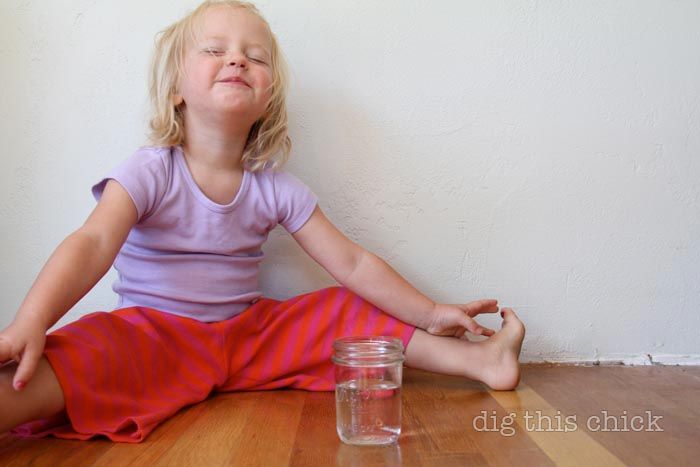 Margot says hers feel like the best pajama pants ever and informed me that she has to move fast while wearing them.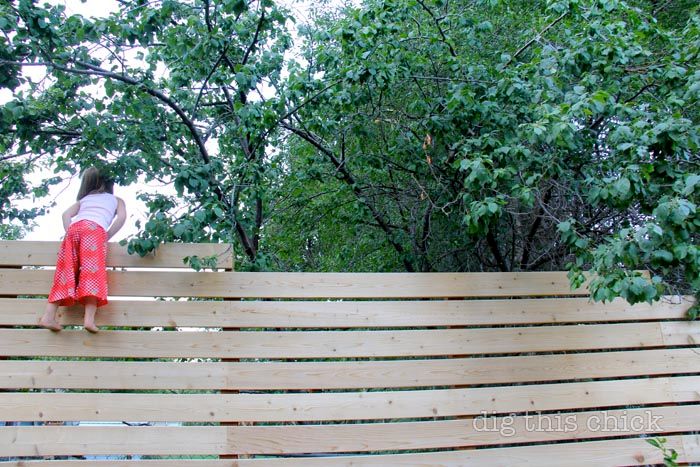 As you've maybe noticed, I tend to sew clothes that will last a few years. This pattern grows with kids: long shorts next summer, shorts the year after that. Need a bigger waist? Just open the casing and add new elastic. Voila. The three-year pant (code for Pants).
A few pattern deets: The top should measure your child's waist size / 4 + 1″. For example, Margot's waist is 20″.  20 / 4 = 5. And the top of the pattern is 6″ across. I use 2″ elastic. Because of the amount of fabric you use with the pattern, a lightweight rayon or bamboo blend knit works best for drape. I used the above pattern for Ruby, added 3″ to the length for Margot. I've made a bunch in woven fabric as well and it works just fine but I prefer the look and ease of knit (and no hemming required with knit!). A serger machine works best but mine needs some work so I used my tried and true Singer Featherweight machine. When working with knit and a straight stitch, you need to gently stretch the fabric as you sew.