hump day nuggets: bits of the season in photos and words about the last week
Margot ran out of her room, arms wrapped around her chilly shoulders. She wore a bathing suit and announced the day's plan would be to swim in the creek. "Or, if you think it's too cold we could fill up our baby pool and pretend it's the creek. Or take a bath and pretend it's the lake."
We're all feeling a little punchy and desperate for fun outdoor activity. Our forests are on fire. Smoke fills our valley, our eyeballs, our lungs. I wasn't bothered a bit at first, knowing it would pass, still high on our wonderfully mellow, warm summer. Our forests burn, it's part of where I live. But, getting into week two of this haze, I feel melancholy when I look up. They gray density is disorienting and boring. It's like all of Missoula treads in paste.  Suffocating, white, slow, blah.
Last week, while Ruby and I picked tomatoes, she stomped her foot and said, "GRRRRR! This smoke! I am over it!" which made me notice how often I had said that in the last few days and notice that, no matter how consuming it felt, I didn't want to focus on what I didn't like.
So I decided that if looking up makes me feel like poop, I'd look down. There is a lot to feel thankful for on the ground.
:: Garden days are numbered, evidenced by low-slung, frost-kissed jungle in our backyard. Still, every day, we manage a basket full of something.
:: New chalkboard wall in the studio.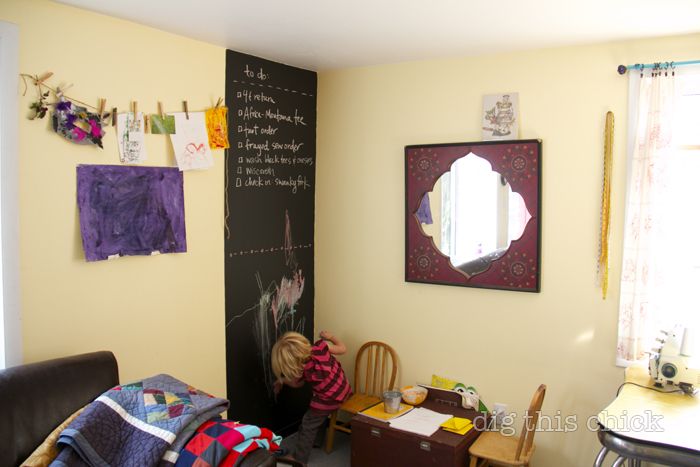 :: Scored a sunny chenille bedspread on ebay for a song.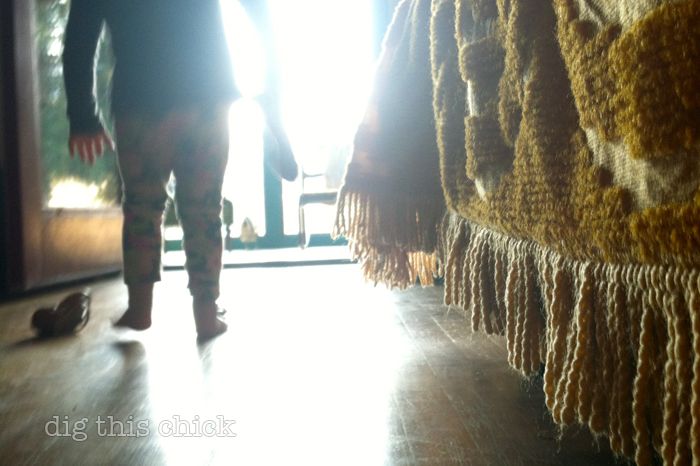 :: We canned Beet Carrot Soup.
:: On one super smokey day we headed to our local nursery where perennials are buy one-get one. We ended up staying there for close to an hour because the kids had so much fun playing hide and seek. Ruby counts like this one, two, free, four, six, seven, eight nine, six, seven, eight, nine, SIX, SEVEN, EIGHT, NINE, SIX, SEVEN, EIGHT, NINE!
:: While I am third generation alum to The University of Montana, I am completely not into Griz football. Really, I don't like football in general but I do like doing things with my family and I do like the energy of 25,000 people jumping up and down screaming MONTANA. We went to a game when family was in town. Ruby fell asleep on my back and we walked the perimeter of smokey maroon and silver. I don't know what the score was and I absolutely didn't approve of booing the other team (got a few looks when I applauded the opponents' efforts. Come on! They were someone's baby once.) and I had a fabulous time. Touch down!
:: Tomato pie.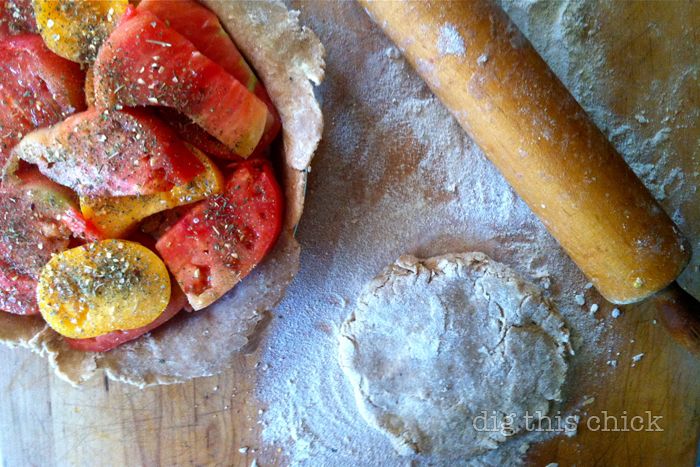 I updated my recipe to include this variation
:: I love this window in our living space. The top of an outdoor garden bench atop two old apple crates hold toys and succulents.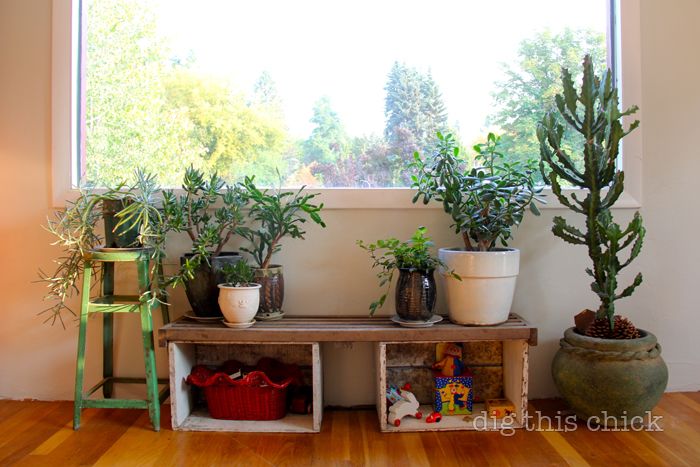 :: Ruby helps pin tags on clothes with Chelci.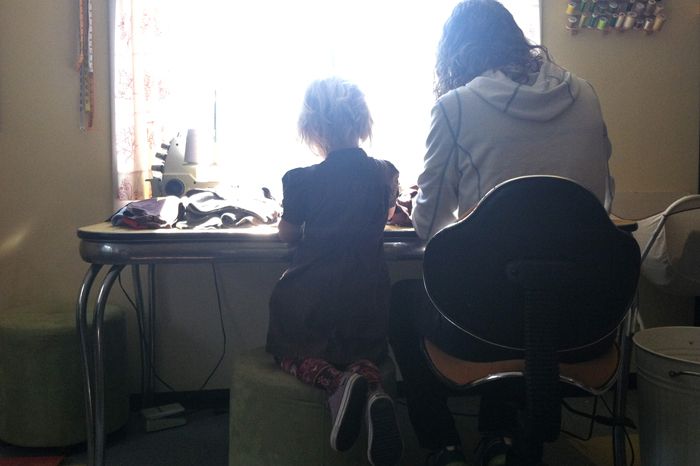 :: I did manage to get some exercise, although in an unlikely place. I danced Oula in a grocery store produce section with 50 women for a mamalode video. Say what? True. I was so excited about my new moves to Call Me Maybe that I performed for my daughters. I didn't know Ruby had snapped this pic with my phone until I downloaded my photos. I am surprised to see this awkward hunched claw pose because when dancing I feel so smooth and rhythmic. Hmm.
:: Getting there.
:: Reason # 758 why we love Benson's Farm: haven't been in 2 weeks and walked in to find Ruby's beloved zebra hanging by the corn. The entire Benson family cheered (and a few got teary!) when Ruby hugged her found friend. It was one of my favorite moments.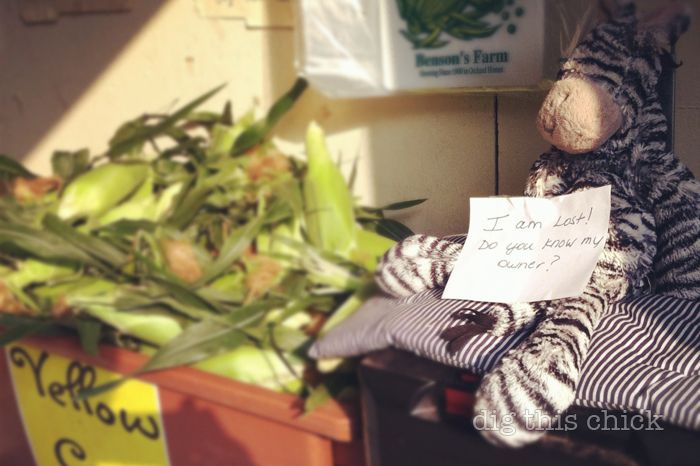 :: Remember that dream I had where Olive visited me? Margot had one too. I wrote about it in this week's mama digs: dreams of spirits.
:: And I leave you with an accidentally good peanut butter popcorn ball recipe. I was out of ingredients and late to a potluck so I made do and it turned out fab. Love it when that happens.
:: peanut butter popcorn balls ::
15 cups popped popcorn
1 cup sugar
1 cup honey
1 1/2 cups peanut butter
2 teaspoons vanilla extract
a bit of canola oil
Mix honey and sugar in a pot and cook over medium heat until melty and boiling. Turn off heat, add peanut butter and vanilla and mix well. Pour a tablespoon or two of canola oil on a plate. Pour hot mixture over popcorn and mix. When you are able to stand touching the popcorn (it'll be hot!), palm the oil with both hands. Grab a clump of popcorn and shape into a ball. Keep it up, dipping in oil as necessary (to prevent popcorn from sticking to hands). Makes about 20 three-inch balls.
I think we'll make mini balls for Halloween. Oh I am excited to share the girls' costumes!
Looking down has helped my smokey blues. I can't blow the haze away but I can shift my attention. And when the fires extinguish? Oh how I'll appreciate blue sky, clouds and distant peaks. Until then, there is so much awesomeness to study on the floor.
Ruby: I love you Margot.
Margot: Awe, sis. I love you too. Want to play family?
Ruby: Sure.
Margot: You be the mom and I be the dad?
Ruby: No! I be the dad.
Margot: We could be two dads who take their kids to the creek?
Ruby: Ok!