FIRST: I thank you and my family thanks you for your love, thoughts, prayers, stories and advice. Geez, your words mean a lot. We read it all. Thank you.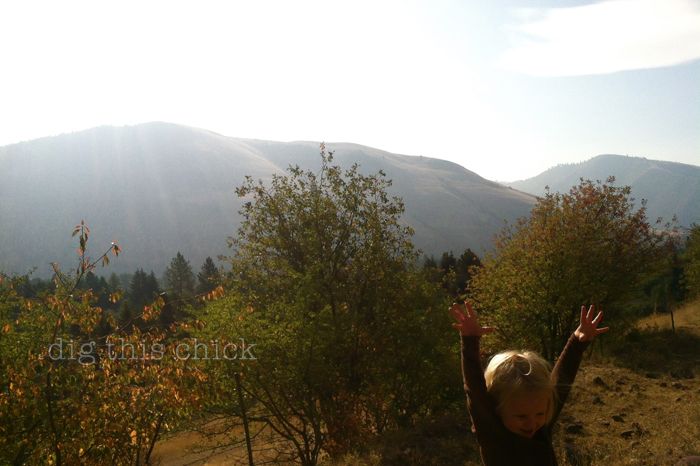 Yesterday I went for a hike with Ruby and Alice, after we dropped Margot at school. It started out as a little walk but I kept going up. Up. Up more. Breathe. Tread.
I called for Olive as we ascended. I liked thinking of her roaming the hillside, I loved imagining her trotting out from behind the tall, blond grass and dried arrowleaf balsamroot. It was nice to wonder about.
Ruby was on my back, her cheek pressed between my shoulder blades.
Ruby: Mama, I wish I was a mountain.
Me: Oh yeah? Tell me about that.
Ruby: I be a big, giant mountain. I sleep. Margot be a little, tiny, baby mountain. Next to me.
Me: What do you think that would feel like?
Ruby: Fun. Because I always next to Margot. Us love each other.
We walked on the dry trail through the dry grass, the surrounding valleys thick with dry fire smoke. Alice trotted in front. Two hawks cruised on circular wind thermals above our heads. It was exceptionally quiet, the sky exceptionally blue, the sun a welcome warmth to the chilly morning. My feet crunched the crispy earth beneath us. Deer, bugs, birds everywhere.
A grasshopper flew straight into my forehead. Hit me so hard he died.
We saw two brazen coyotes on our decent. They ran up to Alice. I've never been so close to a coyote. I broke trail to where they were initially lounging, just to see if I could see anything. I don't know what I was looking for. But I looked.
I went for a run with a friend last weekend. We ran from my house, up the valley and back. We turned around and two minutes back on the same trail there was a giant pile of fresh bear poop. Chances are, we ran by, just a few feet from the bear on our way up. Chances are, she was still a few feet from us.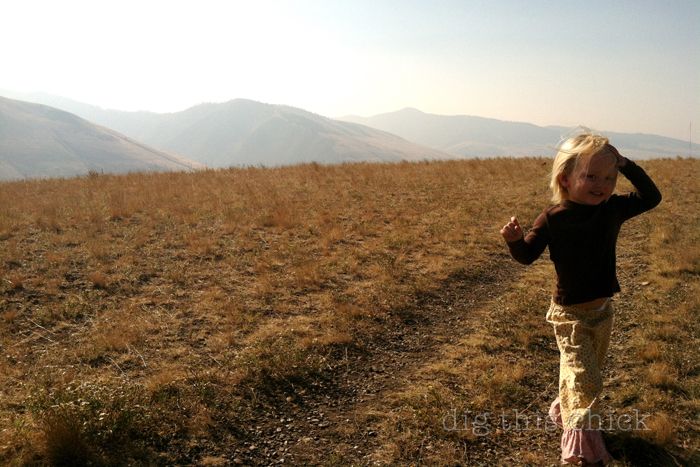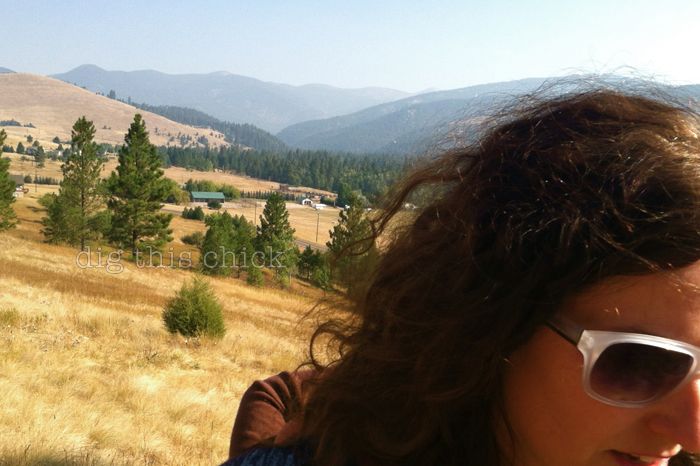 About 50 finches have been hanging out in the trees around the chicken coop. I've never seen them gather there, certainly not in a large pack like that. They have been there for two days, entertaining Sam. I read a bit about finches, the bird of happiness. I like this (from here):
Finches are a sparkly omen of high energy and bright days on the horizon. Consider their flight pattern. In the same way you can pick up on a person's character by his/her gait, we can do the same with a bird's flight. And, in the realm of symbolic interpretation, flight can give us a lot to work with in bird meaning. Finches are never satisfied to just go from point A to point B. They seem to boogie from place to place. Bouncing and bobbing through air currents is big fun for these birds. Observing them just gives you a feeling of freedom and happiness.
Interestingly, the day Olive went missing but before we knew it, I wrote a piece about seasons, growth, rebirth. Click to read mama digs: gather, preserve.
The walk that turned into a hike did me some good. We are all wild. From a great distance, I could hear the wind tumbling toward me. My hair was down and blew straight up, the curly, frizzy tips level with the peaks across the valley. My legs felt strong. Ruby hung on my back like a little primate. Alice ran like she wasn't 10 years old. Or maybe she ran like she was 10 and loved life.