Today, we heal. Our pace slow, our range minimal. Ruby's been in and out of sleep, Margot and I canning the last of the tomatoes and tomatillos, watching movies, drawing and listening to the panicked aspen leaves, like yellow fingers snapping with the wind's rhythm.
I was awake, newborn-baby-style, last night. Ruby started vomiting just before bed, right around when a certain someone mentioned the 'binders full of women.' And it continued until well past sunrise.
Oh my girl was sick, waking every half-hour or so, her little body heaving against mine. I sat on the bathroom floor, holding her most of the night. In my painfully tired state, I changed clothes, drew baths, mopped floors, stripped sheets. I cradled her limp limbs, stroked her forehead, promised her it'd be over soon.
I find myself feeling thankful for today. For our health, for this opportunity to be here in my warm, cozy home with my kids. It feels like we all needed this homeward day.
Today, a few things I noticed and appreciated:
:: The handmade dreamcatcher I found at a thrift store that is our perfect solution to the
bird collisions
. We had attached kid art and stickers to the window which was fine but visually distracting to me. This works so well because I find the dreamcatcher frames beautiful snapshots of the outside world all day long. I love it. 
Now we just have to keep the birds from flying into our home through open doors, which has happened twice this week (all are well). Goodness. 
:: My mama, who is the queen of motherly caregiving. She always turned sick days into cozy, cuddly, loving events with ice chips, dry toast, grape juice slushies, couch beds, cool washcloths and tender attention. Trying to do you proud, mom.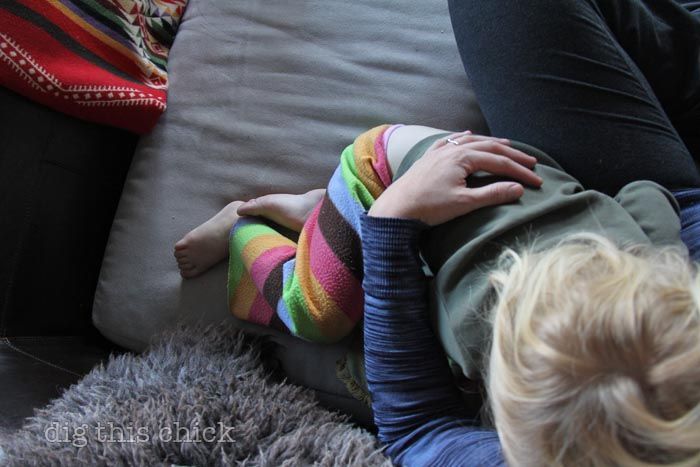 This is our guest room, where Ruby decided to sleep much of the day.
:: Our new rug that arrived just in time for a limp, feverish kid to set up a comfortable camp right in front of the stove.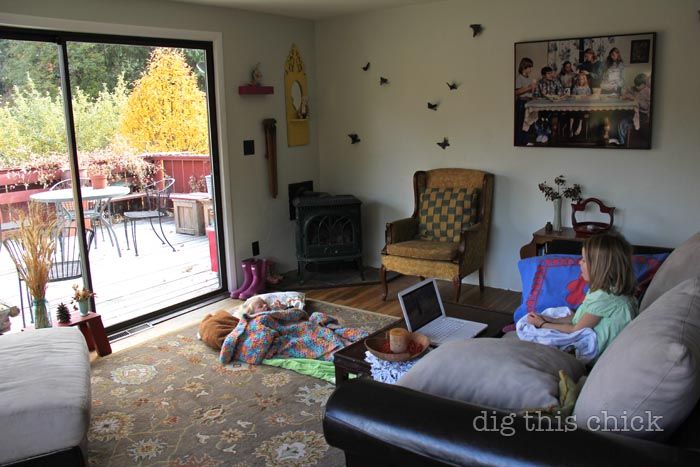 :: This exchange I had with my nearly-five-year old daughter:
Margot: Mom, I need to tell you six things.
Me: OK. I'm ready.
Margot: One. Can you teach me how to climb a tree? Two. I need new tights. Three. I love you. Four. You are special. Five. I love you again. Six. That salad you made for dinner? It was yummy.