At the last minute, Andy couldn't join us to Red Lodge so it was just the girls and I who drove east to his mom's house. We were a total junk show trying to get out the door but we did indeed get out the door and, once we cruised under the bright, clear day toward our family and friends, the junk show chaos evaporated as an unimportant memory.
The night before we left Andy asked me to secretly ready the girls to trick-or-treat at our house. He had a special something and wanted to see them in costume. We snuck around, painting faces and getting dressed. We slipped out the back door and excitedly knocked on the front door where papa was *so* surprised to find a princess and a pink cat on the front steps.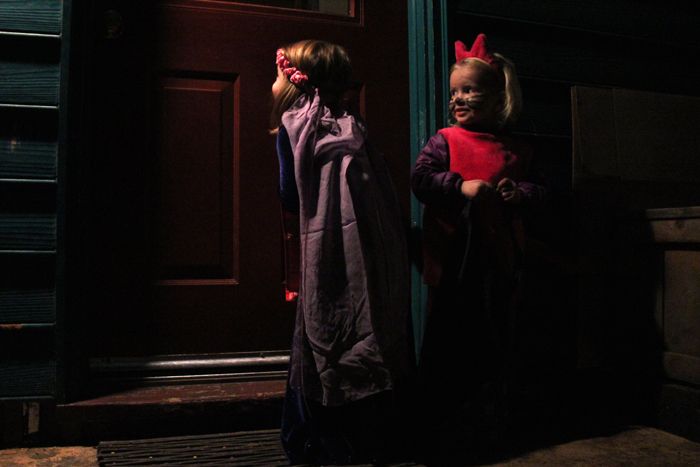 We stopped in Bozeman, the half way point. It was Halloween. The kids needed a break from the car seat confines and we talked about finding a park but it turned out that the gas station met our needs just fine. It was 65 degrees (!!) and we had the most fun at the Conoco where Margot and Ruby danced and waved at passers by. The cars slowed and honked. Smiles all around, it was absolutely wonderful. People are awesome.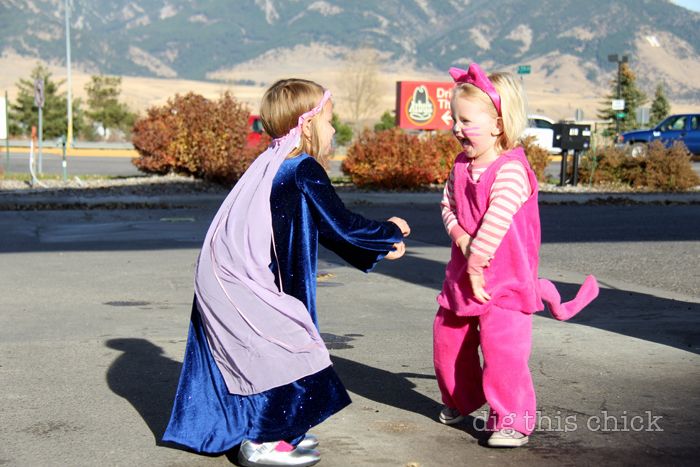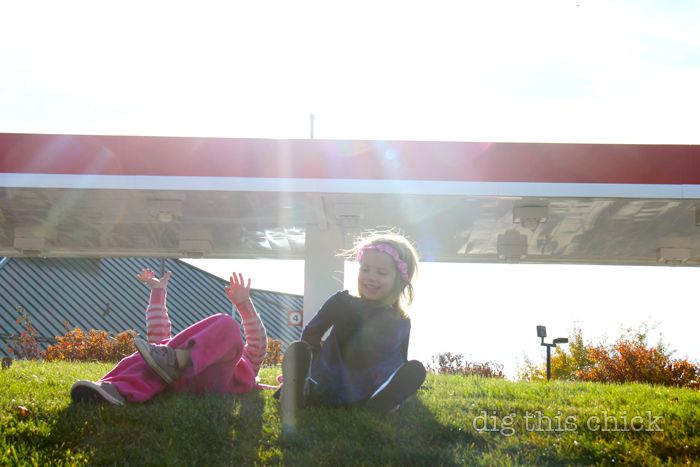 I wrote earlier in the week about Margot's shift in costume and my initial resistance. I am SO happy I got over myself. I took her to the fabric store where she picked a sparkly, velvety blue fabric that she hugged all the way home. She instructed how she wanted it to feel and it was my job to interpret her feelings into a pattern. I traced a general shape off of a shirt she really likes and added length so it would "go all the way down to the ground, stopping at my ankle in the front." She also wanted it to be "straight down and not pouffy but just long and flowey."
She hasn't taken it off since Halloween eve. I flipping love how much she loves her dress.

Initially we bought supplies to make a headpiece but then Margot fell in love with this silk number at Walking Stick so we bought it! It's made by Sarah's Silks (both businesses are dig sponsors. Use coupon code DIGCHICK for 20% off at Walking Stick and code DIGTHIS to get 10% off your purchases at Sarah's Silks).
Ruby chose a fluffy hot pink fabric for her cat costume. I made a simple a-line tank dress that she could wear over her puffy coat and pants (using a 'pattern' similar to the one I outlined here). Her tail is a covered coat hanger and her ears are sewn on two sides, turned and then slipped over a satin headband. She rather loves playing the part of a cat, meowing all over town.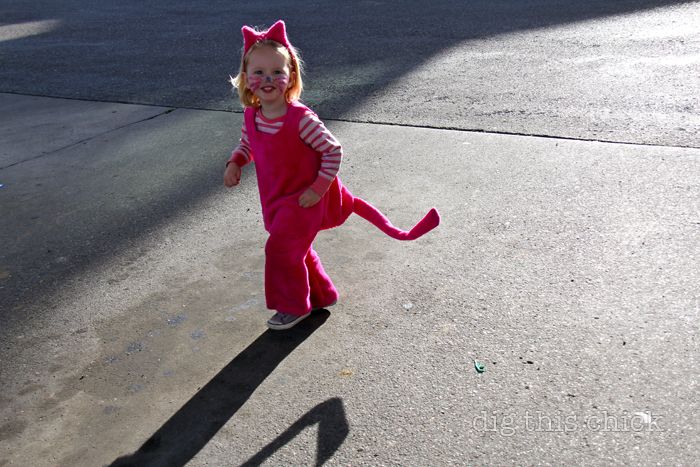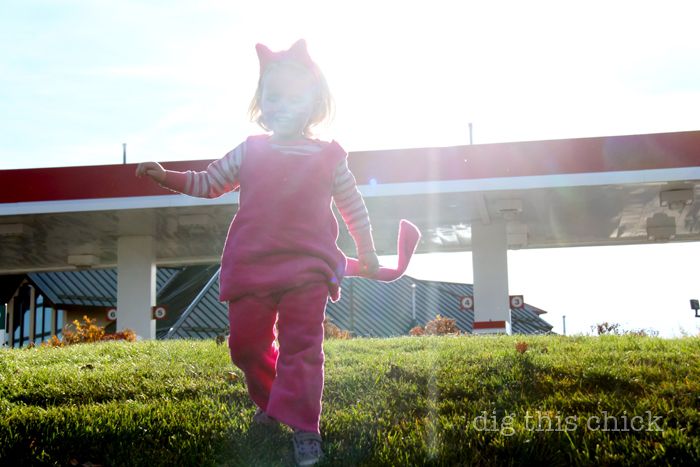 Turns out we didn't even need any of the coats, mittens, hats and long underwear I packed for Halloween night. Man, I was all prepared for chilly temps and it was downright balmy.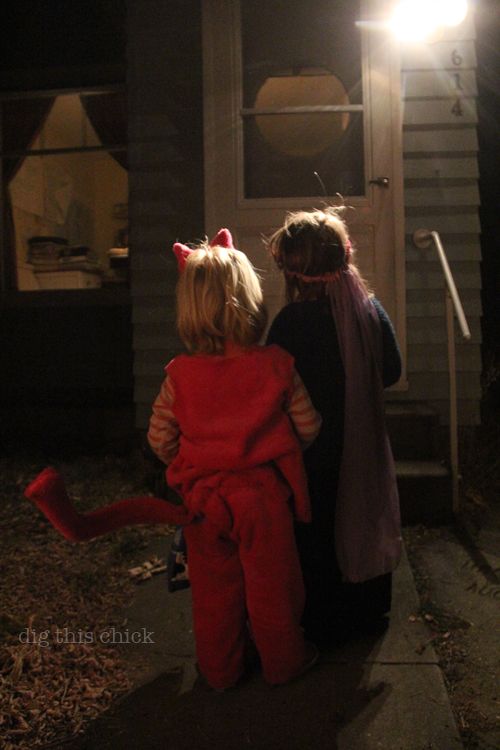 The rest of our trip has been about friends and shared meals. And, speaking of shared meals, my heart is racing right now because I just bought my first ever hunting tag. Yep, I'm heading out with my uncle and cousin in a few hours hoping to return with deer for my family and many shared meals. Yikes, I am excited and nervous. And very thankful to be doing this with my family. Rest assured you'll be hearing more about this.
Raise the roof, friends.