I had thought I'd do the tour of our new home some time ago. But then little things weren't just so; I wanted a rug or a light fixture to paint one last thing. In short, I wanted to share our home with you in the way it will be. But then I thought hello, it won't be *that* way for a while and by then it'll be something else. Besides, where's the fun in waiting? I've never liked it. Also, arranging and composing is one of my most favorite things to do. Our home will always be in one place with potential for whatever comes next.
This is the second room in the home tour, sharing rooms are as they are and as they were when we moved in last summer. The first was the sunroom. I'll move through each room over the next few months, sharing our paint colors and object sources but also, I will share the artists whose work we have collected over the years. We budget for art purchases and we also do a lot of trading for art. We treasure handmade stuff and I am excited to share our collection with you!
GIRLS' ROOM
:: BEFORE ::
We ripped up the carpet (oh the glue! remember the glue?!) and retextured the ceiling and walls. Paint color is Yolo Dream.01 in eggshell. Ceiling (flat) and trim (semi gloss) is Yolo white base, untinted. We replaced all the brass outlets and switches with matte, dark brown.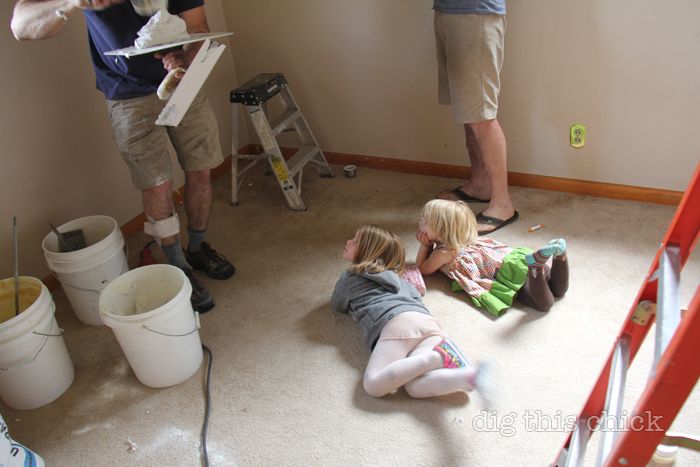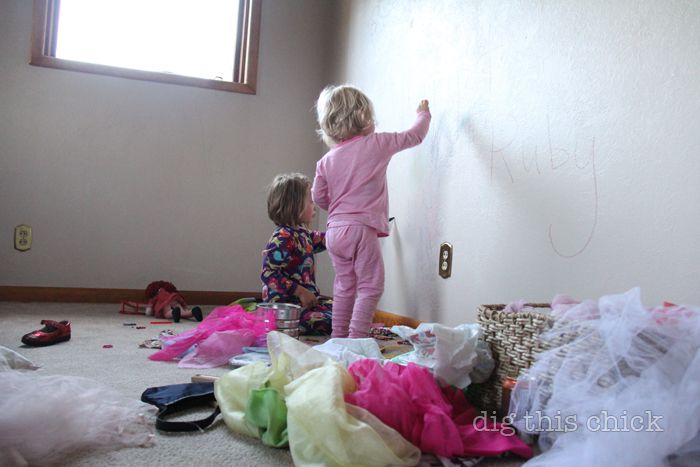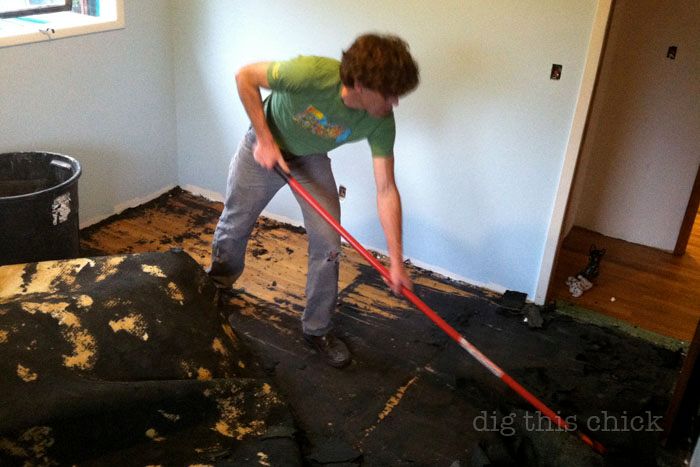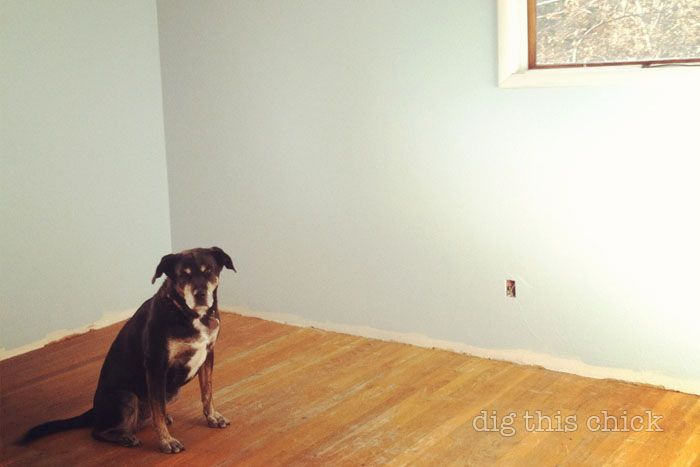 :: AFTER ::
This room is our daughters' bedroom as well as their play room. So, it needs to be fun and functional. Right now, their choice of play revolves around three things: dress up/make-believe, art-making and reading. My challenge was to make a space that invites interaction, allows for toddler-height access to essentials and is beautiful. I do believe all spaces in my home and all things in my home ought to be beautiful. Artful arrangement of objects I enjoy looking at makes me happy.
The nook next to the bunks held so much potential and has seen several arrangements already. The red bookshelves weren't working as they were visually too heavy and the books too hard to put away for Margot and Ruby. It was cramped. The corner needed space to move and play: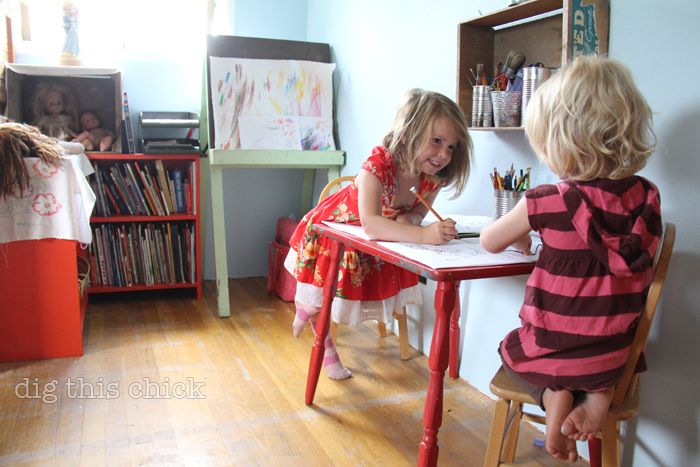 I ditched the shelves and placed only the easel in the corner, which I loved at first but I didn't love the books on the other wall. And the nook by the bed meant a lot of wasted space with only the easel there:
Eventually, reluctantly, I removed the easel and there was so much more potential and room. I love that easel so much but its footprint is too big for the small room. I moved the books and toys back to that corner, sans easel, and the whole room opened up: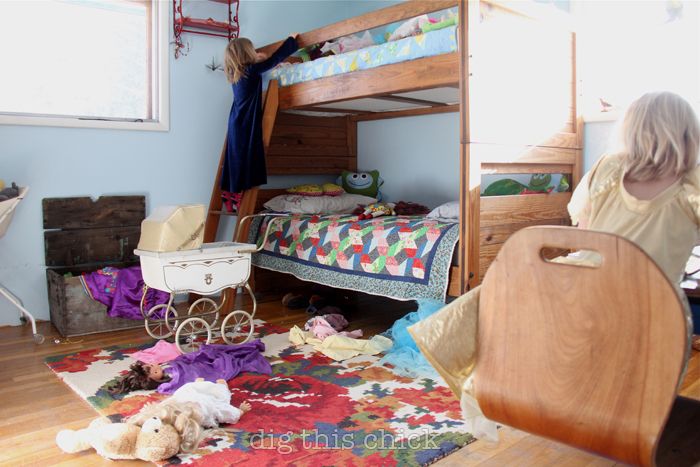 Recently, we replaced the table and chairs with two school desks. The small red table was awesome but too mobile, if you know what I mean. The chairs always needed to be pushed in; the girls and their friends were always moving the table and chairs all about so they could reach things that I didn't necessarily want them to reach.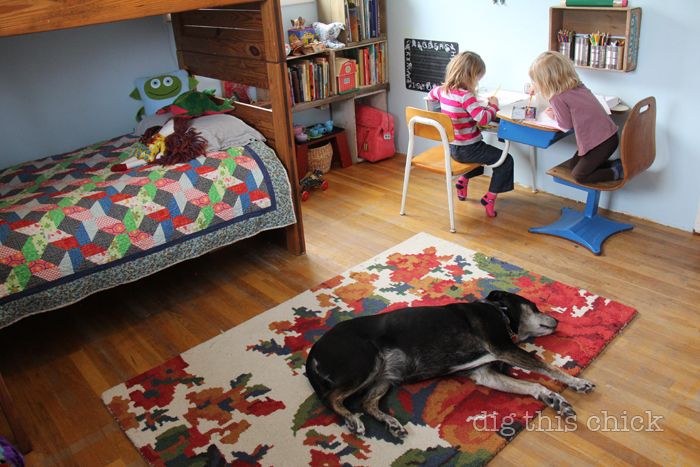 These desks are sturdy little SOBs and conveniently allow for book and paper storage inside.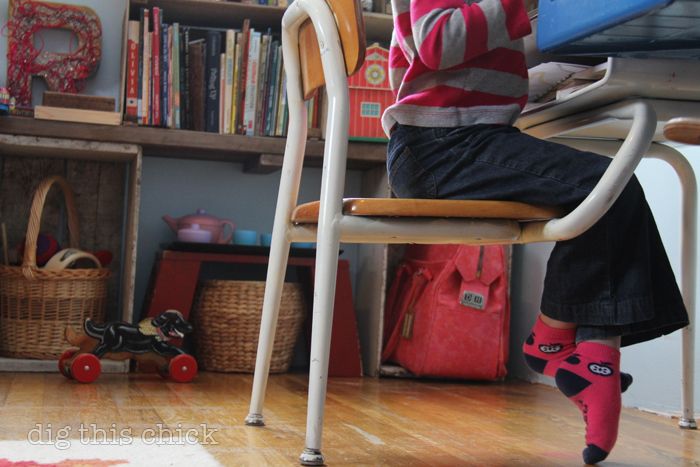 The girls choose to sleep together in the bottom bunk, sometimes feet together and sometimes like spoons. This leaves the top bunk as their play perch. Oh that bed is full of sea shells, rocks, beads and all sorts of secret, magic objects I'm not supposed to know about.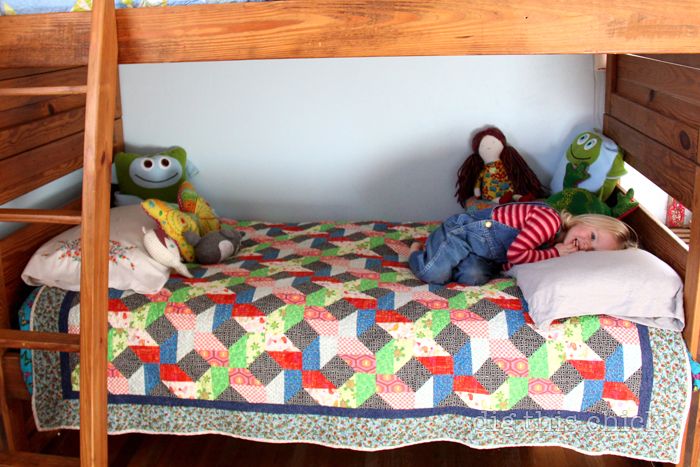 The closet holds all of their clothes, bed linens and shoes. And happens to be where Margot and Ruby hide every single time we play hide and seek.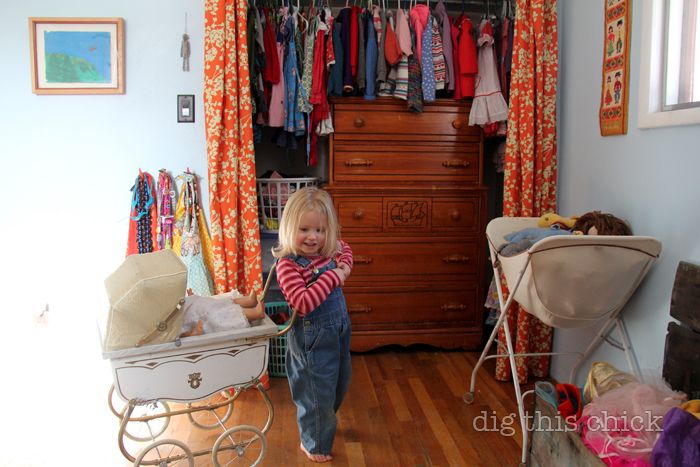 All of the furniture in the room (bunk bed, desks, fruit crates, wall shelves, baskets) came from garage sales or thrift stores. The old laundry cart was Andy's grandma's, the sailboat dresser was Andy's dad's and the dress-up trunk was ditched in a friend's garage. Total cost for furniture in this room: $109.
Quilts: my mom made them; tapestry over doll cart: thrifted; hooks that hold necklaces, scarves, aprons etc: Ikea; wool rug: Pier 1 (I got it on clearance, I don't think it's made anymore); curtains: my mom and I made them; painting next to closet: Andy's childhood art; alphabet chalkboard: garage sale; doll carriage: my neighbor snagged from a free pile.
The art.
The "M" and "R" images by Molly Meng. Every piece is unique with a found letter and a typed list of words that begin with the letter. And, each typed page includes one "R is for Ruby" and "M is for Margot."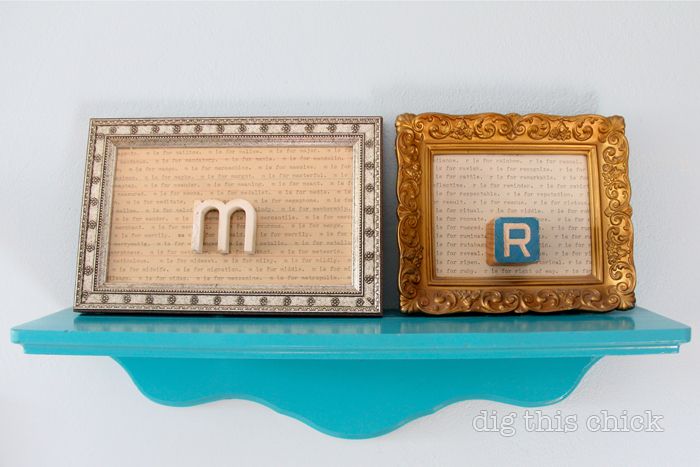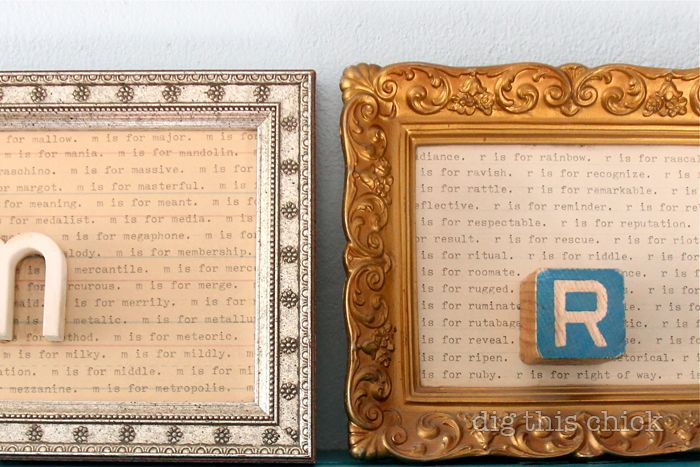 Butterfly mount purchased at a shop in San Francisco called 826 Valencia; Coconut Doll I bought in Tijuana (more like it here); Photograph by Patricia Thornton;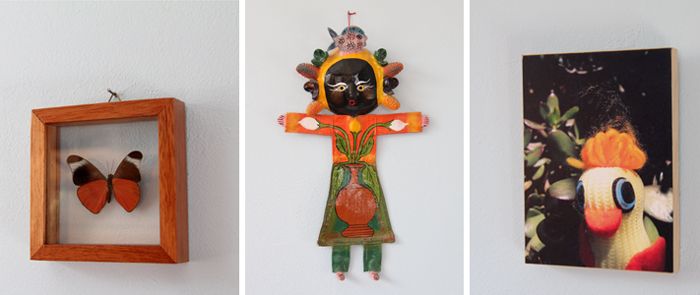 And that's their room! Here's a sweet picture with a salty backstory:

Margot had just fought like a wild cat over a leotard and with one feral swipe, bloodied Ruby's lip. She felt really bad and made this painting as an apology.
Up next: bathroom! Oh yes.
:: :: ::
previous tours: