It's been pouring rain all day. The sky is heavy and low and gray and it's very, very wet. Margot, Ruby and I lied in bed for a good bit this morning. Discussion began about what to make for breakfast and what to do with our day. Margot made a motion and had unanimous support: pancakes followed by a mellow day at home. Specifically, she requested we not go anywhere at all.
The girls spent a few hours dragging a hot pink string for our new cat who appears to be endlessly up for such shenanigans.

Just getting started



Alice contemplates this new family addition



Margot announces she so exhausted she must remove her pants and only wear tights for the rest of her life.

Ruby takes a break to talk about the intricacies of orange popsicles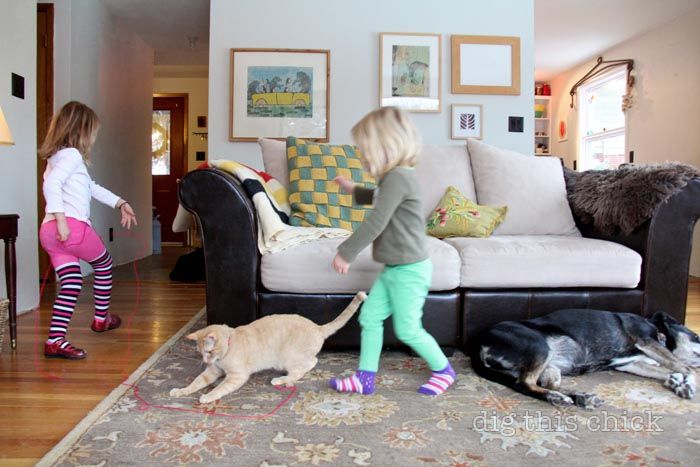 And off again, with renewed effort now that Margot has on her 'super-gripey-not-even-a-little-bit-slippery' shoes. Alice decides chaos isn't worth moving for.
Many of you asked for details on New Kitty's reform. So, we brought him home from the Humane Society and the introduction to our house and the creatures who live here was unbelievably flawless and easy. As recommended, we placed him in his own space (the guest room) so all the animals could get used to each other through a closed door. This situation was to last 1-2 weeks. We let him out after three days because he was meowing and every animal was completely great and it felt like the right thing to do. It was awesome for a few days. He then peed on the guest bed once followed by litter box use for a few days. Next we had a bunch of company arrive and a week of gatherings large and small. He peed on the bed several times over the weekend and we thought maybe he had a urinary tract infection (we are very well-informed about this as Sam used to get them chronically until we switched his food
. He hasn't had one since). We brought him to our vet and orange homeboy was completely healthy. So we started over. Still fostering, I talked with a behaviorist at the Humane Society who said it is important to not personify animals' emotions. He might seem totally chill and mellow and social but that doesn't necessarily mean he isn't feeling anxious and overwhelmed. We extended our foster agreement (not yet ready to adopt), re-quarantined him in the guest room (with the mattresses on end) and gave him three litters boxes with two different litter choices. She said to "give him as many chances as possible to make the right choice." She said "the smaller the space that's all his, the better." It worked! Dude used his boxes and, five days later, we let him out with supervision (only when home and only for 30 minutes at a time and gradually increased it as it felt good). And now, he is out all the time, snuggling with Sam and Alice (a snuggle partner for Sam is really important. He misses Olive.), sleeping on my feet and being a super awesome, litter-box-using Mister.
He is still nameless. 'Norman' feels off. It's just not right. He stares at me and seems to tell me his name is Wayne. But, at this point, we all call him New Kitty which just might stick. Ah, what is in a name…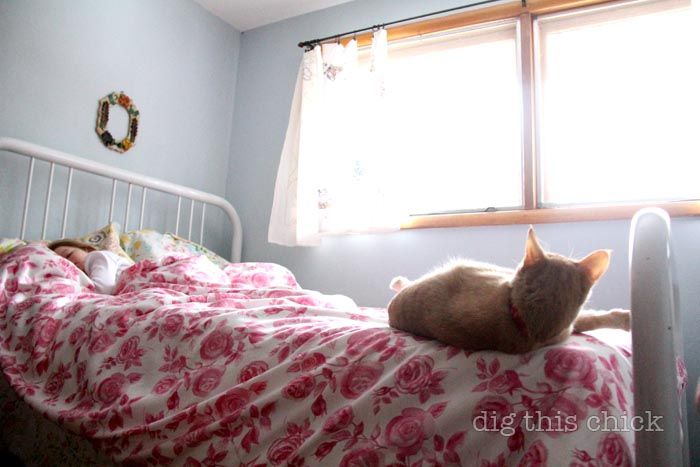 I overheard a cat-name conversation the other night:
Margot: I know! Sparkle!
Andy: How about Clarence?
Margot: NO WAY.
Andy: I wanted to name you Clarence if you were a boy.
Margot: Yeah, well, mama named me. And I think she gets to because she pushed me out of her vagina.
Andy: Trust me, pal. I was in pain too.
Margot, after a sigh: So, seriously. How about Sparkle?