The girls and I went camping for a few days this week. It was sort of spontaneous, sort of planned. I talked about it for several days but we had to line up some details with pet care and work…and it happened! So we took off.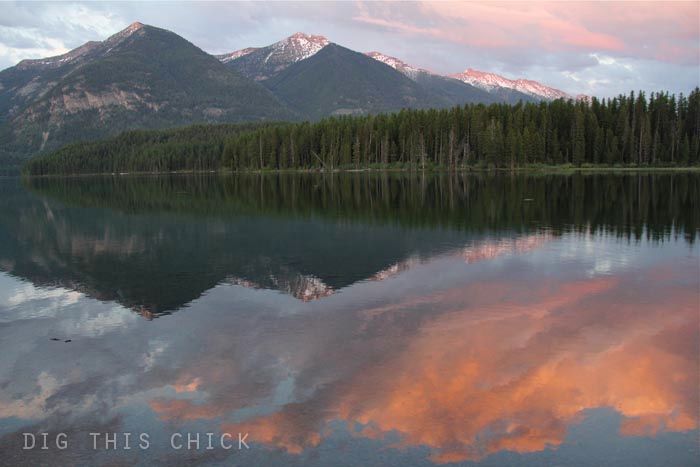 Andy was working out of town, north of Missoula, at a lakeside cabin. That's all I knew and we didn't have a way to contact him. On Tuesday morning he drove to the closest town to find a few bars to make a work call and phoned to say hello to us too. I was packing up gear like a jenga wizard, having just decided we'd drive up 83 toward him. He gave me insanely confusing directions to the cabin, in case we could swing by, and we were on the road.
I had high hopes for this camp trip to be awesomely fun. With sleep. We didn't camp once last summer (!!) because the previous summer camping attempts were miserable with Ruby unable to sleep and rolling all over our family to ensure we kept awake with her. She wasn't unhappy, just awake — the tent like a giant bounce house. We needed a summer to recover. Plus we'd just bought our house and were eager to nest. A summer without camping was just fine with our whole bunch.
We talked a lot about camping all winter, getting excited. Ruby was the most on board regularly declaring that she couldn't wait to "camp in the forest with dada, mama, Margot and me!"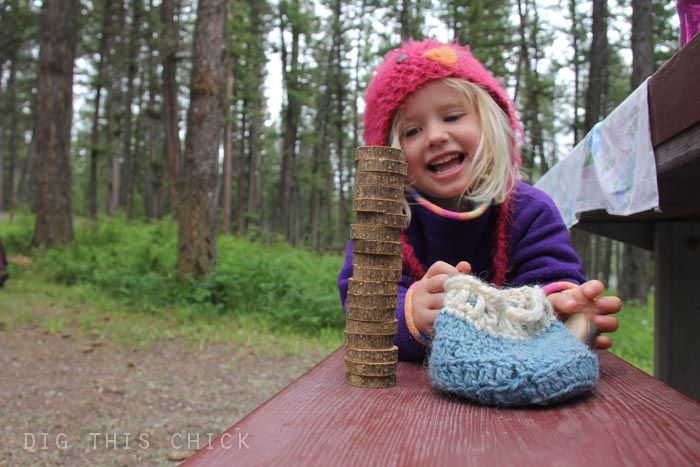 We keep all our camping gear in a tub that is ready to go. This takes SO much work out of car camping.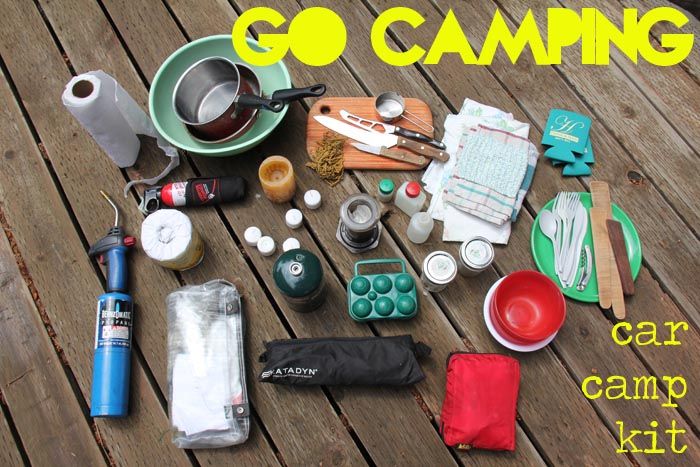 contents (clockwise):
paper towels
bear spray
large bowl (for washing dishes)
skillet
pot
candles
cutting board
1/2 cup measuring cup
sharp knives
dish scrubbie
small containers for cooking oil, salt, pepper etc
aeropress

2 dishtowels
tablecloth
washcloth
drink coozies
4 plates
4 bowls
first aid kit (tape, bandages, band aids, ibuprofen, baby tylenol, salve, moleskin, essential oils (thieves, lemon, lavender, purification, pan away, calendula))
cutlery
wine opener
wood utensils (ours made by our friend, earlywood!)
2 jelly jars with lids (for coffee, wine etc)
egg carton
water filter
camp stove fuel
bag of tricks*
toilet paper
blow torch (excessive? yes. but super handy when lighting a fire with damp wood)
not pictured: rope or long leash for dog tie out
*bag of tricks: a collection of things that always come in handy
contents (clockwise):
dice (endless games to be played with 2 die)
scissors
assorted plastic bags
patch kit
soap
dish soap
candles
string
ear plugs
scrap paper
twist ties
rubber bands
carabeaner
safety pins
lip balm
tape
clothes pins
pens
matches
not pictured: needle and thread, hand sanitizer

For the things we don't keep in the tub but need, I reference the list taped to the lid.

head lamps, skillet, pot, coffee maker, knives, cutting board, cooking oil, wood scrapers
We keep all our gear together for swift packing (sleeping bags, therm-a-rests
, tent
, cook stove
, camp chairs, cooler…links are to the items we own and like)
We landed at Holland Lake, a place that is easy to love.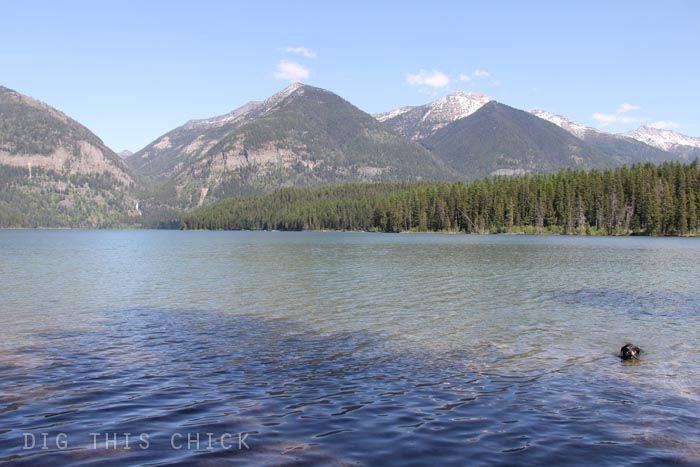 Oh, you guys, looking at that photo of Alice fetching a stick up there. It makes me tear right up. She's slowing down, our girl. She's not running with me anymore. These are her golden years and I am dedicated to making them her best.
After setting up camp, we attempted to find Andy. We sniffed our way there and turned out he was only 20 minutes away so he joined us for dinner that night.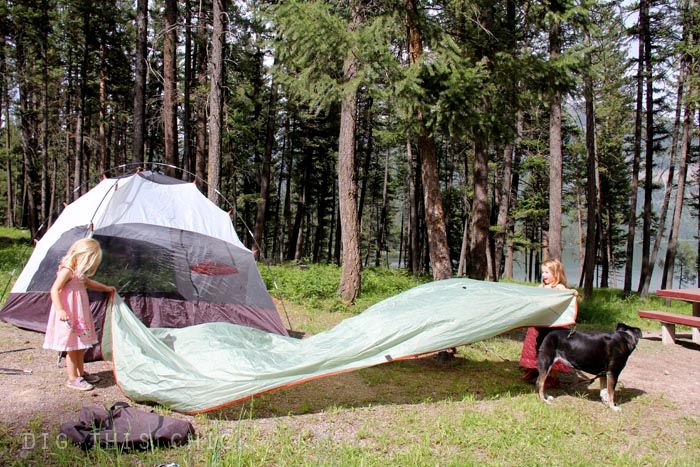 venison lentil chile (made and frozen previously), sharp cheddar quesadillas, salad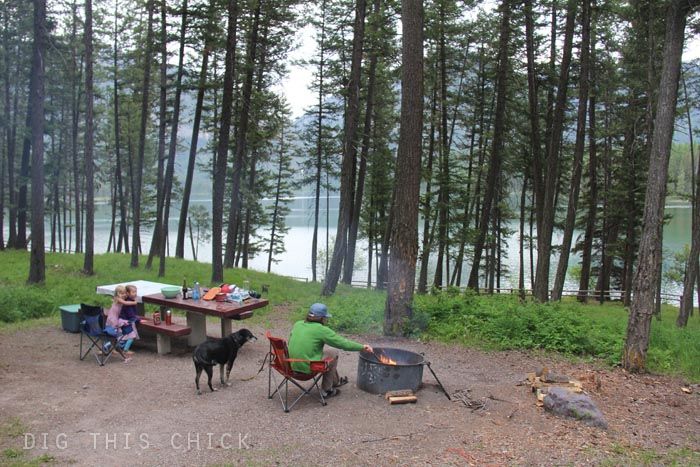 happy nearly father's day to the partner and dad I am so privileged and lucky to have in my life

I found it such an awesome relief to be without cell service. As much as I try to regularly put my iphone down or turn it off to engage without distraction, not having the option to text or instagram made me realize how often I do check in with that mini computer. Or at least think about (how I should be) checking in. Hmm. Changing that.
The lake was so quiet; there were only a few campers around us. Margot and Ruby threw rocks, made capes out of sundresses, collected sticks.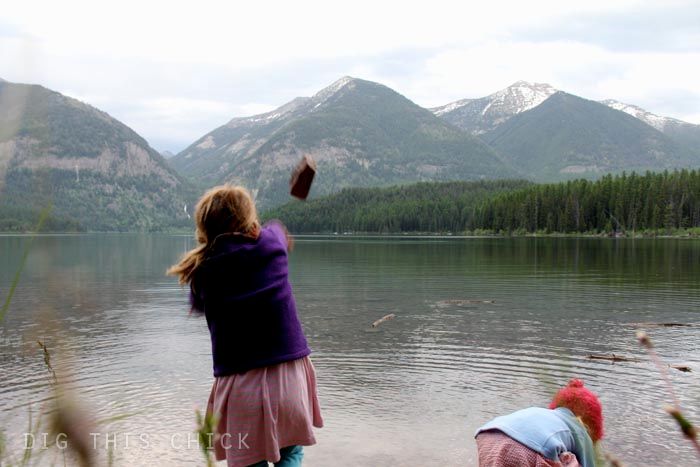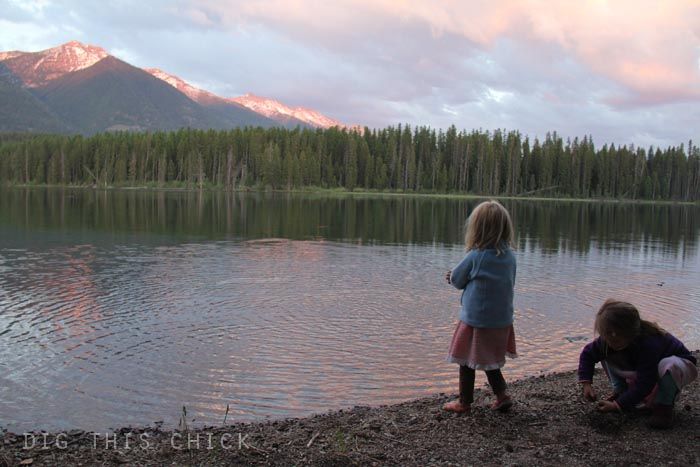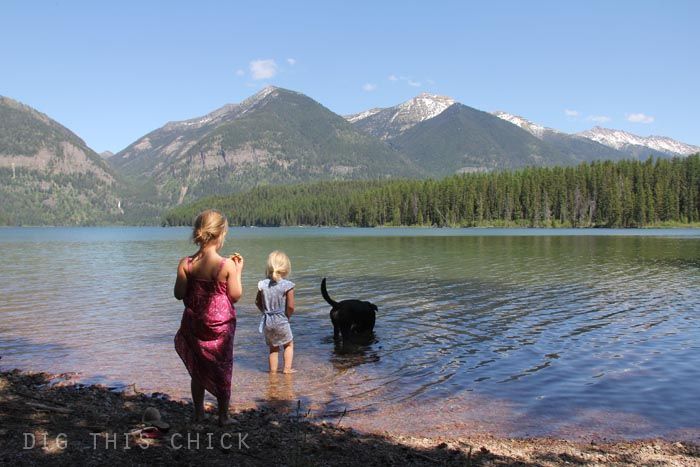 We stared at the fire, read books, played games.

I made that fire. You might remember my fire inadequacy. No more.

AND WE SLEPT. All three of us (and Alice of course)! We slept so well. Ruby drifted off aside the beam of my headlamp as I read Because of Winn Dixie
 and didn't wake until 7:30 when her fuzzy head snuggled into my armpit for 20 minutes of the best cuddles. Margot didn't get up until after nine.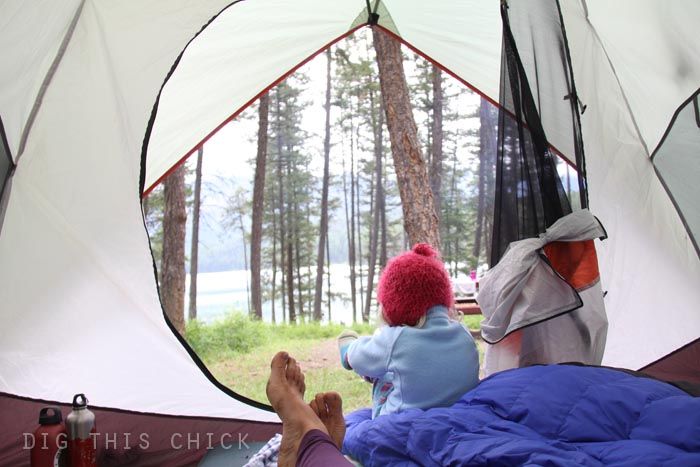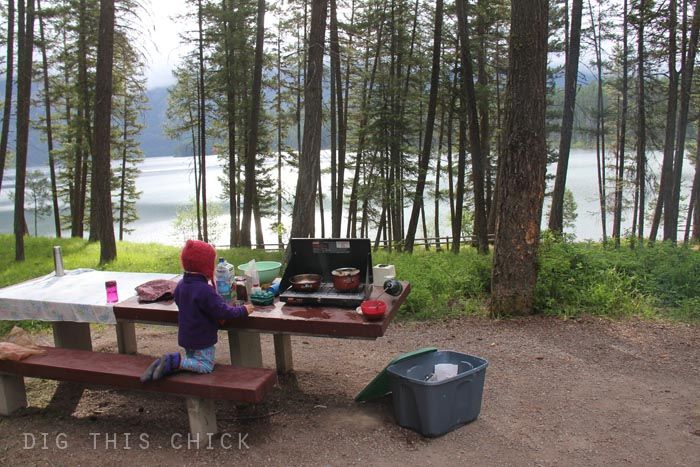 Wilderness Survival Tip: Forgot coffee maker? Stop at a truck stop and buy 3 large coffee filters for 10 cents. Use your jelly jar with a ring. Pour over hot water.
We hiked into Holland Falls, a 3.5 mile adventure. I carried Ruby much of the way, Margot rocked it all by herself. She was pretty dang proud about that.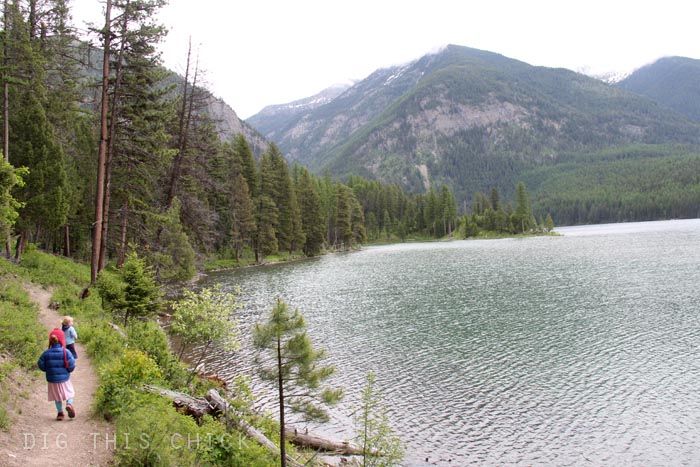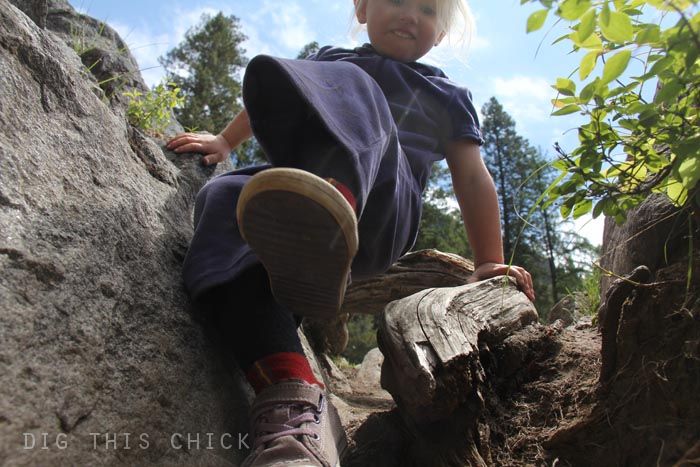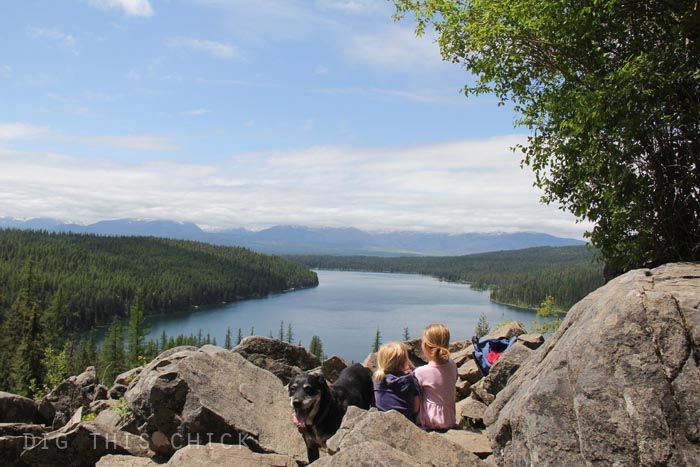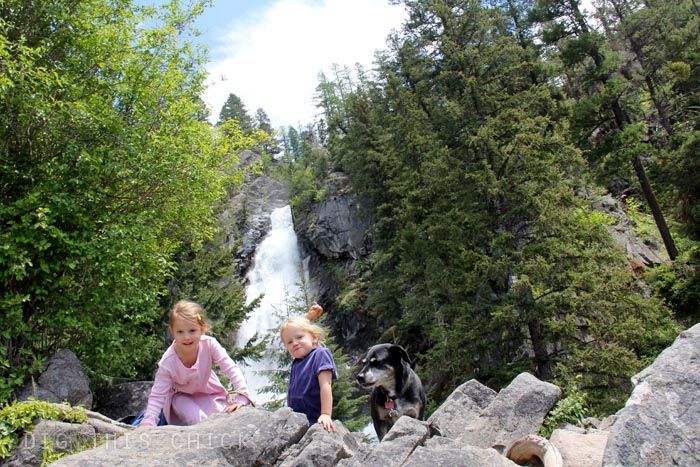 My funny attempts at a group shot: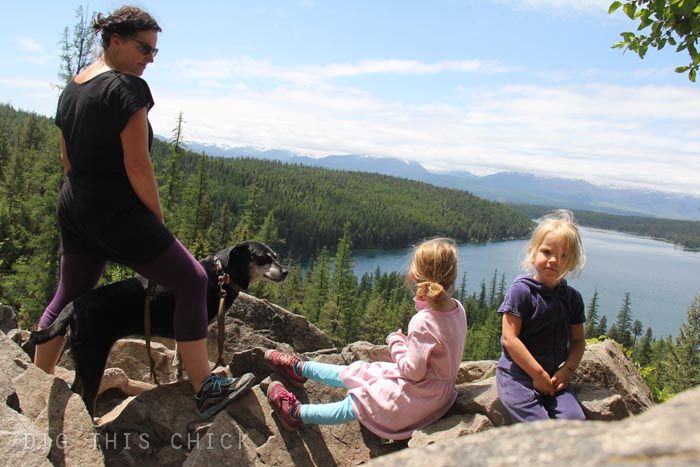 Details for those who might like to go: It was a mellow hike with some hills, a few steep ones. It took us 2.5 hours, including many stops and lunch at the falls. This area is grizzly bear country. Bring bear spray, make noise. I wished we had remembered Alice's collar bell. Most of the trail is along the lake so it's perfect for thirsty dogs. The trail is both shady and exposed; bring layers. We were chilly at times and hot at times. The falls are spectacular. A+
As we packed up camp, the girls and I came to the unanimous decision to stay another night. This time at the cabin with Andy and his coworker.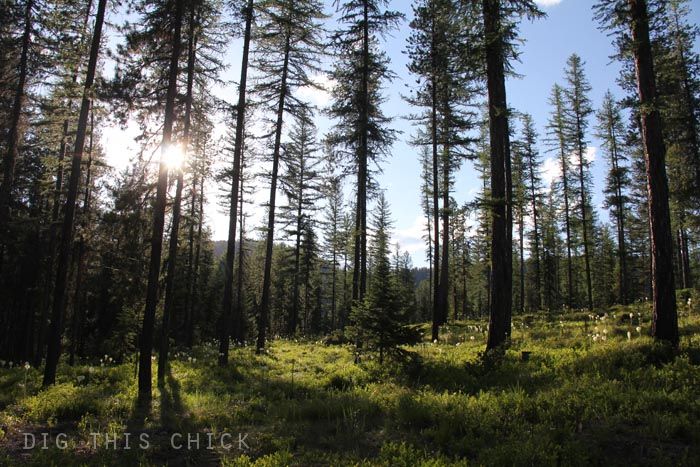 We woke and left early. Home now, feeling refueled in the way that only nature can bring.