I remember the nervousness and confidence I felt when I chose to leave my predictable job with benefits to be home with my kids and grow into work from here. As my midsection enlarged and I neared the end of my seven years at the Missoula Art Museum, I dreamed of hanging out with my daughters all day. I imagined gardening in the morning without need to hop in the shower and ready for a meeting. I thought about midday hikes on a Monday, afternoon canning on Tuesday and camping on Wednesday night.
After decades of honoring a schedule set by someone else – from school to work to school to work – I was most thrilled for the simple and profound luxury of creating my own schedule, curating my day's rhythm. And getting to do it with these two wondrous souls.
All this is the prelude to a spontaneous camping trip I took with my kids. It's been four years since I romanticized what it would be like to work from home with my kids. I remain appreciative for this ability to peel away for a few days without notice or plan. In fact, I believe my appreciation has grown. My perspective is keen and bright.
Turns out the real version trumps the imaginary version.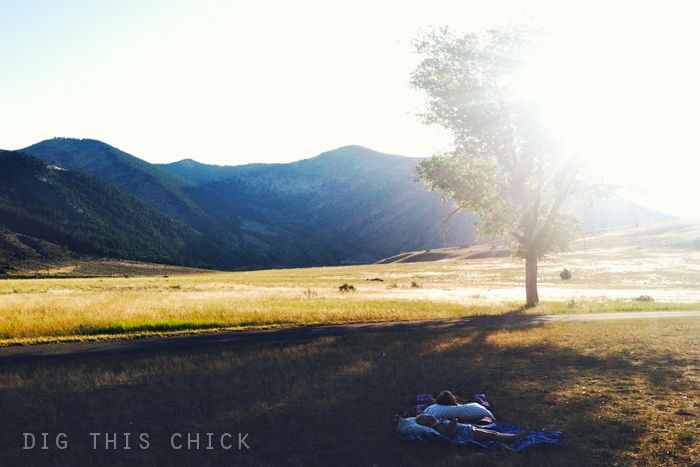 Getting out the door was a huge effort. I had a ton of work to finish up so I woke super early and scrambled all day while also packing for a week and mothering. We didn't leave until 4, stopping by the bank and post office and I had no idea where we would stay that night.
We started driving. It was so beautiful and expansive. I felt wide open, happy and rich as we cruised east without any plan whatsoever.
About two hours in, we decided to secure the night's resting spot. I found a campground with one site left. I do believe it was the very best spot.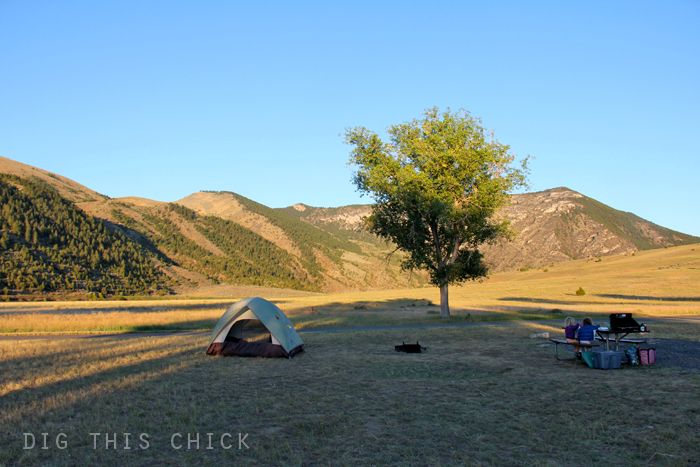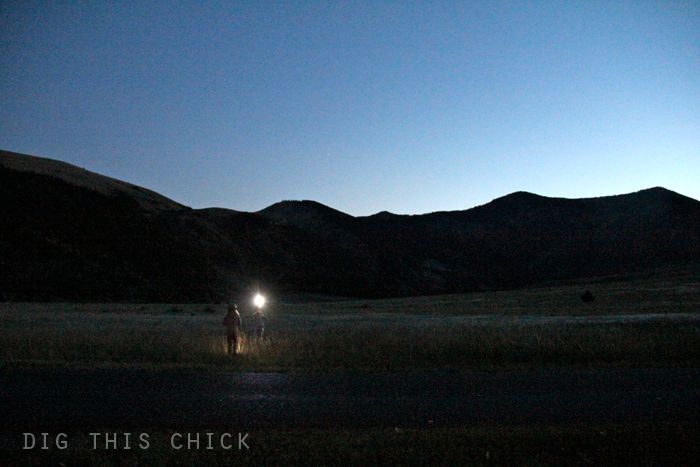 I hadn't packed our sleeping pads and instead packed the air mattress. The one that slowly leaked throughout the night making a Cline girl taco under the starriest sky I've ever seen. Oh that sky, it spun tales. Margot and Ruby slept well, I didn't and decided to rise before the sun to stare and not think. To meditate.
Coffee, tea, oatmeal, hit the road toward Yellowstone. I packed the car next to a kind looking man and young girl. We smiled and nodded many times but didn't exchange words until our cars were stuffed and the sun was up. Bruce told me about Baker's Hole, a campground just outside the West entrance. He and Parker were headed there to secure a site. I'll tell you what, he said. With two little ones, you will be moving slower than us. They allow two tents per site. We'll leave you a sign and you can just stay with us. I said thanks and he said hey, it's what Montanans do for each other. We hugged goodbye.
We arrived in West Yellowstone and I decided to head into the park to find a camp site. They were all full so we made our way to Old Faithful. Erupting hot water, boiling turquoise pools, sulphur stink.
The crowded areas are my least favorite parts of our national parks and I was eager to leave but the kids were eager to learn. How is that possible? Where does the color come from? The heat? I demonstrated with my arms circled over my head. My nose the earths core, my elbows Montana and China. Magma, lava, crust, plates, minerals.
Still no camp openings (oh I checked and rechecked for cancellations) and realizing it would take too long to get to another park entrance, we drove back out to West Yellowstone. My daughters slept and I found Baker's Hole. Over 100 sites – all full – and I couldn't locate Bruce and Parker. It was 5:30 now. I wondered where this night would lead us. I called a few motels that were booked or too expensive. I got out my map and started looking for BLM land, unexcited about sleeping in our car. And then I passed a KOA sign. I called. One site left.
I've never stayed at a KOA before. It was like stumbling into a sugary carnival in the middle of a forest. Bright yellow signs, people in yellow t shirts. Playgrounds, pool, mini golf and hundreds of people from all over the world shoehorned into square plots. Our site was at the edge, looking out at a group of pronghorns. I set up the tent. The girls remained asleep. I sat down in the warm sun. Always a blessing, the sun.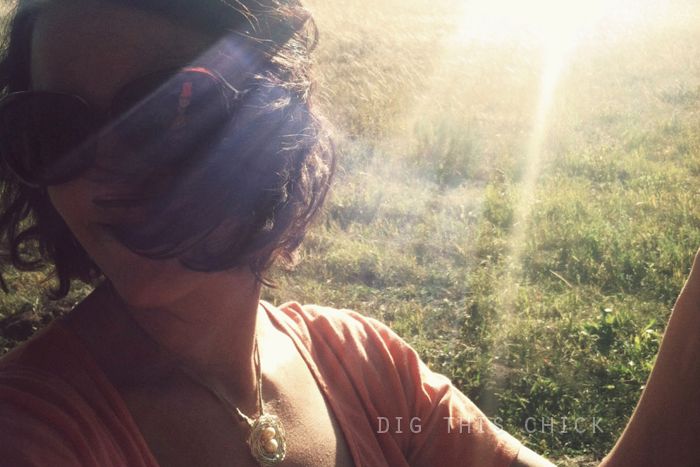 The KOA was full of adventure. We showered. We met Doc and Ken, two nearly-retired guys on a motorcycle tour who smiled a lot and talked to my kids like favorite uncles. They had binoculars and Harleys and humor.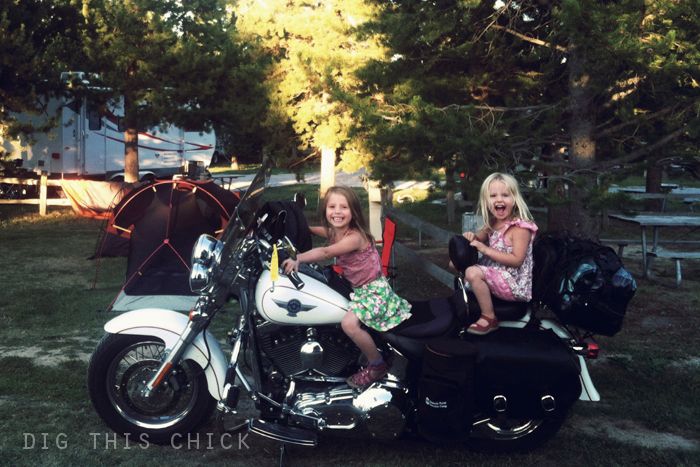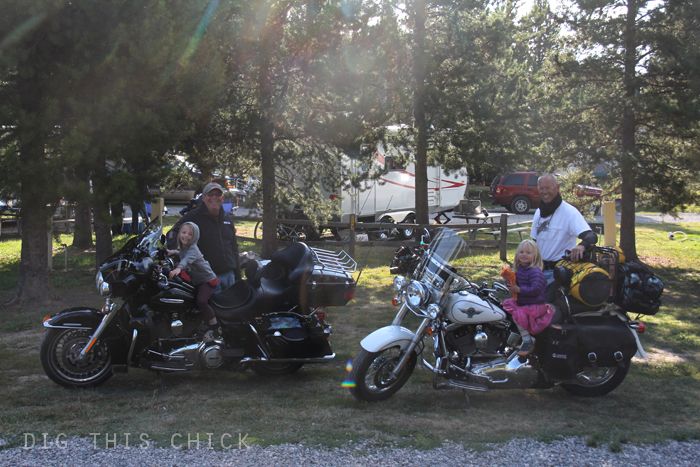 On our other side was a quiet family with one little girl. We invited her to breakfast and learned they were Thai, living in Utah. Jasmine told us about third grade, spicy noodles and how she was proud of her hard-working daddy.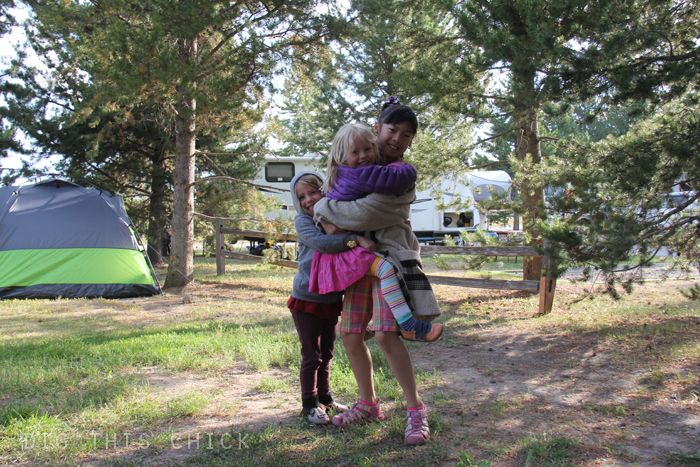 Back into the park, heading north this time. We hiked to the lower falls, found a shady picnic table and ate some of those spicy noodles gifted from Jasmine's parents. We gave them some of our balsamic honey almonds. The third day was meandering and just exquisite.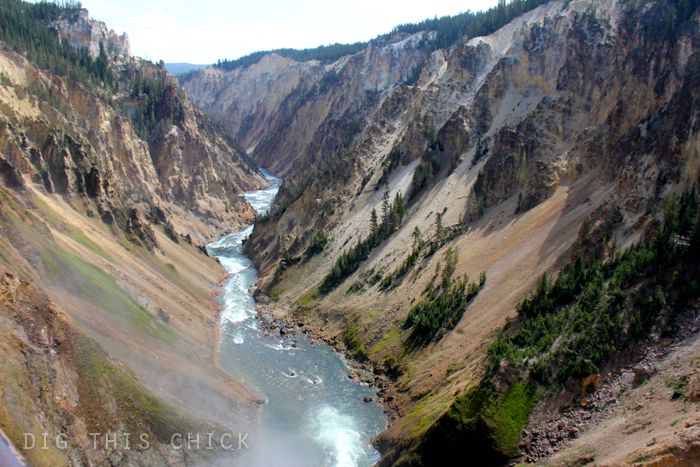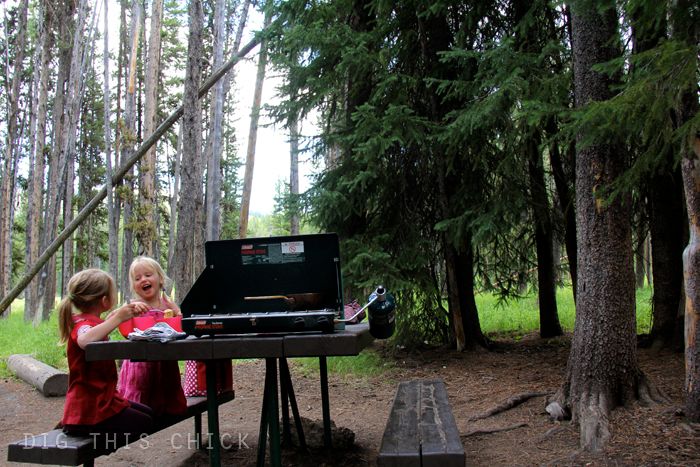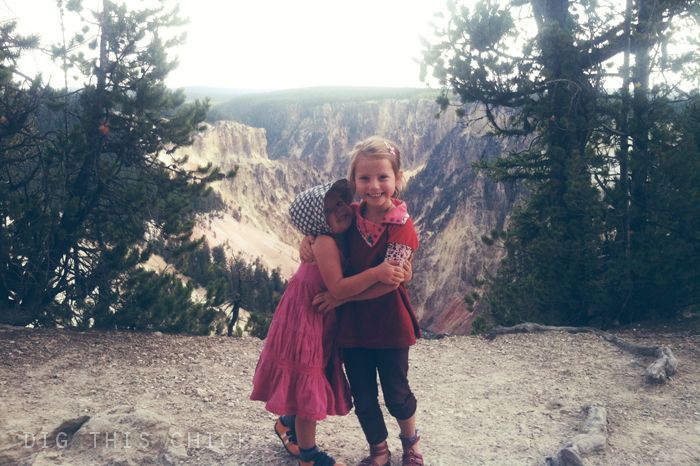 We found the calmer, expansive ares of the park. We stopped the car and turned it off and walked, watched, listened.
It wasn't long ago that visitors came to Yellowstone to hunt recklessly, to behead bison, to catch 100 trout for a photo opp, to feed bears, to trap wolves, to pour soap into geysers to encourage eruption. Lamar Valley on that day was electric and pristine and held thousands of buffalo beneath rolling clouds, next to silent, alive sage hills. It was beautiful.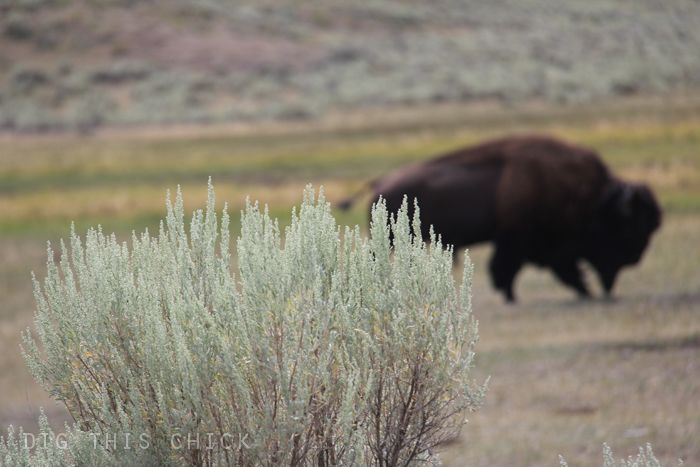 Ruby loves buffalo and thinks they all look sad. Like they miss someone. Like maybe their mama.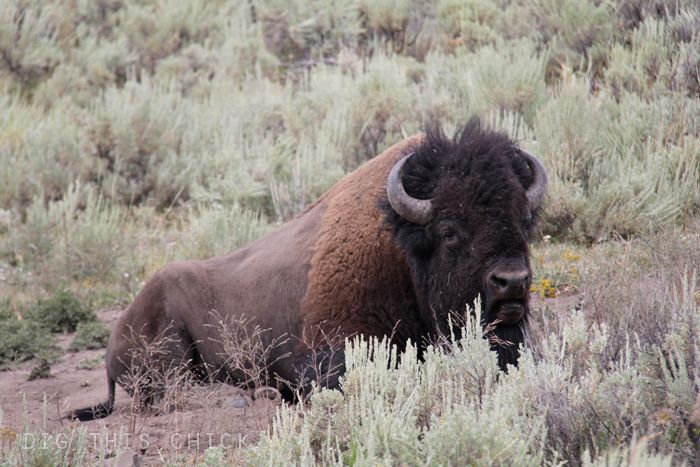 We stayed in Cooke City that night with Andy's mom who drove over from Red Lodge. The northeast entrance to the park is my favorite — it's less visited and doesn't have the big 'attractions' but I find the still beauty to be outstanding. I've always loved Cooke City. It's a sweet, tiny town that is pretty inaccessible when the snow flies. We saw a skinny fox eating a fawn, we looked for moose, we wandered, we enjoyed a real bed in a motel.
Up and over the Beartooth Pass the next day. As many times as I've been on those mountain tops, I remain gobsmacked by the beauty. We stopped a lot and I tried to wake the girls several times. I was finally successful at the top where it was 35 degrees and it felt like we were standing in a giant palm, every pinched peak connected by Life Line, Head Line, Heart Line and Fate Line. Into the future.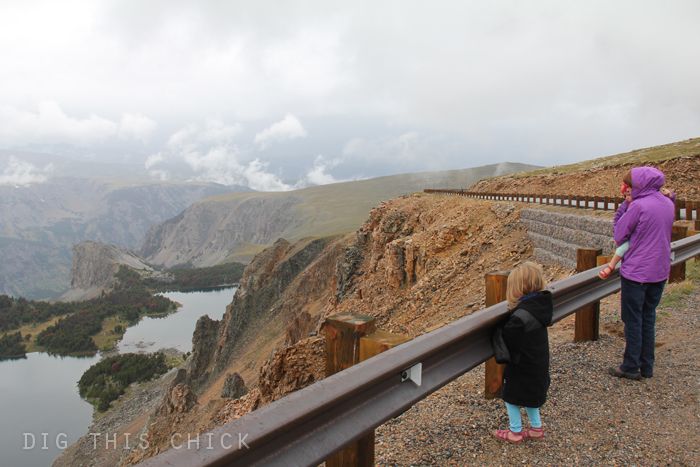 I had some anxiety over an entire family feeding the rodents at a pass lookout. French fries and crackers and dried fruit and granola bars. Yes, they are cute. But, we can do better. A man told me it was "the chance of a lifetime" when I – as gently as I could – suggested the food might not be good for the animals. Chance at what? Upsetting the ecosystem to get a home video? Habituating wildlife to fried food? Teaching kids it's ok to touch and feed critters? My kids really wanted to feed those animals. It led to a long chat about what choices our family makes and how those choices impact surroundings. Big lessons on the Beartooth Pass.
Also, in another lifetime I skied up here at this time of year. I think I'll do it again some day but, for now, I am pretty dang happy on in-bound blue slopes with my daughters. And tree pose in front of previous descents.
Our last bit was spent in Andy's hometown where time moves a bit slower. I squeezed in a few of my favorite activities: garage saling, running on the west bench, hanging with my family, a creek date with Margot, sitting with my mother-in-law on her back deck with gin beverages.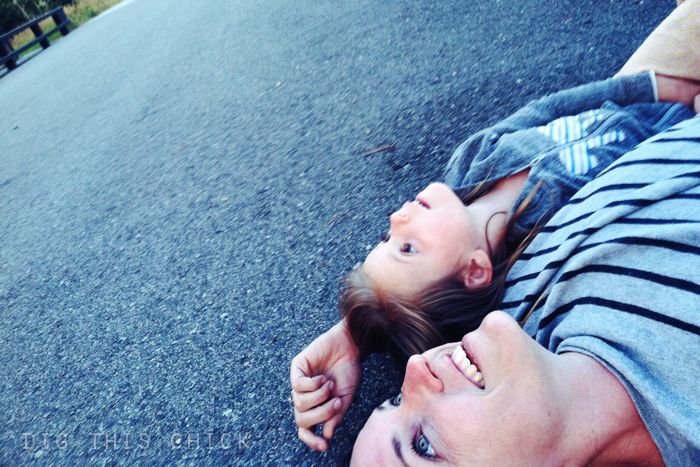 I've done the drive between Red Lodge and Missoula at least 758 times. This was my favorite. We took our time. Lots of stops at places we've previously zoomed past.
This trip marked a new era for our family. Ruby doesn't struggle in the car anymore. She's up for the open road. Margot can nearly set up the tent on her own. We all made meals, did dishes, filled water bottles from the well.
We stick together. We have so much fun. And we missed the papa who joined us the following week on another camp trip. More on that soon.
Trip Details:
New favorite kid pandora station: Alouette
Lewis and Clark Caverns Campground
KOA in West Yellowstone
Campgrounds outside Yellowstone National Park
High Country Motel in Cooke City
Beartooth Cafe in Cooke City
The Log Cabin Cafe in Silver Gate (some seriously good food. very worth seeking out. andy and I stayed there years ago; it's also a lovely place to rest)
Free phone app for Yellowstone: Chimani Yellowstone
Free phone app for Montana state parks: Pocket Ranger
The Senior Citizen Center in Red Lodge: a really great thrift store in Red Lodge where you can fill a bag for $5 and everything is 1/2 off on Saturdays.
I love to stop at the Prison Hobby Shop in Deer Lodge. The store is full of beautiful beaded jewelry, horsehair crafts, knit and crocheted items.
Parker's Restaurant in Drummond, MT